Our friends at Neo Buggy & DXR have announced that entry for the 2013 Neo Race is now open. The 8th running of the Neo Race sees a few changes, the biggest include a date change from the regular Easter slot to a summer event: 22-26th August 2013; knowing the British weather as we do, the roof will probably come in handy though. The Agricultural College Harper Adams in Shropshire is once again the venue for the event, now 5 days in length with increased track time for all participants as well as a special 1/8 electric buggy class – limited to 30 drivers, the main nitro buggy class is limited to 250 entries. Qualifying will use 6 minute heats and the best four rounds from six will count. After the success of the special races in the past they return with a few additions; juniors final, oldies final, the Dash4Cash for the top qualifiers, Bash4Cash, Last Chance Qualifier and a 'Pole Position Challenge' – details revealed soon. Those interested can enter via www.RC411.net, see the 'Sign Up page' for details how to enter.
Source: Neo Race [theneorace.com]
Thursday, May 16, 2013 - add a comment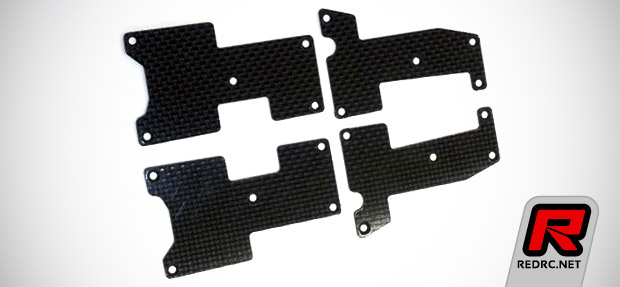 Xtreme Racing introduce two new option parts for the Hot Bodies D812 buggy and TLR's SCTE 2.0 truck. First up are the carbon fibre A-arm inserts for the D812. Machined from 1.6mm carbon fibre material the parts are designed to increase the stiffness of the buggy's lower arms by replacing the kit inserts with a more rigid solution. Included in the set are two front and two rear inserts. The next new part is the carbon fibre battery strap for the TLR SCTE 2.0. The part is designed to replace the stock plastic strap with a stiffer and cooler looking item.
Click here to view the other new part
Thursday, May 16, 2013 - add a comment
San Diego RC Raceway has been host to the 1st annual DE/Panther Racing Series this year and it has been a huge success. Tekno RC's Barry Baker finished the series with a 1st place overall in both 1/8th Buggy and Pro4. Josh Bertrand and Pres Ilog continued the series podium sweep in 1/8th Buggy, finishing 1st and 2nd overall with their Tekno EB48 electric buggies. In Pro4 the results were similar and Tekno RC would claim the entire podium again. Pres Ilog finished 2nd place and Charles Dunn finished up the series in 3rd. All podium finishes were made with the Tekno RC SCT410.
Click here to view the Pro4 podium
Thursday, May 16, 2013 - 1 comment so far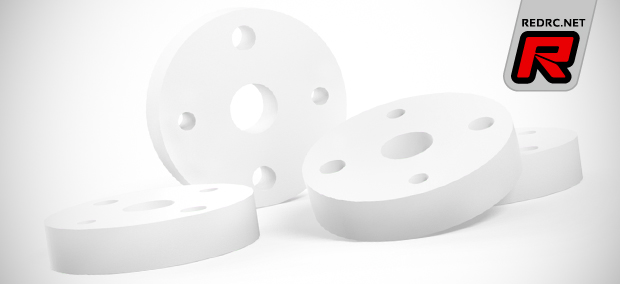 Avid introduce these 2+2 hole shock pistons for the Xray XB4 buggy. They are machined for best possible precision and feature a 2+2 hole design to fine-tune high speed and low speed damping separately. Available are two variants with 1.5mm/1.1mm and 1.6mm/1.1mm holes. The pistons help provide the traction and bump handling of running lighter shock oil or larger piston holes, while still maintaining the control of running heavier oil or smaller hole piston when taking on jumps.
Source: Avid [avidrc.com]
Thursday, May 16, 2013 - add a comment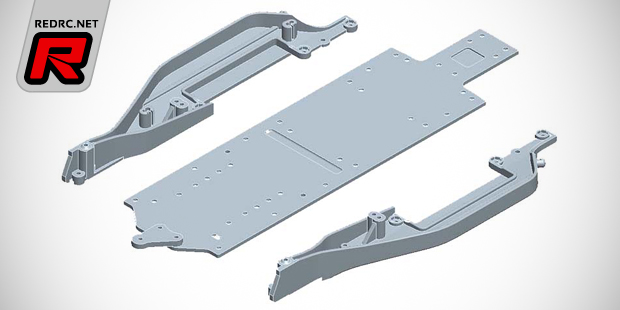 Yokomo announce the soon release of a handful of new parts for the B-MaxMR and RS line of 2WD buggies. First up is a new hybrid material chassis set that combines an aluminum chassis plate with composite plastic side rails. Designed for both the MR and RS kit the set is meant to increase chassis stiffness and therefore handling and on-track performance. The second new part are aluminum steering bellcranks with integrated ball bearings. Machined from high quality alloy the parts improve steering response and durability. Next up is a new front upper arm mount with improved stiffness and a higher weight compared to the stock part. Designed to improve the front end feel the narrow-wide part is a direct replacement. Also new is the lower suspension out, again a reinforced part with increased weight for added tenability. Next up are two new battery mounting kits for mid and rear motor cars. The parts save weight and improve pitch stiffness for improved handling characteristics. Also new come aluminium bleeder caps for the 'X' shocks. The part come as pairs including screws and seals. Last but not least are two drivetrain parts in the form of an aluminum idler gear and die-cat steel gear diff internals. Both part are meant to improve drivetrain durability.
Click here to view the other new parts
Thursday, May 16, 2013 - add a comment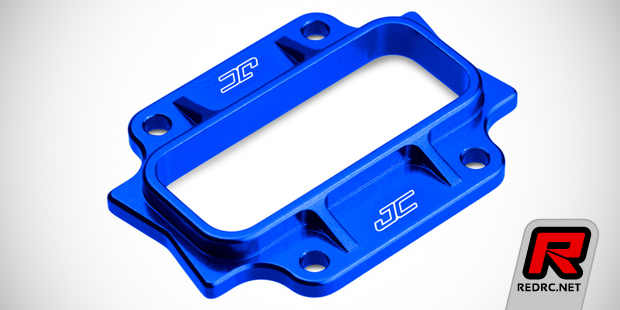 New from JConcepts comes this replacement bulkhead center cap for the famous B44.2 buggy kit. The machined aluminum component, anodized in blue, is a handy replacement for the stock plastic unit and is a drop-on to the center slipper assembly. With the motor mount and bulkhead as one assembly in the B44 vehicle, temperatures peak out and transfer through the entire center assembly allowing the new cap to act with heat-sink capability. The stout design with external ribbing has increased strength over the plastic unit, is symmetrical in design and adds a higher level of detail and aesthetic appeal to an already championship vehicle.
Click here to view the mounted part
Thursday, May 16, 2013 - add a comment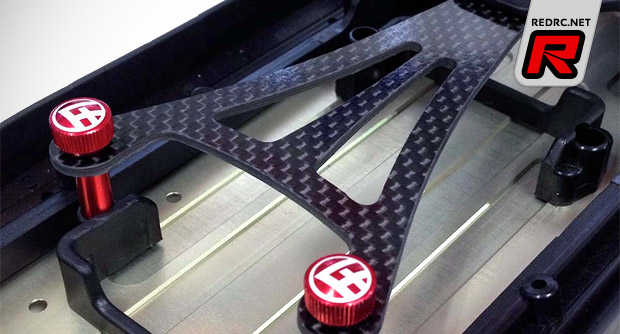 Yaiba Racing have released this woven graphite battery plate set with red anodized aluminuim posts and aluminium battery strap thumb nuts. An easy direct replacement for the standard plastic battery holder it is compatible with all types of motor layout and battery style and is approximately 12% lighter than the standard plastic battery holder.
Thursday, May 16, 2013 - add a comment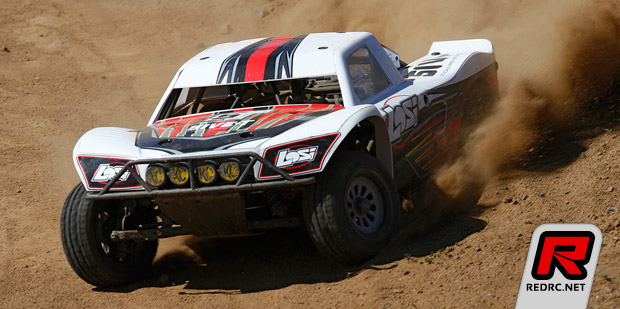 The Losi 5ive-T 4WD Racing Truck is now available as a Roller. The same great chassis, toughness and driving exhilaration, but this time you get to choose what engine and RC equipment best suits your needs. They have also left the 4-piece bodyset clear so you can finish it up in whatever colours and wild schemes match your personality. Factory-built as a rolling chassis, leaving you to finish it off with your choice of electrics, engine and pipe.
View more details and images here
Thursday, May 16, 2013 - add a comment