April 25, 2007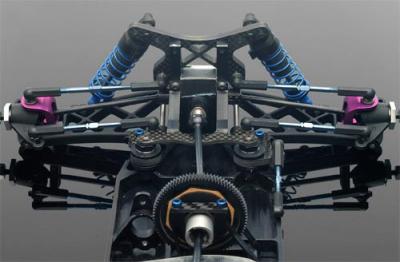 We have been contacted by Gerd Strenge, designer of the Durango 4wd electric buggy, to make a statement regarding some very disturbing news about, what basically amounts to theft by Belgian firm Aero Racing. As some of you may be aware, 2 weekends ago was the first race of the UK Nationals for off road and at that event a new firm was present called Aero Racing, claiming to have produced a new car called the A-One which was 'based' on the Durango, and they also claimed to have bought the full concept from Mr Strenge. This turns out to be a complete lie and, despite contact with Aero Racing by Gerd, they continue to use Gerds name and the Durango name to promote this rip off.
The text above is the opinion of Red RC, not that of Gerd Strenge.
Click here to read the full statement from Gerd Strenge…
Official announcement from Gerd Strenge, designer of the Durango car.

Its has come to the awareness of Durango designer Gerd Strenge from Germany, that some Belgian RC drivers have copied his original design Durango car and want to sell this car under a new name.

This recently started company, "Aero" as its now called, claims on its website and, the Aero owner does the same again on oOple.com forums and in Oople.com race-interview, that the car is developed in cooperation with, and with the full knowledge and agreement of Gerd Strenge, and that the project and name has actually been bought from Gerd Strenge. The Aero company has started as a university project with direct involvement of the University of Hasselt, Belgium, but it is planned to become a commercial company.

Gerd Strenge's reaction:
"I have no agreement with these people whatsoever, these statements are lies, I am very angry and disappointed that they use my name, the Durango-name and even the Durango concept for their own benefit, without even discussing this with me "

According to Gerd Strenge he does know the people behind Aero quite well (from the racing-scene), but he never agreed in any way to sell the Durango concept or name to them. The statement of Aero is thus false. Aero actually abuses the name Durango and that of Gerd Strenge to give their project some credibility. And all this all without even speaking to Gerd Strenge on this subject.

One supported driver Lee Martin, who recently won a large off road race with what looked completely like the Durango car (just with Aero-decals on it), seems not be aware of the fact that Aero has not involved Gerd Strenge in any way. He will be interviewed for further comments.

Gerd Strenge states, that he has actually sold the Durango project to another company at the start of 2007, which most certainly is not to Aero company.

Gerd Strenge, through a 3rd party, has summoned Aero to publicly admit and rectify through the RC press (websites, forums, oOple etc) that Gerd has no link to Aero whatsoever and that Aero has used his name and Durango concept under false pretences and without his knowledge. Also false comments about Aero having bought the Durango name or projects shall be publicly rectified in the RC press.

Gerd Strenge is of course very proud of his Durango design on which he has been working for the past 5 or 6 years and which has proven very successful major races even making European and World Championship finals. He is also very proud that a major company in the RC industry has agreed to take the car into its programme and products. More information about this release later on in the year.
From oOple: Link
First of all it's not a dublicate! The concept idea is the same but the car will be in graphite with alu parts . Secondly we've made a lot of changes to the car, the steering is different, major changes to the geometrie (front and rear) etc…
But we don't need to defend anything I guess, we bought the rights on the car and used the concept, quite simple :)
We talked about the idea with Gerd and if he was interested selling the designs, he agreed. That's how it all started…
From oOple Interview: Link
What is the relation of this car to the Durango, and why isn't the original name used?
We bought the stuff off Gerd Strenge in January this year, although we have been developing the product for a year now. The name Durango cannot be used due to Chrylser registering this name for one of their products.
---