September 14, 2016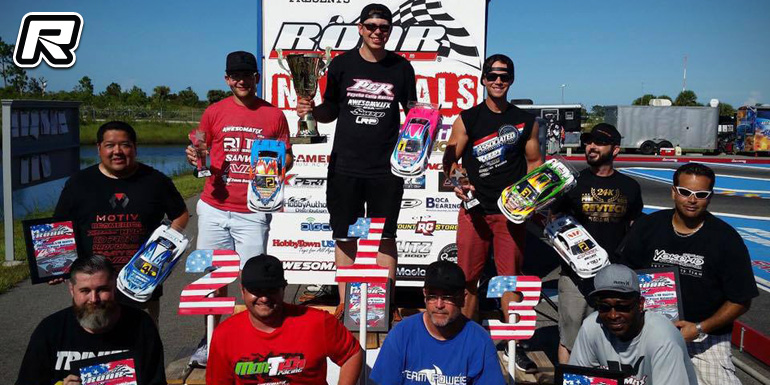 This past weekend RC racers from around the USA and Canada converged at Valkaria RC to race against the best at the 2016 ROAR Asphalt Nationals. Practice began on Wednesday morning as drivers quickly became aware of the ever-changing track conditions and intricacies of the beautiful Valkaria RC layout. As practice continued through Thursday night, it was Mike Gee looking strong in 13.5 as well as Mod TC. Sam led the way as "practice TQ" in 17.5 TC, Johnee Fenimore appeared to have the 21.5 TC class locked down.

13.5 Touring was the Mike Gee (Awesomatix) show, as he TQ'd all four rounds of qualifying in strong and convincing fashion, with teammate Sam Isaacs (Awesomatix) finishing with three P2 finishes to ultimately lineup second on the grid. Team Associated's Keven Hebert would line up third with Xray's Craig Xavier in the fourth spot in what would surely be a fun and competitive set of A-main finals. Mike Gee led tone-to-tone in A1 and A2 to claim his fifth National Title, with Sam Isaacs winning A3 to secure second place over Keven Hebert and Craig Xavier in 4th.
13.5 Touring final results:
1. Mike Gee
2. Sam Isaacs
3. Keven Hebert
4. Craig Xavier
5. Ray Darroch
6. Dave Vera
7. Michael Hanulec
8. Stephen Boice
9. Danny Jenkins
10.Chris Kemper
In 17.5 Touring, the largest class, Sam Isaacs was able to TQ three of four rounds and start on pole for Sunday's main event. Sam won A1 in convincing fashion over 2 seconds clear of the field. A charging Ray Darroch, Austin Wolfe, and Craig Xavier who started second, third, and fourth respectively made Sam's work harder in A2. An early rough start for Sam put Craig and Austin to the top early. 3 minutes in, Austin flipped on a dot and Sam got around, slowly catching Craig for the race lead. With two laps to go, Sam made a clean pass on the inside of Xavier in front of the driver stand just before the chicane, and came around for his final lap to take the overall win and title in the 17.5 division.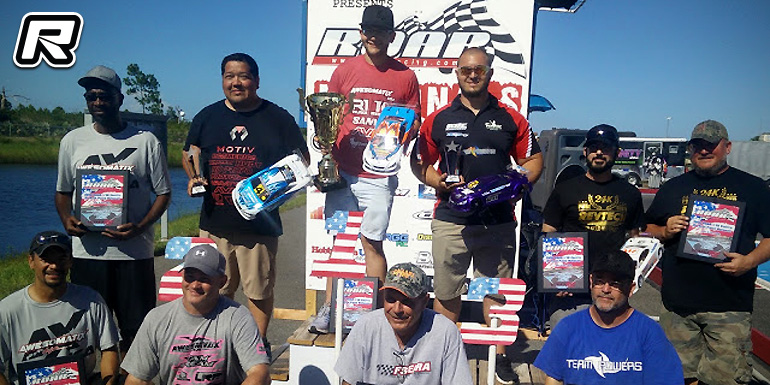 17.5 Touring final results:
1. Sam Isaacs
2. Craig Xavier
3. Austin Wolfe
4. Ray Darroch
5. Chris Kemper
6. Billy Spence
7. Sal Amato
8. David Franklin
9. Robert Cooper
10.Danny Jenkins
21.5 Touring was led by Johnee Fenimore who TQ'd three of four rounds to start on pole. Johnee won A1 and A2 to become the 21.5 TC National Champion.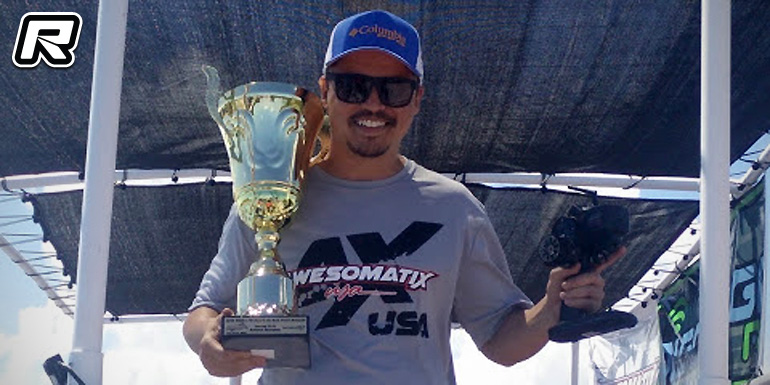 21.5 Touring final results:
1. Johnee Fenimore
2. Robbie Michaels
3. Michael Bruce
4. Ken Campbell
5. Seth Moore
6. Kevin Abbott
7. Joseph Depinto
8. John Kwascigroh
9. John Toth
10.Tim Haskins
Source: Awesomatix [awesomatixusa.com]
---