October 31, 2006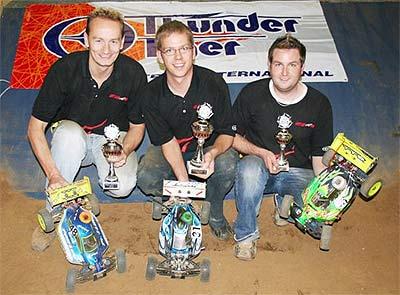 At the recently run indoor off road race at the Stuttgart hobby fair, Team Thunder Tiger won both the Buggy and Truggy classes. In the Buggy class the young Andreas Ertl lead home a top 7 positions clean sweep for the manufacturer with Michael Guard in 2nd followed by Stefan Ippy in third.
In the Truggy class they didnt have it all their own way but still took the class win with Michael Guard winning with GS racer Hans Dieter Plepp bringing the fight to Guard followed by Rentel in third.
You can view more pictures and read the reports (in German) here.
Source: Thunder Tiger Europe [thundertiger-europe.com]
---