March 28, 2007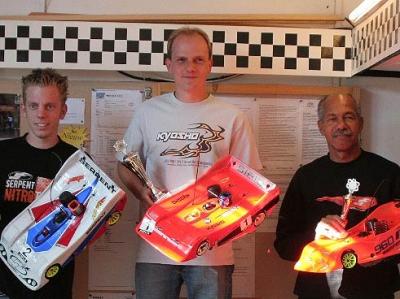 To continue our long running look into the partnership breakdown between Kyosho and Sirio, we today heard a rumour, that backed up something we heard a while back, that multiple Belgian Champion and Euros podium finisher Ilia van Gastel has not re-signed to use Sirio engines. Van Gastel is of course a factory sponsored Kyosho racer and his abandoning Sirio as an engine partner is in keeping with the other Kyosho factory racers Collari, Bertin, Cyrul and Shimo who have all abandoned Sirio as their engine supplier in recent months.
So where does Van Gastel go from here? Should he choose Novarossi like 7 time World Champion Collari or choose the Team Orion CRF like Cyrul and Bertin or perhaps go for some other manufacturer? Who knows, but we're sure to find out soon, as the new outdoor season is about to start up.
UPDATE: According to a number of e-mails from other top European racers that i have received and also the current entry list (PDF) from the 1/8th scale EFRA GP that will be held at the end of April, Ilia will race Team Orion CRF engines.
Image: JE Racing [jeracing.eu]
---