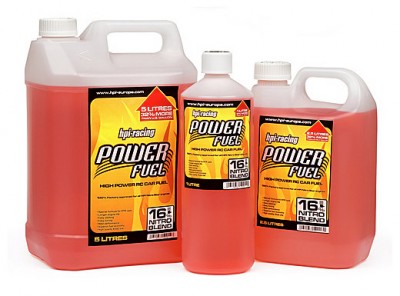 HPI's new Power Fuel was developed especially for modern RTR nitro engines, the company choosing to work with the manufacturers of the popular OptiFuel line of fuels, Europe's most popular brand of helicopter fuel used by serious competitors and uses the same high quality Klotz synthetic oils as OptiFuel Optimix-Race blends. Available in 25%, 20% and 16% it makes starting and tuning nitros engines easy because its specific blend is more tolerant of incorrect settings and of temperature and humidity changes. The consistent burning provides a steady smoke trail allowing car and buggy owners to easily see the effects of engine tuning. Sold in 5L, 2.5L and 1L drums.
Source: HPI [hpieurope.com]
Tuesday, December 15, 2009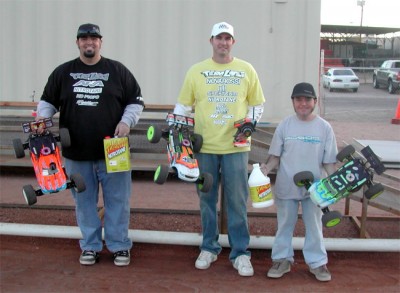 Round one of the Arizona State Championship Series took place this last weekend at Arizona's newest nitro facility. Expert Truggy saw Losi's Casey Peck taking the TQ and win with Brian Kinwald in the second spot. Losi teammate Trevor Clement fought a great battle and came from a bad start to finish third. In the Expert Buggy class Trevor Clement TQ'd with his 8ight 2.0 buggy, but in the main Casey Peck and Mike Friery took a 1-2 finish. The Intermediate buggy class saw the Nitrotane-powered buggy of Losi driver Autie Bender able to take the main event win by a full lap over the competition, while in Intermediate truggy Danny Travino took down the field by 2 laps to take the top spot on the podium.
Source: Losi [losi.com]
Tuesday, December 15, 2009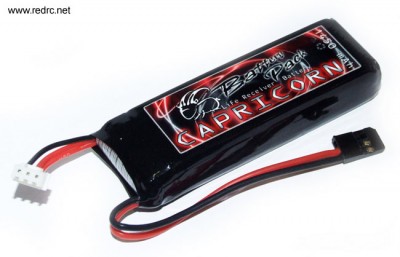 Capricorn RC have released a new LiFe RX battery. This 2 cell 6.6 volt 1450mAh pack comes in a traditional stick configuration and is supplied with a balance connector. Weighing in at only 70 grams, the cables are soft silicone and the pack will fit perfectly into all 1/10th nitro cars, with the exception of the Velox V10.
Source: Capricorn RC [capricornrc.com]
Tuesday, December 15, 2009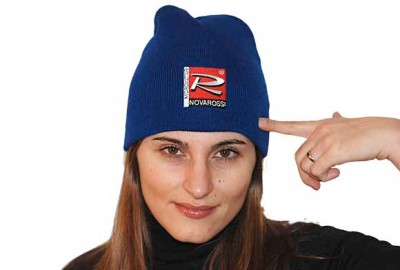 Keep your head warm at those cold outdoor races with this new winter hat from Novarossi. Available in blue and sporting the familiar Novarossi emblem embroidered on the front, this hat looks good and will help keep your brain warm allowing you to concentrate on the racing at hand.
Source: Racing Experience [racing-experience.eu]
Tuesday, December 15, 2009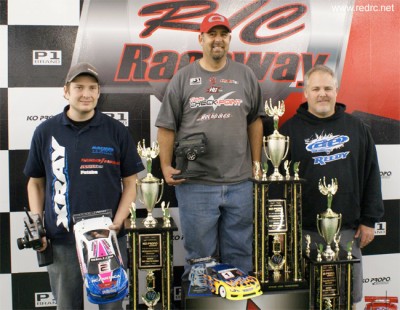 The 2009 KO Grand Prix took place last weekend at West Coast RC Raceway in California. Barry Baker was in attendance with his Hot Bodies Cyclone and was untouchable all weekend, setting the TQ in both the modified and 13.5 class. The former National Champion would go on to win both classes as well, beating out Xray driver Paul Lemieux and Associated racer Rick Hohwart who finished 2nd and 3rd in Mod and Rick Hohwart and another Associated driver Keven Herbert in the 13.5 class.
Click here to see the 13.5 podium
Tuesday, December 15, 2009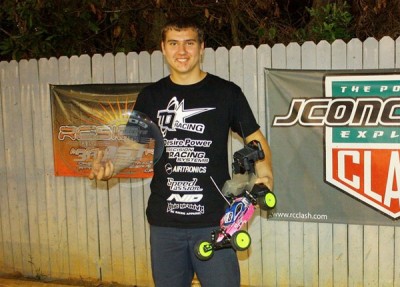 TQ Racing were in touch to tell us about their driver JP Richards winning the Super Stock title at the 2009 JConcepts Clash. JP joined the TQ team only three short weeks ago and has had nothing but success since making the move. The class this year was filled with some of the fastest super stock racers in the country, with X-Factory driver Leon Mcintosh in second place with third going to Luke Richards. JP also went on to finish 3rd in 2wd Mod behind Jared Tebo and winner Ryan Maifield.
Source: TQ Racing [tqracing.net]
Tuesday, December 15, 2009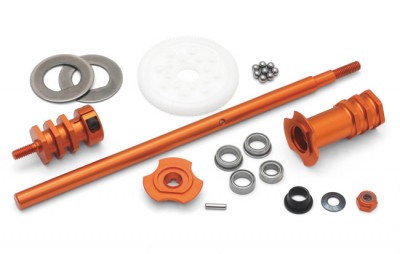 HPI Racing have released more new parts for their Formula Ten chassis. Formula Ten car owners using foam tires can now modify their cars with this ball differential set that allows quick and easy tuning of the differential to track conditions for optimal handling. The smooth and efficient diff action gives extra traction for lower lap times. Also used to maximize the handling of your foam tire equipped car is this new aluminium steering knuckle set. The steering knuckles are precision machined from billet aluminium for durability and feature additional steering link locations to help dial in the steering response to track conditions. Other parts include this friction damper plate thats made from high tech woven graphite for extreme strength and custom looks, and precision machined to HPI specifications for a direct bolt-on high performance upgrade to the stock plastic part. Finally for the Formula Ten are new wheels, for high grip foam tires with these precision molded FT02 wheels that are made from black high impact nylon for a perfect fit and have a flat mounting surface designed specifically for high performance foam tires. The FT01 precision front wheels are molded from high impact nylon and their high precision design assures that the tires roll true and round for maximum grip and minimal vibration. These silver wheels feature a split 6 spoke design for realistic looks.
Click here to see the other parts
Tuesday, December 15, 2009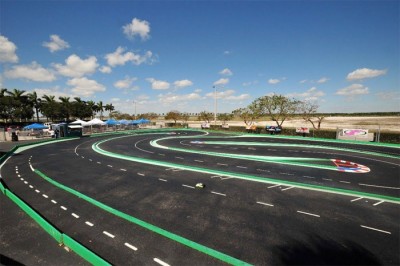 ROAR have made the announcement that Homestead RC Raceway, located in Homestead, Florida, will host the 2011 IFMAR 1/8 I.C. On‐Road World Championships. The track will undergo major renovations to ensure that all of the facility will meet the racers demands, with a focus on extending the race track to provide a longer racing line as well as a new driver's stand that is higher, longer and able to accommodate up to 15 drivers.
Click here for the official statement
Monday, December 14, 2009