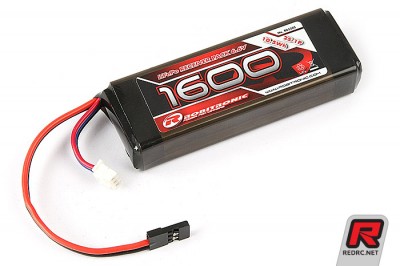 Robitronic introduce a 6.6V LiFe hardcase receiver battery pack with 1600mAh capacity suitable for all 1/10 scale and 1/8 scale chassis that require straight design packs. The pack with dimensions of 85x30x17mm weights 80g, has a 1C charge rating and is usable without additional voltage regulators even if the receiver is not high voltage compatible.
Source: Robitronic [robitronic.com]
Friday, June 24, 2011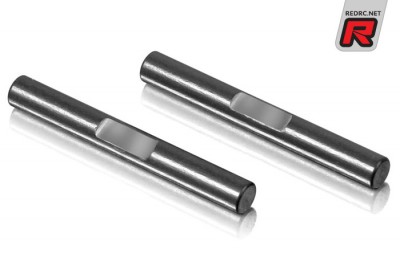 Xray got in touch to tell us about the new hard coated aluminium rear body holder arm pins for the RX8. CNC-machined from lightweight Swiss 7075 T6 aluminium and specially coated to give them extra durability the parts save 63 percent of weight compared to the standard arm pin.
Click here to see another picture
Friday, June 24, 2011
Serpent is busy producing more option parts for their line of gas on-road cars in the form of a brass mono-type engine mount and a new Centax-2 aluminium clutch housing. The one-piece Monobloc engine mount is precision CNC-machined from brass adding extra weight in a low and central of the chassis. The part weights 80g compared to the 28g of the aluminium part and also makes for a better heat transfer. The Centax-2 aluminium clutch housing is precision machined from special grade material to generate extra grip for the clutch shoes. Designed to fit all Centax-2 systems, made for the use with Serpent's hard coated aluminium gear pinions and 70 percent lighter than the standard steel version. The best performance is gained with the black clutch shoes as the yellow and red shoes may wear too fast.
Click here to view the clutch housing
Friday, June 24, 2011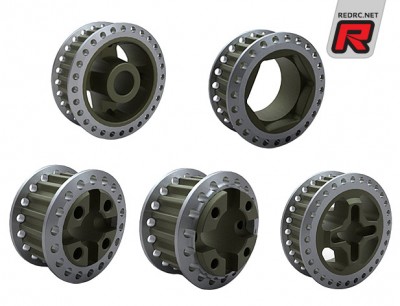 Arrowmax have launched a full series of transmission belt gear pulleys for the Xray RX8 chassis. CNC-machined from high-quality 7075-T6 aluminium the pulleys run very true and feature a hard coating for long parts life while the weight reduction holes on the sides also allow emerging heat to dissipate from the belts.
Source: Free Max [freemaxmp.com]
Friday, June 24, 2011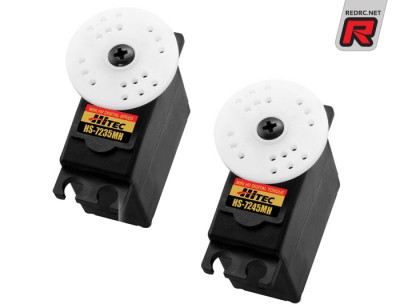 Hitec introduce new coreless mini servos and the X1 AC Plus charger. The HS-7235MH (0.08s/4.4kg-cm) and HS-7245MH (0.11s/6.4kg-cm) are 7.4V high voltage servos with an optimised coreless motor to cope with the higher voltage input. Also good to use with lower 6.0V voltage input both servos also feature heavy-duty metal gears and dual ball bearings. The strong yet speedy servos are ideal for both 1/12th scale on-road racers and 1/18th scale rock crawlers. The X1 AC Plus battery charger is a multi-chemistry 50W charger and offers charging rates from 0.1 up to 6.0A using 100V to 240V AC power sources. Designed to charge 1 to 15 NiXX, 1 to 6 LiXX and 2V to 20V Pb batteries the charger features a two line back-lit LC display and four button menu operation.
Click here to view the charger
Friday, June 24, 2011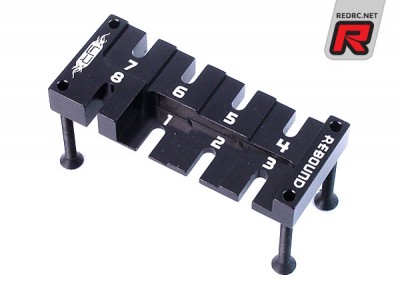 Yeah Racing introduce this rebound adjusting tool made from machined aluminium. It allows for easy adjustment of the rebound on on-road oil-filled shock absorbers. Eight different settings from 1mm to 8mm are possible by inserting the fully build and filled shock in the dedicated slot, followed by screwing down the shocks upper cap. This way a reproducible rebound can be adjusted for all shocks on the car and after shock rebuilds.
Source: Yeah Racing [yeahracing.com]
Friday, June 24, 2011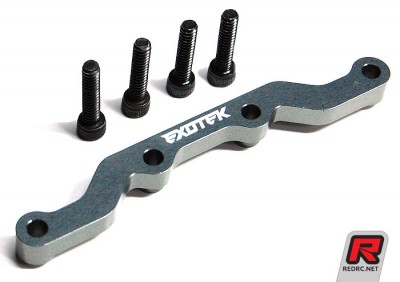 Exotek Racing release an alloy steering brace for Losi's XXX-series of buggies and trucks and an upgrade chassis for an old school favourite, the HPI Pro4. The steering brace reduces the flex in the steering cranks by bracing the steering mount and eliminating the unwanted flex created by the plastic front bulkhead. Giving a more precise steering response the brace is a hot ticket on all high grip or highly rutted track surfaces. Compatible with any of the Losi XXX-series 2WDs.
Click here for more information
Friday, June 24, 2011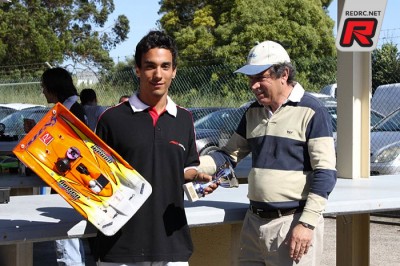 The third round of the Portuguese national nitro 1/8 scale and 1/10 200mm championship was held at the Sintra track last weekend. Both classes were dominated by Bruno Coelho, the young driver having just re-signed with Novarossi to use their engines in his Mugen cars. In 1/8 scale he won by some eight laps ahead of João Malveiro (Serpent/Novarossi) and José Pequito (Xray/Picco). In the 200mm class it was again Bruno who won, this time by two laps, in front of Fabio Ramos (Serpent/Novarossi) and Rogério Araujo (Xray/Novarossi).
Thursday, June 23, 2011