Following on fom the release of their first engine, the PGR S12T, Siim have now released the first information about their Star Motor made PGR S21B. Born to satisfy the most demanding drivers, it is a highly stable, potent and easy to tune buggy engine. Having been tested for a long period of time to ensure its performance and quality, the new motor will finally be available worldwide this Christmas.
Click here for another picture… (more…)
Wednesday, December 19, 2007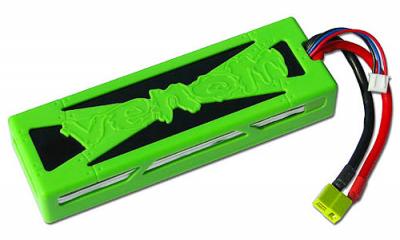 Venom Racing have raised the bar with their new custom built r/c car LiPo race packs. Enclosed in a specially designed moulded case for protection of the cells, they feature heavy duty 12awg wire as well as balance and deans style connector. This particular pack is a 7.4V 20C 5000mAh version that has a charge rate of 5 amps (1C) and a discharge rate of 100amps while the maximum pack voltage is 8.4V.
Source: CML [cmldistribution.co.uk]
Wednesday, December 19, 2007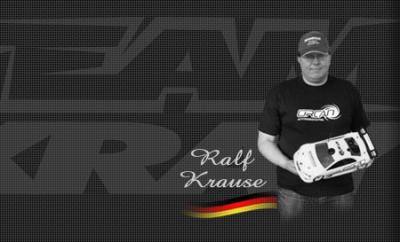 German Xray importer SMI have announced that top German racer Ralf Krause has signed to race the NT1 for 2008. Ralf, who raced for Serpent the previous seasons, will join current German National Champion Robert Pietsch and vice Champion Dirk Wischnewski in racing the NT1 in Germany. Krause was a finalist in this years European B Championship in Roeselare as well as having finshed up as German Vice Champion 3-times.
Source: SMI [smi-motorsport.de]
Tuesday, December 18, 2007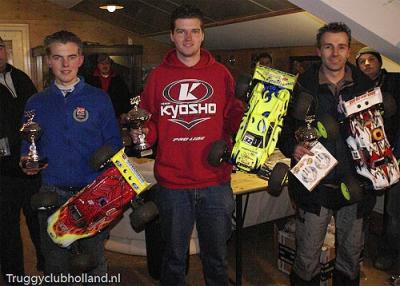 Last weekend saw the first International Truggy.nl Indoor Masters 2007 run on an indoor dirt track in the Netherlands. The 30 minute A-main was won by German Kyosho ST-RR/Sirio driver Frank Lemke who managed to finish 1 lap up on the 2nd place finisher Stefan Petrich, also from Germany, with his RB powered Robitronic Mantis. The 3rd spot went to Dutch driver Daniël van der Drift with his Novarossi powered GS Racing XUT, only 7 seconds behind 2nd.
Click more for the final results… (more…)
Tuesday, December 18, 2007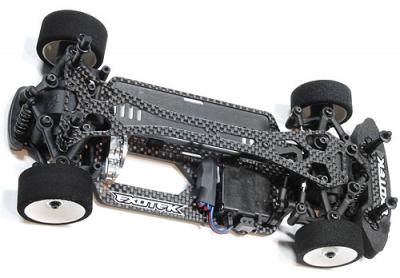 Exotek Racing have released an all new design concept for the R3 this time around with the goal to use Lipo batteries in the M18. The chassis plate has been machined to make a pocket in the 2mm thick chassis to protect LiPos from being damaged from the track surface, yet still maintaining the low profile and super narrow features of their R3 chassis. For the die hard NiMh racers, the chassis still accepts 6 cells side by side and with the addition of multiple tape slots in the battery compartment you are able to position your battery exactly where you want it to adjust the cars balance. The R3 now also accepts micro servos such as the Hitec 85MG and for improved car control, the R3 continues to use its unique mono crank steering system.
Source: Exotek [exotekracing.com]
Tuesday, December 18, 2007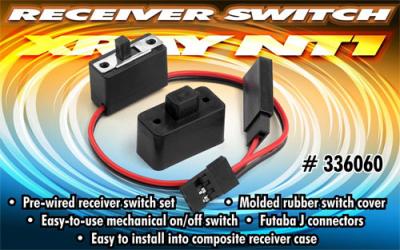 Xray have announced the release of this complete receiver switch set for the NT1 that fits directly into the car's composite receiver case. This pre wired mechanical on/off switch, for quick & easy powering/shut down of on board electronics, comes supplied with a moulded rubber cover that protects the switch from contamination by fuel and dirt. Comes fitted with Futaba J connectors.
Source: Xray [teamxray.com]
Tuesday, December 18, 2007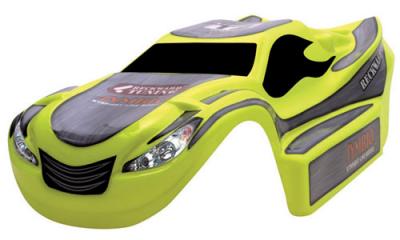 Reckward Tuning have released the second version of their unique looking Symbio truggy body shell, suitable for the Mugen MBX-5T or Jammin X1-CRT. Made from 1mm thick high quality polycarbonate, the outer contour comes pre cut, while the rear of the shell has a R-Line diffuser for that aggressive look. Supplied with Symbio decals and window masks, refueling is possible with all fuel guns on the market through the front window.
Click here for more pictures… (more…)
Tuesday, December 18, 2007
Off-road racing wheels are subjected to the most severe abuse and JConcepts Rulux wheels are designed with racing and bashing in mind, while allowing your vehicle to look its best while doing it. The Rulux wheels spoke design combined with the inner rib detail is the result of rigorous testing by qualified drivers in a variety of conditions.  Incorporating an outer glue catch that resists excess glue from running down the wheel face during the gluing process, all wheels are branded with the small JC logo for brand identification and authenticity. The JConcepts Rulux wheels are available in the 2 most popular color combinations, bright white and fluorescent yellow.
Click here for more information… (more…)
Tuesday, December 18, 2007

We received word from the organisers of the DHI Cup, an event that Red RC will cover live, that they have decided to change the control-tires because Much More could not guarantee a sufficient supply of their AT-32 tire. So for the 2008 edition of the DHI-CUP, racers will use the Much More Sweep LHS carpet tire with JB foam inserts and pre-glued on JB X-tra Hard wheels. The sweep tires are a new development made especially for carpet racing and tested by Much More team-drivers. To supplement the tires the organisers have also bought the same carpet as used at the ISTW race in October.
Source: DHI Cup [dhi-cup.dk]
Monday, December 17, 2007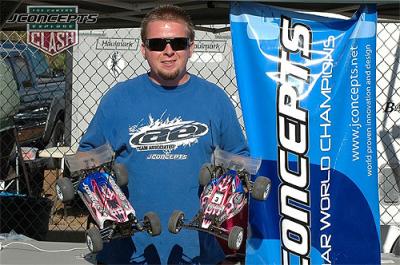 JConcepts contacted us to tell us about their great JConcepts Clash that was run recently in Lake Park, Tampa, Florida. As promised "The Powers Exploded" and a unique event, which featured electric and nitro vehicles competing on the same day, was launched. The event was open to sportsman and expert classes thus catering to drivers of all skill levels. Ryan Maifield driving his Team Associated RC10B4, B44 and RC8 vehicles dominated the extended A-main events using JConcepts Racing Tires. In the 2wd Modified class Ryan used on his RC10B4 to win the 10-minute A-main event, while UK National 4wd Champion Lee Martin TQ'd the event. In the 4wd Modified class Ryan took his B44 to a convincing victory in this highly competitive class, while in the 1/8th buggy class Ryan took his Team Associated RC8 to victory in this prestigious class, while once more it was Lee Martin that took the overall TQ.
Click more for lots of pictures… (more…)
Monday, December 17, 2007