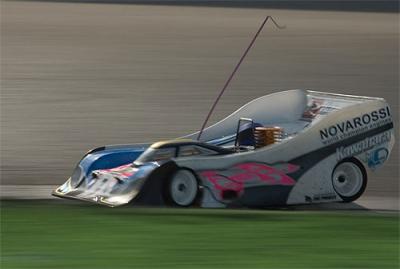 Seen at last weekend's Trofeo MLC & Tornado, run at the RME 'Lamberto Collari' track to celebrate Collari's 8 World Championship titles, was the new Peugeot 908 1/8th scale body shell from MLC. Made by Bergonzoni and already appearing on the EFRA list of approved body shells for the 1/8th class, this new shell is unusual in that it has a full cockpit. This aside, the body is essentially a Lola CanAm shell, albeit a bit more stable. The race itself was won by Lamberto, who of course was running the new shell, while the version shown above belongs to Andrea Pirani who finished 3rd.
Source: Novarossi [novarossi.com]
Wednesday, April 2, 2008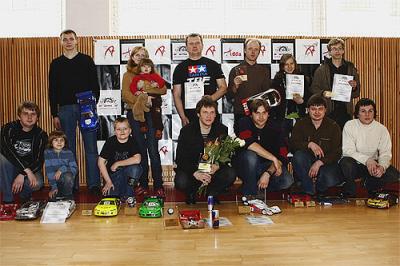 The 6th and final round of the Lithuanian National indoor championship was run last Sunday in Vilnius and we received this report. 'The Touring Stock class was dominated all season by Tomas Riūka driving a HPI PRO4. Out of the 5 rounds counting Tomas won 4, but he said "the battle for title was not as easy as seemed. The competitors were extremely strong and put a lot of pressure on me at every race but as in any form of racing the important thing was to remain consistent and error free". The second spot in the series was taken by Donatas Katilauskas with a Tamiya TRF415 MSX who was just behind in the overall championship, while 3rd place belonged to HB Cyclone driver Robertas Daskevičius. In 1/12th Mod it was Corally driver Mindaugas Ambrasas that won the championship after dominating the series, winning all rounds. He had this to say "I had a really bad day at 6th round but managed to win it. I also enjoy that the competition is growing stronger and the class is also growing in number. Next season won't be easy". The runner up spot in this class was taken by Lithuanian RC Cars Association president Evaldas Urbonas while the 3rd spot went to Latvian racer Janis Klimenkovs, who showed better speed than Urbonas, but missed number of races and therfore lost crucial amount of points.'
Thanks to Mindaugas Ambrasas for the report
Tuesday, April 1, 2008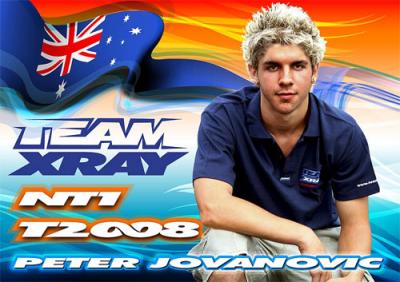 Xray have announced that top Australian Touring car racer Peter Jovanovic has joined Xray to race their NT1 and T2008 chassis'. One of Australia's youngest and most celebrated on road Champions, he has a long string of State and National titles, as well as a 3rd place finish at the 2006 200mm World Championships.
Joining Team Xray has been a huge step in my racing career, I have had my eye on Xray for a while now and it is a huge relief joining and working together with such a high performance racing team. I had tested the T2008 and its smoothness and consistency was the first thing that made me know that Xray is going to make a big impact on my racing and take me another step further. Thanks to Xray and Custom Model Cars for making this all possible.
Source: Xray [teamxray.com]
Tuesday, April 1, 2008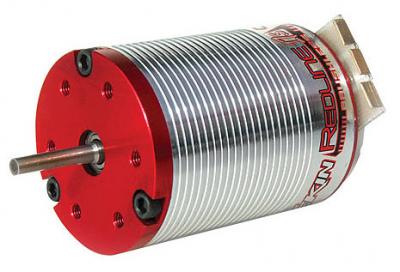 Tekin will soon release their Redline Series brushless motors, a new breed of BL motors specifically engineered to operate at the intersection of power and efficiency. No single motor can live up to that expectation under all conditions and so they have designed a series of motors, each one targeting peak performance for a particular application. Everything is covered, from on road touring to off-road buggies and trucks to oval classes, these new motors aim to deliver competition performance.
Click more for the feature list… (more…)
Tuesday, April 1, 2008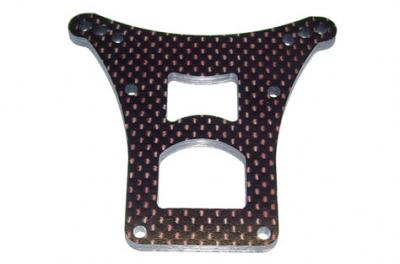 More new stuff for the Associated B44 from Diggity Designs, following last weeks release of the LiPo mount for the car. The same company have now announced the release of this super strong and lightweight 4mm thick carbon fibre front shock tower. Looking a bit beefier than the stock version, this option part also features a 3rd upper shock absorber mounting hole for more tuning possibilities.
Source: Diggity Designs [diggitydesigns.com]
Tuesday, April 1, 2008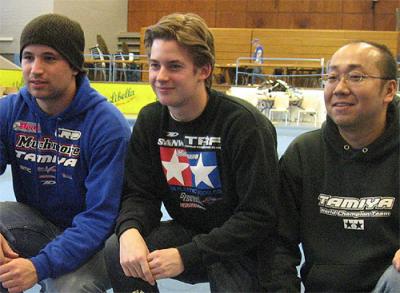 Following in the foot steps of his Tamiya team mate Jilles Groskamp, Viktor Wilck has signed a deal to use Speed Passion motors for the rest of the season, with an option for 2009. Formerly running with the Team Orion units, the Swedish driver who won the DHI Cup earlier this year, was using the new motors for the first time at last weekends LRP race in which he finished in 3rd position.
Tuesday, April 1, 2008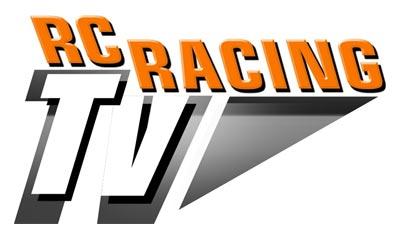 The producers of the great RC TV show RC Racing were once again in contact to inform us of the upcoming Episode 6 which premiers this Wednesday on European cable channel Motors TV.
This month we feature Virtually the best racing in the world as we stage own VRC championship featuring 2 world Champions, national champions and our own Nick Daman – guess who wins! Talking of Winning there is a chance for anyone to pick up a brand new HPI Firestorm 10T in our cracking competition. We have the last of our action from Las Vegas – and we've saved the best for last – with the Touring Car Modified Rubber A final. Plus our usual news views and interviews.
The show premiers at 9.30pm on Motors TV and will receive several more showings across the month please check your TV schedules for details
Source: RC Racing TV [rcracing.tv]
Tuesday, April 1, 2008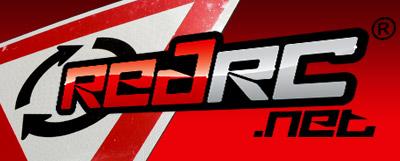 A summary of other news pieces from around the internet today in our Red RC Round-up:
> Mike Swauger wins the 08 Westcoast Champs – Link [jpracing.com]
> Vicente Eres wins in Villareal, Spain – Link [teamxray.com]
> Prümper stars with stars at LRP Masters – Link [serpent.com]
> First pictures of the Piktor Mad Eco – Link [rcmag.com]
> 1/10 World Championship Warm-up report – Link [teamxray.com]
> Jonas Kærup is Danish Touring car Champion – Link [racerc.dk]
Entry is open for ETS Rd3 in The Netherlands, April 11th-13th
Monday, March 31, 2008