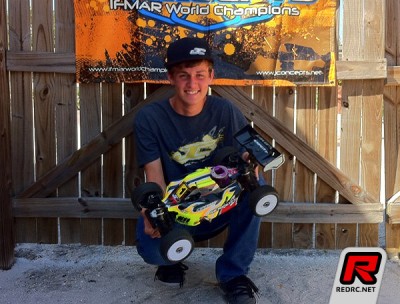 Round 6 of the FSORS series made the way to Mills Pond in Ft. Lauderdale, FL for another stop on the popular Florida series.  JP Tirronen put his stamp on the 1/8th buggy pro class in qualifying by earning the TQ in rounds 2 and 3, taking the number 1 position leading into the mains. JP was having a magical weekend and from the tone JP put it on the rest of the drivers.  Racing out to a large lead, JP kept consistent pressure on the field and maintained his hot hand on the track. JP's dad was in the pits making the proper pit strategy moves, performing great pit stops while JP increased the lead. Finishing with over a 2 lap lead, JP cruised in for his first win on the 2011 series. JP's Serpent was decked out with JConcepts all weekend long.  Using an assortment of Bar Codes and Sevens to Top Qualify then switching to the trusty Crossbows mounted on Mono wheels for the main, JConcepts tires were hooked-up all weekend long on the amazing Mills Pond track surface. Topping off the winning ride was a Punisher body and Illuzion HD rear wing.
Source: JConcepts [jconcepts.net]
Wednesday, April 6, 2011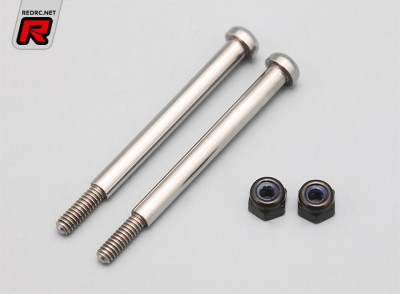 Yokomo have released this optional kingpin for their 1/12th scale R12 and GT500 chassis'. The screw is now 1mm longer than the standard version which allows the user to adjust the car's ride height more easily. Another difference is that you can now use a 1.5mm hex driver to install the kingpin more securely.
Source: Yokomo [teamyokomo.com]
Wednesday, April 6, 2011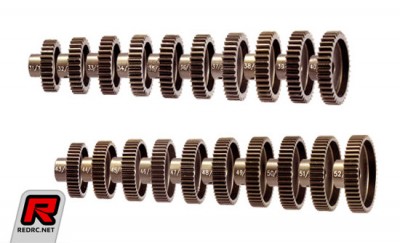 Zeppin Racing have released a complete line of hardened aluminium pinions. All pinions are 100% precision machined from aircraft grade aluminium and lightened, producing lower noise & rotation mass and enhancing efficiency. Their 2x thickness hard coating reinforces the surface hardness which provides extra strength and durability. All pinions fit on 540 size motors with 3.175mm shafts and are available in 64 Pitch (18T-52T) and 48 Pitch (15T-40T).
Source: Zeppin [zeppinracing.com]
Wednesday, April 6, 2011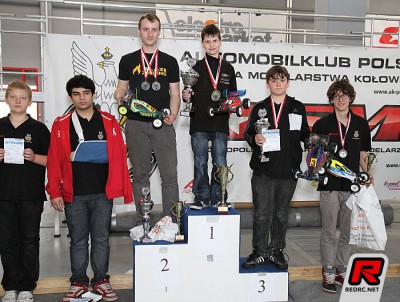 Last weekend saw the Polish Open Indoor Off-Road Championships take place on the big carpet track located on the International Kielce Fair. Over 50 drivers race in 2WD and 4WD modified classes and 2WD and 4WD junior Tamiya classes took part. In the Modified 2WD class top qualifier, Tamiya TRF201 driver, Michal Orlowski took the race win giving TRF201 first indoor championship title in Poland. Second place went to Piotr Blazucki with Kuba Wawrzkiewicz in 3rd, both drivers running the Associated B4. In the modified 4Wd class Piotr Okonski, driving the TRF511, won the championship in front of another two Tamiya drivers Blazej Orlowski and Maciek Brzozowski in 3rd.
Wednesday, April 6, 2011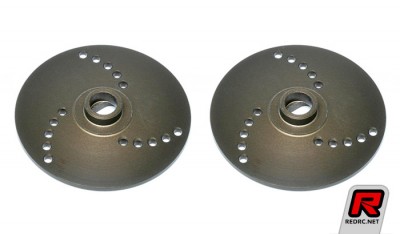 New from the Factory Team for the B4.1 FT, SC10 FT, T4.1 FT, B44.1 FT and SC10 4×4 are these vented V2 slipper hubs. The vented fan pattern of 1.5mm holes allows for cooling and more consistent slipper performance and has been used by Ryan Cavalieri and Ryan Maifield at the 2011 Reedy Race of Champions and Cactus Classic events. Sold as a pair.
Source: Associated [rc10.com]
Wednesday, April 6, 2011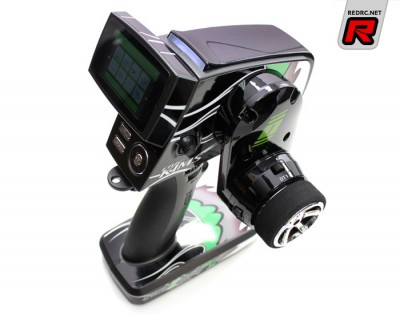 Radiopost has announced their new 2.4gHz Signal Direct Sequence color LCD transmitter. A new name in RC, they have been making I.C.S repeaters (cell phone amplifier towers) for many companies in the wireless market for many years. Having been in the frontier of cell phone signal communication they now are using that knowledge to break-through into the world of RC. High quality, they are manufactured in Korea and fully supported in the USA in Lake Forest, CA. From the ground up the new TS401 radio uses proprietary chipset developed by Radiopost ensuring glitch free 2.4 gHz performance. Some key features include embedded antenna, color screen, ergonomic, easy to use menu interface and balanced weight distribution. Their micro 4ch and small 5ch receivers can fit in any RC application from 1/18th to 1/5th scale.
Wednesday, April 6, 2011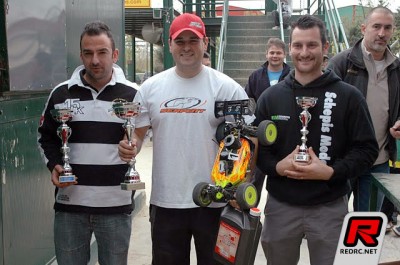 Last weekend saw another round of the competitive CARTT Championships held at Fuencarral track in Spain. Following qualification, it was Serpent/Pro-Line driver Alberto Garcia who took TQ followed by Juan Manuel Guillen and Roberto G. Rodero. The main final would be a true show, in the first minutes Alberto Garcia was leader, followed closely by Guillen, Rodero and Dani Pariente. However with 20 minutes to go, a marshall stopped Garcia's engine and so the new leader was Juan Manuel Guillen, with a gap of no more than 5 seconds over Roberto G. Rodero and Dani Pariente. The three drivers started to change the lead and nobody was able to pull a gap from the other. Alberto Garcia rejoined the race in 4th position after losing more than 25 seconds and started his charge back to the front. With 10 minutes to go the three front running drivers continued to race very closely allowing Garcia to reduce the gap. With 3 minutes to go he was on the leaders and after three more laps, he was the new leader. The last lap was amazing, with Daniel Pariente and Alberto Garcia battling hard for the lead but it was Garcia that won the race, followed by Daniel Pariente, JuanManuel Guillen and Roberto G. Rodero.
View a video of the final laps here
Wednesday, April 6, 2011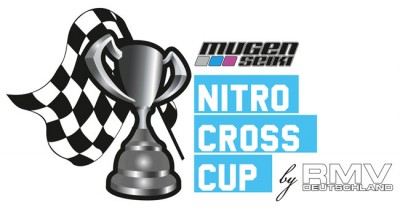 After the success of the first official Mugen Seiki Nitrocross Cup in 2010, RMV Deutschland are back with the 2011 edition. The event will be run from the 10th to the 12th June at the Stoppelhopser Oberhausen e.V. track in Germany. This will be a big nitro off road event open only to Mugen cars for drivers with various skill levels in both nitro 1/8th Buggy and 1/8 Truggy class. The entry now open and you can find more information on this event here.
Tuesday, April 5, 2011