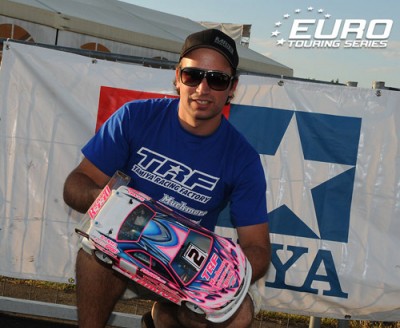 Euro Touring Series Champion elect Marc Rheinard is the Top Qualifier for the closing race of the 2009/2010 season after topping the final round of qualifying here this evening at his home track of Andernach.  The three time World Champion set the first & only 17 second lap of the event on his way to taking the round by half a second from Tamiya team-mate Viktor Wilck. This left the pair tied on points but setting the fastest overall qualifying time in Q4 the German will start tomorrow's finals from pole.
View our full event coverage here.
Saturday, July 17, 2010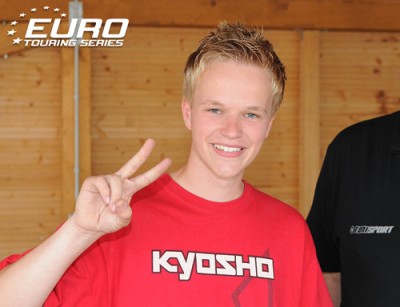 Team Kyosho's Christopher Krapp has topped the second round of qualifying for the ETS finale.  The young German TQ'd the run despite running a slower time than in Q1 yesterday which was only good for the 8th fastest time.  Afterwards Krapp said he had only taken the round because his rivals had messed up their runs with mistakes.  Running the 2.5mm LiPo chassis over the 2mm chassis he used at the Worlds, following pre-event testing, he said a change to Hot Bodies springs had made his car super smooth to drive but the end result was a slower time.
View our full event coverage here.
Saturday, July 17, 2010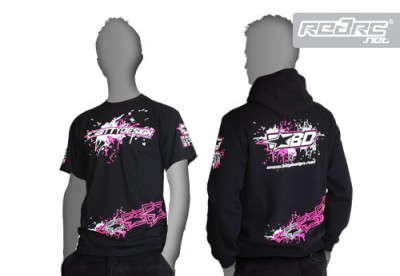 Bitty Design have been in contact to tell us about their brand new clothing line. Made using high quality purple and white serigraph print, the hoody and t-shirt are made from top quality cotton and polyester and of course come in a wide range of sizes from from S to XXL.
Source: Bitty Design [bittydesign.net]
Saturday, July 17, 2010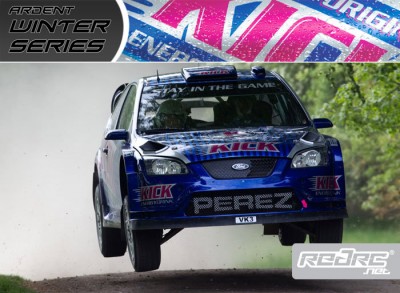 Ardent Raceway – The UKs largest permanent indoor track announces it's on-road winter series incorporating all forms of on-road electric RC racing. The series has attracted sponsorship from Moorespeed, Much-More Racing, RC-Disco, Schumacher Racing with main sponsor being the Motorsport mad KICK Energy drink company owned by Rally star Steve Perez. £8000 worth of prizes including high speed passenger rides in their Ford Focus Rally Car at the Chatsworth Rally show in 2011.
Click here to see the race dates
Saturday, July 17, 2010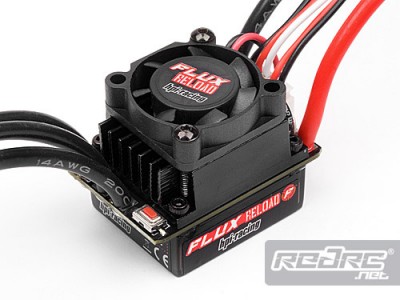 HPI Racing have released their Flux Reload Brushless ESC, a fully-featured, programmable ESC, suitable for 2S LiPo power or up to 9 NiMH cells. This speedo has everything you could want for fun running and bashing, and if you want to take it to the track too. It works great with the Flux Shot Brushless Motor, rated at 4300KV, equivalent to a 9-turn modified brushed motor, the Flux Shot is the perfect way to get into brushless power for any car or truck.
Click here to see the Flux Shot motor
Saturday, July 17, 2010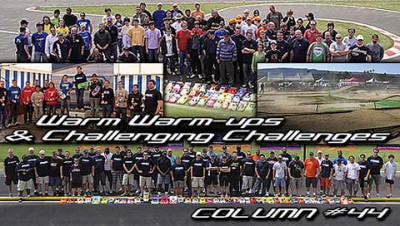 The 44th installment in the Xray column from Xray owner and chief designer Juraj Hudy is now online. In this months column he talks about pre event testing, something essential for a successful result.
With the EC and WC races coming in the summer there is a lot of duties, work and projects to be finished so everybody is super busy. Of course the deadline for us does not mean the EC and WC races themselves but usually the warm-up races which are organised a few weeks or months before the official event. In the highly-competitive racing world, going to a EC or WC without practicing at an official (or at least private) warm-up is a professional suicide; none of the top teams take such a huge risk.
Read the full column here.
Source: Xray [teamxray.com]
Saturday, July 17, 2010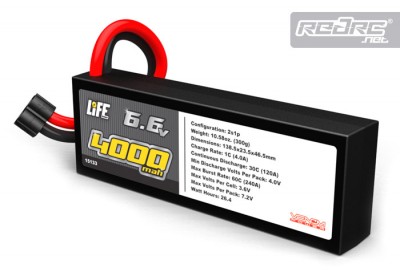 Venom have introduced their new LiFe-Power line of LiFe receiver and hard case batteries. They offer many advantages over their Lipo counterparts including 4X the useable cycles, no low voltage cutoff and higher charge rates. As a receiver battery, there is no need for a regulator due to the lower nominal voltage compared to a LiPo. The hard case packs are perfect for most 1/10th scale vehicles. 1/12th scale racers will love the 3600mAh single cell hard case for its power and lightweight.
Saturday, July 17, 2010
Jeremy Kortz has won the 2010 Short Course Nationals hosted RC Madness. Powered by Losi / Xcelorin Jeremy took home the victory in both 4wd nitro and 4wd electric Short Course classes. Jeremy powered his nitro Hyper SC with the Losi 3.4 engine which is also used in the Losi Ten T while in electric, Jeremy powered his Hyper 10 SC with Xcelorin motor and speedo and Losi LiPo battery.
Source: Losi [losi.com]
Saturday, July 17, 2010