This is Pro-Line's Performance Steering Kit for the 2WD Slash. The stock servo-saver is not ideal for racing or bashing conditions because it allows the front wheels to drift from side-to-side too much losing precision. Pro-Line's steering kit gives control back because you can adjust the exact amount of tension on the servo-saver. The steering kit also eliminates the stock white plastic steering assembly and replaces it with durable black nylon for that race look that you desire. Ball bearings are also a requirement when you desire smooth and precise steering response and these are included along with the necessary hardware to bolt the steering and skid plate to the chassis, which makes the front end stiffer and stronger. Also for the 2WD Slash and Slash 4X4 is a new Adjustable Battery Strap which is a direct replacement for the stock version. Its adjustable and can be tightened down to ensure your battery stays secure and features an aluminum pivot block, which allows the battery strap to rotate completely out of the way so you can easily remove your battery. There is also a quick release for the front of the battery strap so you can change batteries faster than ever.
View more images of both products here
Thursday, February 17, 2011
After teasing us at the end of last month, Pro-Line have now released the Gladiator SC 2.2″/3.0″ tires for Slash, Slash 4×4, SC10, Blitz and Ultima Front or Rear. The Gladiator tread is an icon in the world of RC because of its unmatched traction and durability on a variety of surfaces. For over a decade, Gladiator tires have been tearing up bash and race spots around the World and now Pro-Line Racing is bringing the Gladiator tread to your Short Course Truck. The Gladiator tires are designed to give your short course truck optimal traction on any surface, while also giving you the durability that you are searching for. Available in M2 (Medium) and M3 (Soft) compounds.
Source: Pro-Line [prolineracing.com]
Thursday, February 17, 2011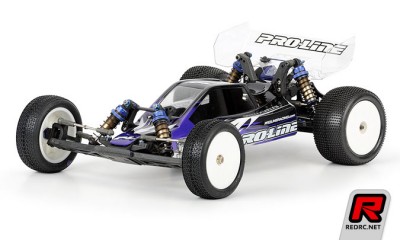 Pro-Line have released their BullDog body for use with the Kyosho RB5 1:10 buggy. Providing performance that has, at times, been deemed an unfair advantage, BullDog bodies now set the standard in performance. The advanced cab forward design generates unmatched off-power steering, while the low profile rear deck feeds the wing with clean air flow. Made from durable / genuine Lexan, the super-low styling giving your RB5 the lowest center of gravity (CG) possible.
View more images of the Bulldog here
Thursday, February 17, 2011
Traxxas have announced the release of the Kyle Busch edition Slash Pro 2WD Short-Course truck. This Ready to race truck is supplied with a TQ 2.4Ghz radio system and Power cell 7-cell NiMh battery. The base is the same high quality truck from Traxxas with Titan 12-Turn 550 modified motor, XL-5 waterproof electronic speed control, water-sealed receiver box and steering servo, metal gear Magnum 272 transmission and Revo-spec torque-control slipper clutch but with the familiar racing colours of Kyle Busch.
View more images of the truck here
Wednesday, February 16, 2011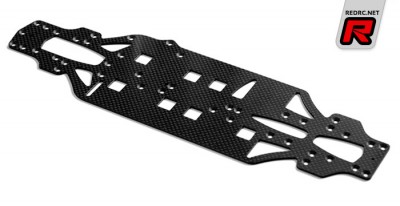 The Hot Bodies TCX gets the Smokem treatment with the TCX-FX chassis. Firstly they have reduced the width of the chassis by almost 10mm and with an overall width of only 94mm, scrubbing during hard cornering is minimized. The 2.2mm thick chassis has been designed to provide additional flex to deliver more grip and a wider tuning window so you can dial-in your car in over a wide range of temperature and track conditions. Other improvements include 2 additional LiPo support holes, which allow you to install locating nuts to bring the LiPo battery 5mm closer to the centerline of the car. We have also added front and rear balancing holes so you can balance your TCX with balance pins. All this translates to a faster car over a wider range of conditions.
View more images of the chassis here
Wednesday, February 16, 2011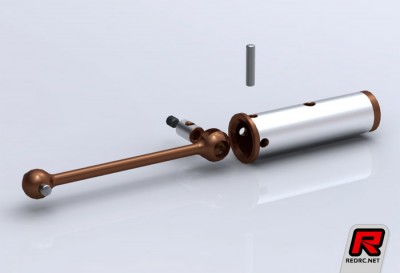 Continuing on with producing parts for the Mugen MRX-5, Arrowmax have released this rear universal joint set. Extremely durable, they are made of a very strong and long life spring steel material, while the use of a CVD helps enhance the performance of the car compared to kit standard dogbones.
Source: Free Max [freemaxmp.com]
Wednesday, February 16, 2011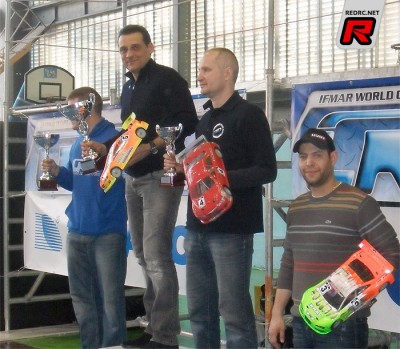 Last weekend saw the 3rd round of the Electric Balkans Open series, which took place indoor at Russe in Bulgaria. The classes were 1/10 touring stock, 1/10 touring modified, 1/10 team and 1/10 beginners. The modified class was definitely the most disputed class of all, and in the qualifications it was Emil Kostadinov that took the top spot ahead of Momchil Dimitrov and Romanian driver Gabi Mutu in 3rd. In the finals, thanks to some setup modifications and good driving, Gabi managed to claim the win in not only the modified class, but stock as well.
Source: EBORC [eborc.net]
Wednesday, February 16, 2011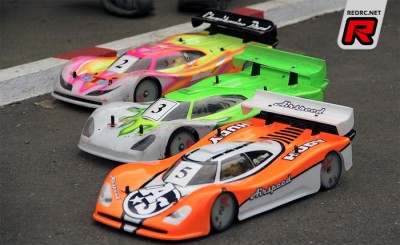 The organisers of the Krakonos 24 hours endurance race were in contact to tell us about their race that will be run from the 19-20th of March in in the big sports hall in Rtyne v Podkrkonosi, Czech Republic. The event is open 1/10 2WD pan car or GT cars and will be run on carpet. The number of teams is limited to 10 teams, which includes 6 drivers & 1 mechanic, but there is still a chance to sign in. The cars will use a 21.5T brushless motor and controlled LRP CPX tires and the race will start at 1pm on Saturday and will finish at 1pm on Sunday. Accommodation, restaurant and all service including spare parts are situated in the hall.
Source: RCA Trutnov [rcatrutnov.cz]
Wednesday, February 16, 2011