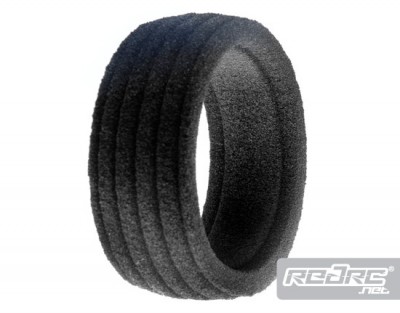 Losi have released their new closed cell foam inserts. Highly durable, making them ideal for long mains, the inserts can be used multiple times between various sets of tires making them economical too. The insert design eliminates air gap between insert and tire and are highly advantageous on tracks that are medium-to-high grip, by decreasing a tire's slip angle thus enhancing vehicle control. Sold in a set of 4.
Source: Losi [losi.com]
Thursday, June 3, 2010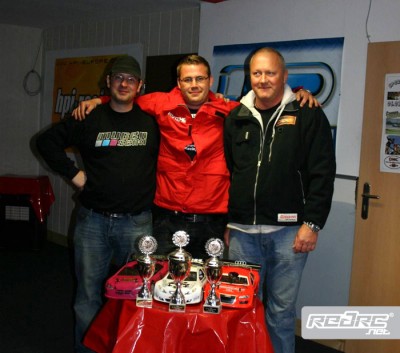 Kyosho/Team Orion team driver Bernd Rausch has captured the victory in round three of the 1/10 nitro on road Western German Championship which was held at Bad Breisig, located south of former capital Bonn. Encouraged following his eighth place at the E.C. (B) recently held in Lostallo, Rausch did 63 laps in the very wet final and enjoyed a nine lap advantage over Xray/Orcan racer Andreas Weyhoven. Only three drivers made it to the finish line after 30 minutes with Daniel Toennessen (Mugen/Novarossi) on third but with only 31 laps. Rene Puepke (Mugen/Reds) was on fourth and had to retire at half time. Joerg Baldes (Mugen/Orcan) did only three laps before water took control of his electronics. Even worse things went for Uwe Baldes (Mugen/Orcan) and Daniel Thiele (Mugen/Reds) – they didn't even make it to the start. Three racers decided not to join the final, the three Serpent drivers Tobias Hepp, Daan Jacobs and Lucien Zens.
Continue reading the report here
Thursday, June 3, 2010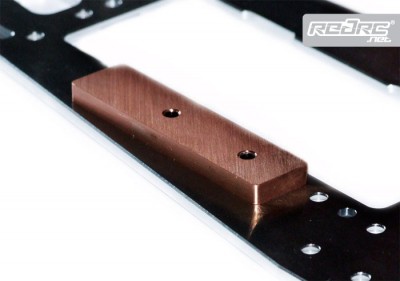 More new items for the LAB-C01 from Capricorn with the release of these 15 and 25 gram chassis weights. Made from the same material as their one piece heavy engine mount, they not only add weight to the model in the correct place but they claim that it help the chassis thermal dissipation to help lower the global engine temperature. Available soon.
Source: Capricorn [capricornrc.com]
Wednesday, June 2, 2010
Two weeks ago the 1st annual Short Course Race presented by Team Novak took place at West Coast Raceway. The race was strictly short course trucks and had an amazing 160 entries that comprised of 2wd and 4wd trucks. The OFNA and Jammin trucks once again dominated the 4wd Short Course class. In round 1 of qualifying in the Expert 4wd Short Course class Randy Kung set the TQ mark with the Hyper 10SC. Randy's time held until round 3 when Chad Bradley driving the Jammin SCRT-10 set a time 4 seconds faster than Randy's round 1 time. Chad's time would hold giving him the overall TQ going into the main events on Sunday. After qualifying the top 3 spots were held by Chad Bradley driving the SCRT-10, Randy Kung with the Hyper 10SC and Brian Kinwald driving Jay Halsey's SCRT-10.
Continue reading the report here
Wednesday, June 2, 2010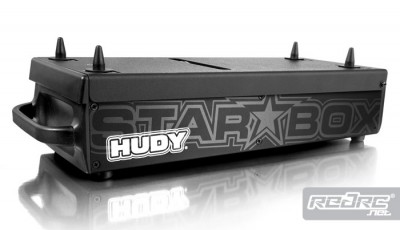 The Hudy Star-Box is a professional starter box designed for 1/8 off-road cars and truggies. Claiming to the world's lowest, ultra-compact starter box, this lightweight design has bracket plate posts to fit most 1/8 off-road cars and truggies. Designed to accept either standard NiMh and LiPo 2S batteries it comes fully assembled and ready to use. The premium quality, long-life drive belt system runs off a powerful 775-type motor, with fan, while the CNC-machined aluminium housing and top plate have a high-quality black coating for extra durability. An integrated switch for comfortable on/off switching is attached to a quality wiring harness with extra-thick cables and quick-change fast-on connector, no soldering required. The quick-change starter wheel system was designed to allow for fast & simple replacement of the starter wheel using only 3 screws. An integrated composite handle with ergonomic back cover allows for comfortable carrying and higher plastic feet are included to configure the Star-Box for use with taller truggies. Finally, the starter wheel can be mounted on both right or left side.
View another image of the Star-Box here
Wednesday, June 2, 2010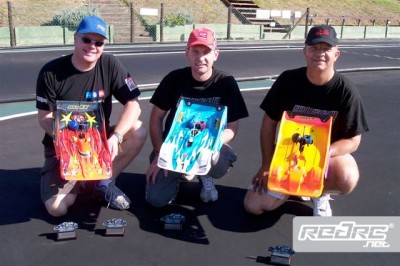 Mid May saw drivers from all around South Africa attend round 2 of the National Championship in East London. In the 1/8th class Wayne Joelson driving a Novarossi powered Mugen Seiki MRX4X who was top qualifier and went on to win the 45 minute final by 5 laps. Second place was Steve Munslow while in third place overall was James Brauns making it a Mugen Seiki 1-2-3. In the 200mm Nitro Touring Class, Rowan Bower with his Mugen Seiki MTX4R won the 30 minute final from the TQ position, setting a new lap record. Second place was Dave Wiseman with Russell Attenborough in third. The next round of the Championship takes place at the coastal city of Durban on 17/18 July, 1 week after the Soccer World Cup Final.
Thanks to Wayne Joelson for the report.
Wednesday, June 2, 2010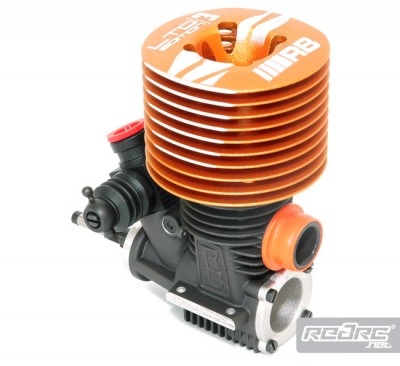 RB have release this new Limited Edition LTD3 buggy engine, delivered as a combo with polished tuned pipe and manifold. It has a 7 port line, 9mm carburetor with 8mm restrictor, a bi-turbo crankshaft with Concept Coating treatment and big light cooling head. Only 190 of these combos available, so if you want it you better get busy.
Source: RB [rbproducts.com]
Wednesday, June 2, 2010
Now Team Losi owners have something to 'strike' fear into their competition. With this SCX-T upgrade kit from Exotek Racing you can convert the venerable XXX-T into a completely ROAR legal SC power house. Similar to the kit released by CRC, the SCX-t has been developed and tested to ensure the best performance, fit and durability. Made in the USA of G10 material to match the flex of the XXX-T chassis for unsurpassed traction, it includes custom made hardened steel front axles that are narrowed for ROAR legal width and which fit the XXX-T hubs and SC10 wheels. Its unique bumper mounts accepts the Losi Strike front bumper and Traxxas Slash 4×4 rear bumper for extra durability and realism.
View more images of the SCX-T here
Wednesday, June 2, 2010