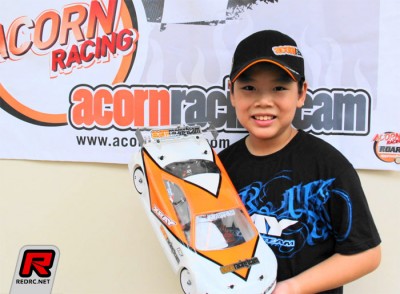 Acorn Racing have announced the signing of young Singapore talent, Dominic Quek, to its team. 9 year-old Dominic started RC racing at the age of 4½ years and used to racing against much older competitors, Dominic has exhibited his ability to compete despite his young age. He has traveled to take part in several international races, including the Czech round of the Euro Touring Series in 2010, the Reedy International Race of Champions in 2010 and 2011, and the 2009 Tamiya Asia Cup Finals in Bangkok, Thailand. As a relatively young company in the RC world competing against more established RC brands, Acorn Racing identifies with Dominic's achievements and his "can-do" spirit and look forward to accelerating the next stage of his development with all of Acorn Racing Race Equipment.
Source: Acorn Racing [acornracing.com]
Wednesday, August 31, 2011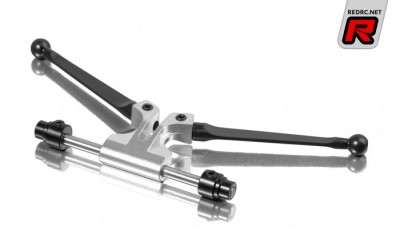 New for the RX8, Xray have released this adjustable rear anti-roll bar set that allows you to quickly and easily adjust rear stiffness without replacing any parts. Featuring a CNC-machined roll bar body and anti-roll bar blades machined and precision hand ground from Hudy Spring Steel and that have also been specially hardened to provide extra long life and high strength. The set has two adjustable anti-roll bar blades that are locked in place by easily-accessible setscrews. The anti-roll bar is mounted to the rear bulkheads in precise ball bearings which ensure smooth action.
Source: Xray [teamxray.com]
Wednesday, August 31, 2011
This past weekend Orange County Radio Control Raceway (OC/RC) held their 4th Annual Surf City Classic. This year was the biggest turnout in the history of the event with 310 entries. Big time players were in attendance at this year's event, including JConcepts Team Drivers, Steven Hartson, Brian Kinwald, Josh Numan, Jake Thayer, Zack Rogers, Jimmy Barnett and from Florida, Felix Law. Track conditions were amazing all weekend. It took 3-4 runs to get the JConcepts Gold Compound Bar Codes, the tire of choice for most, to break in. There was talk in the pits of the track going to slicks and it surely did by the time qualifying was coming to an end and main events began. Felix Law ended the weekend with 1st Place in the Short Course 4×4 class. Felix's Losi SCT-E was covered with JConcepts all weekend including the newly released Raptor X-Flow body, Bar Codes tires in gold compound, JC Profiled closed cell inserts, mounted on Rulux wheels.
Source: JConcepts [jconcepts.net]
Wednesday, August 31, 2011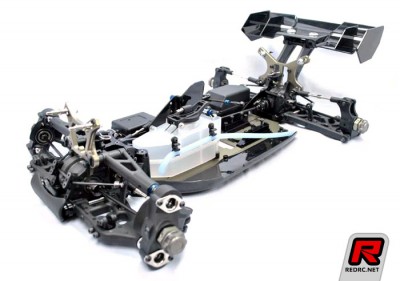 New brand ProSpeed have released information on their first product, the Optima K1 1/8th scale buggy. Designed from the ground up it features a rear kick up, easy diff access, captured CVDs, front or rear battery mounting and cab forward body.
View more details and images here
Tuesday, August 30, 2011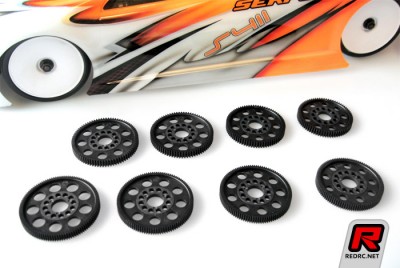 Serpent have introduced a full line of 48 and 64 pitch spur gears for electric touring cars. Super true running, they are made from durable nylon and are lightweight with 12 small and 9 large holes to make it easier to reach the cars motor mounts. The number of tooth is indicated on the gears and they are available in 64P in 4 tooth increments from 92T to 116T, while the 48P come in 3 tooth increments from 69T to 87T.
Source: Serpent [serpent.com]
Tuesday, August 30, 2011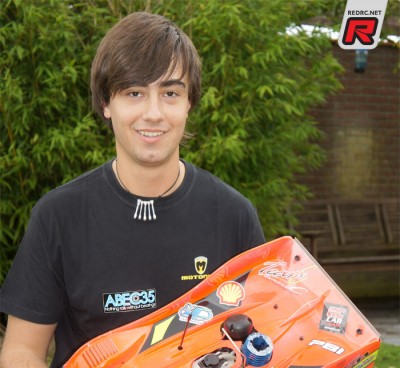 Motonica team driver and multiple World and European Championship finalist Robin D'Hondt has joined ABEC35, supported by Team F.V.S.S. in Italy. Robin already used ABEC35 Type-X ball bearings to get into the main final at the 2011 1/8th Euros in Luxembourg and is really happy with the increase in performance from the drivetrain.
Source: ABEC35 [abec35.com]
Tuesday, August 30, 2011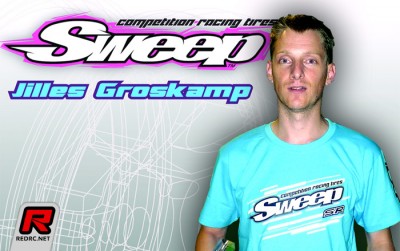 Sweep Racing have announce that double Euro Touring Series Champion Jilles Groskamp has joined their team. The Tamiya TRF and Team Orion factory driver had this to say about the deal:
After some tests with the Sweep tyres I'm very excited to join the Sweep racing team. As a professional driver I spend many days testing new parts on the car and new electronics and good tyres are needed for this. It allow me to test my Orion powered Tamiya 417 in a perfect way due the fast and consistent tyres of Sweep racing.
Source: Sweep Racing [sweepracing.com]
Tuesday, August 30, 2011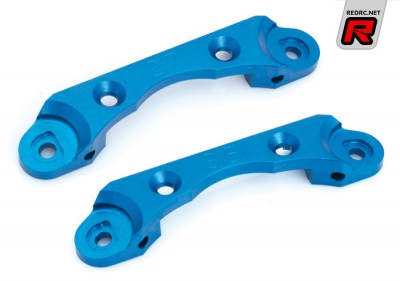 LRP have released some new parts for their S8 BXR evo 1/8th scale buggy. First up are these rear suspension arm mounts which are now available in 2.7° and 3.5° versions. Machined from aluminium, the increased caster makes the car more stable during acceleration and is especially good on bumpy and rough tracks. Also new is a range of tapered shock pistons which feature an angular bore in place of the regular straight hole. Available in 8×1.0mm, 8×1.1mm, 6×1.2mm, 8×1.2mm, 6×1.3mm and 8×1.3mm, the new configuration changes the damping characteristics of your car completely giving a much smoother action.
Tuesday, August 30, 2011