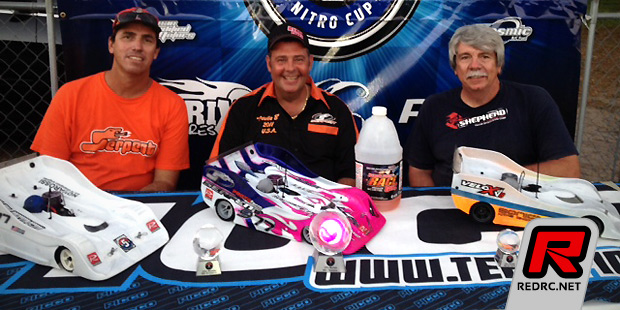 The 2013 US World Nitro Cup took place in Kissimmee, Florida. Serpent's Paolo "Paulie B" Becattini brought home the win after the triple A-mains in the 1/8th Masters class. Following some technical issues in the first A Paolo was able to wrap up the victory in A2 and A3.
Source: Serpent [serpent.com]
Thursday, December 12, 2013 - add a comment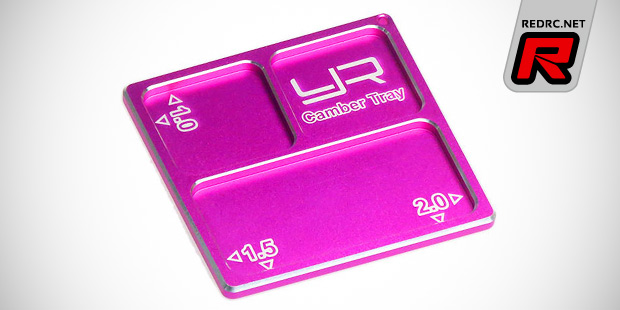 New from Yeah Racing comes this 2-in-1 aluminium camber gauge. The tool is CNC-machined from aluminium and it sports three recessed areas so it can also act as a tray for small parts. Measuring camber angles of 1.0, 1.5 and 2.0 degrees the gauge comes in blue, orange, pink and gunmetal colour.
Source: Yeah Racing [yeahracing.com]
Thursday, December 12, 2013 - add a comment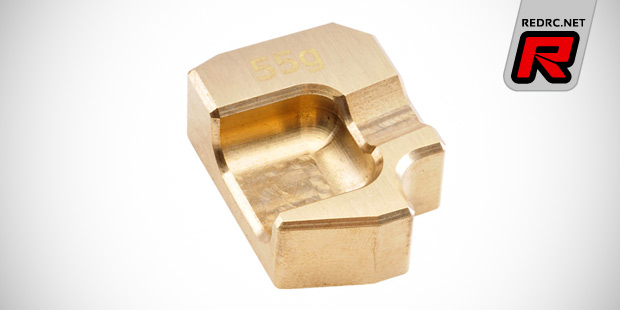 Team C Racing have new option parts for the T8 V3 buggy and the GT8 line of GT cars available. First up is a front weight for the T8 V3, the brass piece weights 55g and fits right between the steering bellcranks and underneath the gearbox input shaft. Designed to add weight in a low and forward biased position the the weight helps on slippery or very bumpy tracks. Also new are two 2-speed pinion gears, a 21T and a 17T variant. Both fit the GT8 and GT8L gearbox.
Click here to view the other new parts
Thursday, December 12, 2013 - add a comment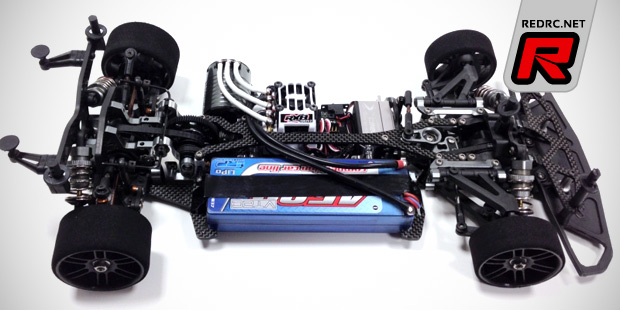 Serpent introduce the 747-E electric upgrade kit for the 747 200mm nitro car. Included is all necessary hardware to convert the nitro-powered 747 into a whisper-silent 200mm touring car. The set contains a carbon fibre main chassis and top deck, an aluminium motor mount assembly, new belt pulleys and shafts, battery mounts, ball races and hardware. The converted car can be used with a conventional 2S touring car motor and speedo setup but higher power 3S batteries, a suitable 4-pole motor and a strong 1/8th scale speed controller are recommended in order to reach speeds above 90km/h. Beside the conversion kit Serpent will release a complete 747-E kit by the end of January 2014.
Click here to view more photos
Thursday, December 12, 2013 - add a comment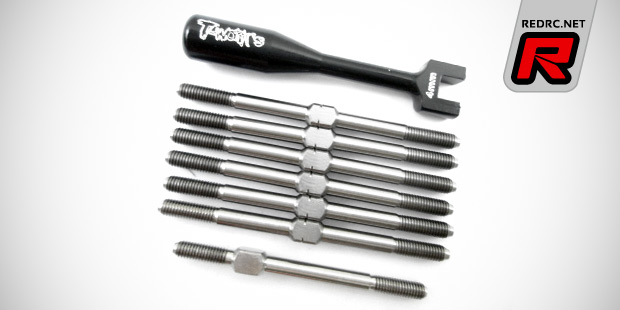 T-Work's have new option parts for Xray's XB4 buggy available. First up is a titanium turnbuckle set that includes a total of seven links made from high quality titanium. They are meant for the camber and toe links as well as the servo link and come with a suitable 4mm aluminium wrench for easy adjustment. Next in the line are titanium shock mount shafts for swift and easy shock angle adjustment. Coming in a set of four the 1-piece design allows for swift set-up changes as you only have to undo a single nut in order to remove the damper from the shock tower.
Click here to continue reading
Thursday, December 12, 2013 - add a comment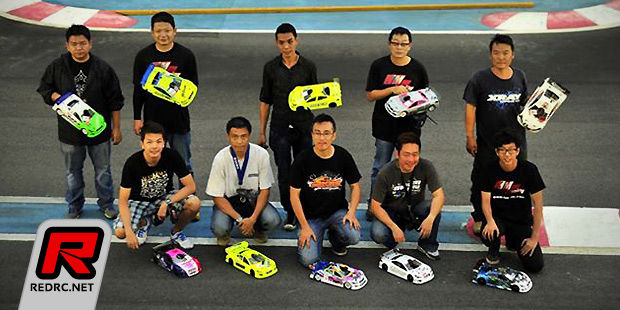 The fourth round of the 2013 Hong Kong based HKRCSA GP Series took place at the TRC Racing track in 1/8 and 1/10 200mm nitro on-road. KM team driver Hung Cheung Hang took the TQ in both classes and later went on to win the 10 minute finals. In 1/8th he was sidelined by T. Myashita and Luk Chi Hung who completed the podium coming in one lap down. In the 200mm class Luk Chi Hung came in second, one lap down on Hung Cheung Hang, while Faiho came in 3rd another lap down. The class wins also handed Hang the overall 2013 championship titles in 1/8th and 200mm.
Source: KM [km-rc.com]
Thursday, December 12, 2013 - add a comment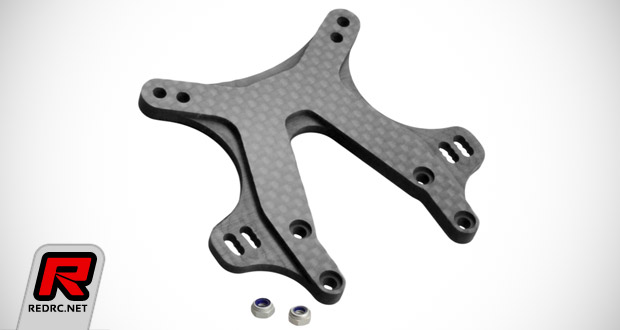 JConcepts has produced a carbon fibre front shock tower for the popular Team Associated B4 line of vehicles. The 4mm thick material is durable, lightweight and features the camber link position mounted in a horizontal position relative to the kick-plane. There are 3 inner positions and 3 outer positions for quick and steady adjustments and the tower features the JConcepts treatment of a milled surface creating the ribbing effect to increase durability where needed. Eliminating the outer shock position gives the vehicle a more nimble look in the front-end while still maintaining the 2 most popular positions.
Source: JConcepts [jconcepts.net]
Wednesday, December 11, 2013 - add a comment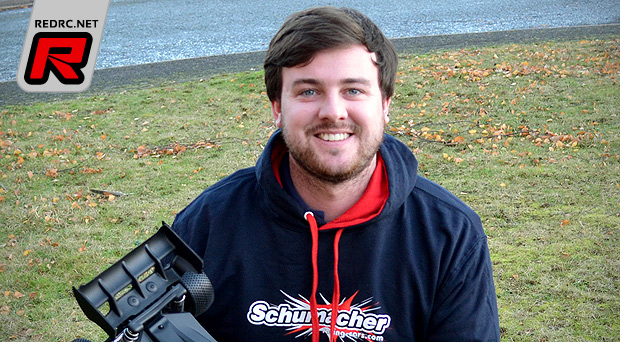 Schumacher announce the signing of multiple champion Darren Bloomfield to their 1/10th off-road Team. The former TLR front runner will race the new Cougar KF, SV2 and KR platforms in 2WD, alongside the new CAT K1 Aero in 4WD. Darren will fit his 1/10th activities around his 1/8th commitments with Nemo Racing. This is what Darren has to say about the deal:
Schumacher are very much a company on the front foot right now with some excellent new products and forward thinking ideas. I look forward to achieving some great results and working closely alongside them with future developments.
Source: Schumacher [racing-cars.com]
Wednesday, December 11, 2013 - 1 comment so far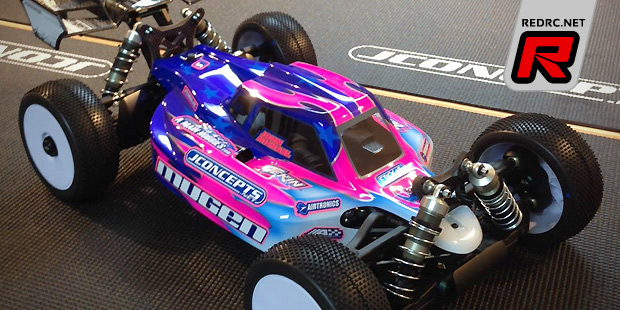 JConcepts have a first teaser image of the forthcoming Silencer bodyshell for the Mugen MBX7 Eco available. Like the other Silencer design bodies the Mugen variant is especially made for high-speed tracks where straightline stability and airflow around the wing and the electronics is critical. All information about the release will become available soon.
Source: JConcepts [jconcepts.net]
Wednesday, December 11, 2013 - add a comment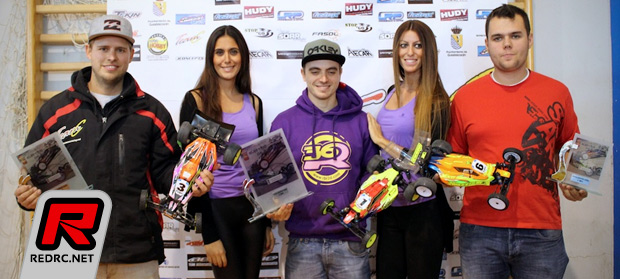 Last weekend saw the running of the Guadalcacin electric buggy indoor race in Spain. Current 1/8th IFMAR Buggy World Champion Robert Batlle attended along other top Spanish drivers like Alex Daras, Hector Albarracín or Zacarías Villalba. In 2WD Robert (Y0komo) took the win in front of Zacarías (Team C) and Alex (Yokomo) while Kiko while Kiko Navarro and David Bustos filled the remaining podium spots in 4WD for a Yokomo 1-2-3.
Click here to view the 4WD podium
Wednesday, December 11, 2013 - add a comment