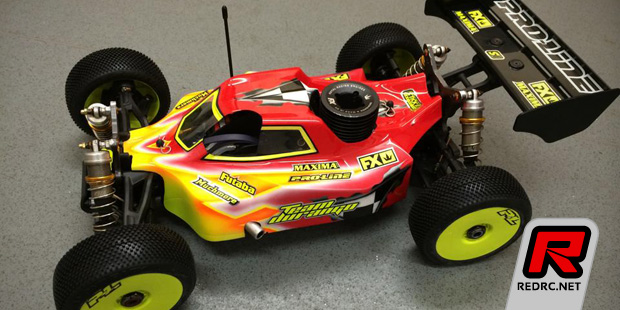 In the wake of this weekend's Neo Race in the UK Team Durango's Jörn Neumann released this image of the prototype DNX8, the supposed follow-up model of the ageing DNX408. Details on the buggy are not available yet but looking at the image it appears that the DNX8 is of a more conventional design than its predecessor with a wider chassis and/or wider side pods. The front suspension makes use of a pivot ball construction with composite upper A-arms and also the engine position seems to have changed a bit. We bring you more information on the vehicle as soon as we get them.
Image: Jörn Neumann
Friday, April 18, 2014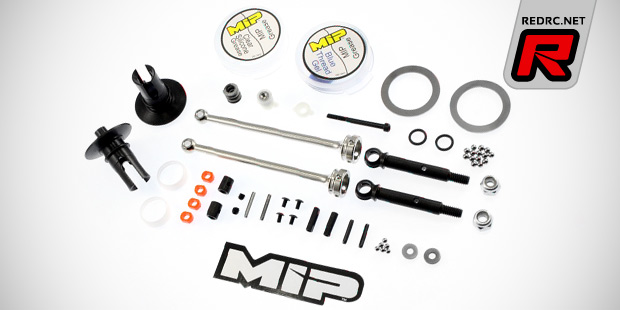 MIP introduce the Pucks Shiny drive system for the X-Factory X-6 Cubed buggy. The "Shiny" kit provide all the speed, acceleration, and replaceable Pucks made to handle the abuse of the Modified racing. The special design of the drivesahfts provides smoother acceleration and better handling out of turns without adding additional weight. The X-6 Cubed specific set included MIP's shiny driveshafts, wheel axles, Pucks-compatible outdrives, new diff rings and diff balls, a thrust race assembly, and a new diff gear as well as several small parts, grease and thread lock.
Source: MIP [miponline.com]
Friday, April 18, 2014
Serpent introduce a gear differential for their Spyder SRX-2 line of vehicles including the mid and rear motor buggy as well as the upcoming short course truck. The diff features a compact composite material housing and it is of a multi-piece design with a separate diff gear and two side plates that are held in place using small screws and metal backplates for improved fitment and leak-free mounting. The internal gears are made from sintered metal while the crosspins are made from lightweight aluminium. In combination with the lightweight spring steel outdrives the differential weights in at only 28.9g without oil. The diff is usable instead of the standard ball diff and comes in handy especially on high grip surfaces.
Source: Serpent [serpent.com]
Thursday, April 17, 2014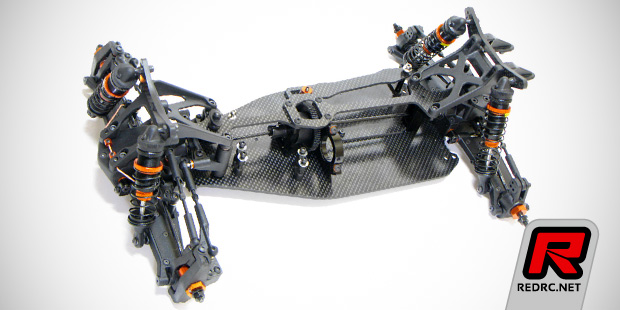 Azarashi introduce this chassis conversion kit for Hot Bodies' D413 4WD buggy. Included is a new carbon fibre main chassis plate with angled front section to make for a slimmer and more compact appearance. Also the chassis layout has beed changed a bit with the servo shifted to the left side of the chassis and sitting in a stand-up position making the use of a low-profile offering necessary. Included with the chassis, that has beed designed around the use of a shorty LiPo pack, comes the chassis, servo mounts and a mid-cab design bodyshell. The conversion also required a bit of DIY as you need to build additional body mount plates from polycarbonate pieces and velcro straps.
Click here to view more photos
Thursday, April 17, 2014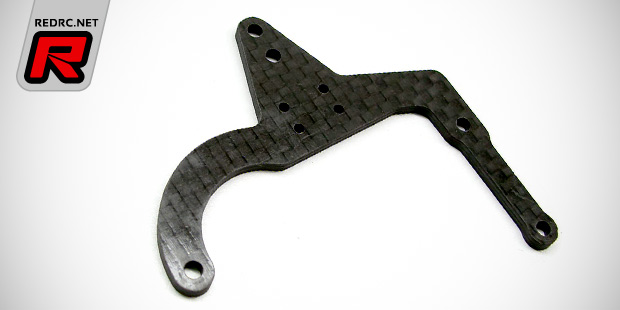 Calandra Racing Concepts have two new option parts available in the form of a dual extended upper plate for the company's line of 1/12th scale chassis and a carbon fibre front shock tower for the TLR 22 buggy. Starting with the upper plate, the part fits Altered Ego and standard XTi and SE cars cars with slider rear pods and it is made to extend the upper rear shock mount to utilise the matching longer front shock positions in the chassis. The plate is made from 2.5mm QHM material and available now. Also new is the 4mm carbon fibre front shock tower for the TLR 22 buggy. Fitting older spec kits and the new 2.0 variant the part is cut from pure carbon fibre quad-axial high-modulus material for added strength. The part is a direct replacement for the stock composite tower.
Click here to view more photos
Thursday, April 17, 2014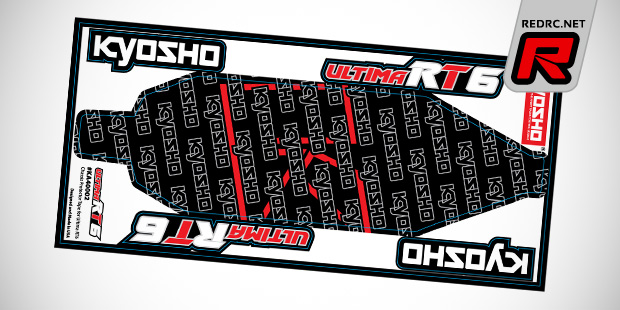 Kyosho introduce chassis protective decals for the RT6 truck as well as new snap back hats. Starting with the chassis skins, the protective decals are pre-cut and come in sets of two including one black and one white themed skin. They are made to protect the bottom of the chassis from becoming overly scratched while adding some visual impact. Also new are two snap back caps in red or black colour. They sport an embroidered Kyosho logo and let you show your passion to everything Kyosho.
Click here to view the other new products
Thursday, April 17, 2014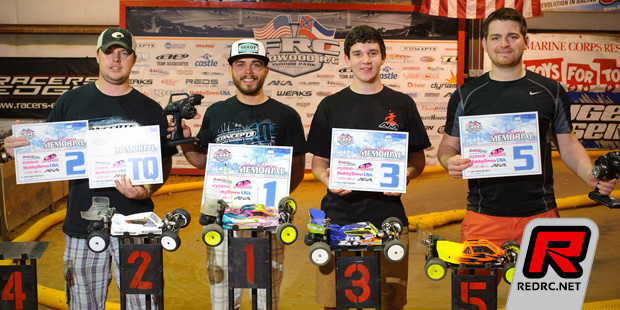 This past weekend the first annual Jamie Rogers Memorial race was held in Flowood, Mississippi. Jamie passed away in January due to a fatal heart attack while attending Flowood's "January Jam" race. Around 150 racers from the surrounding states joined together to remember a fallen hero in the RC community. Bubba Barham, race director, did a great job for Jamie's son Ty and his Mother, Melissa. FRC had many sponsors donating product to be raffled off to raise money for Ty and his family, with close to $4,000 raised.
Click here to continue reading
Thursday, April 17, 2014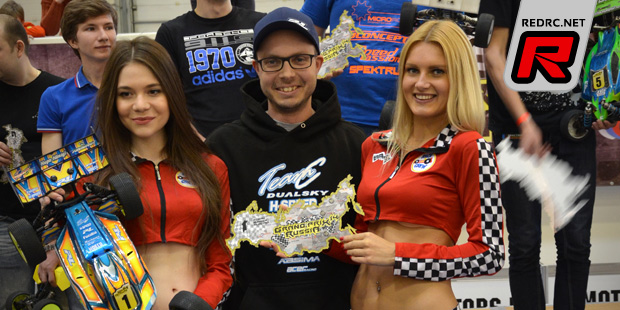 The Grand Prix of Russia 2014 was held at the huge Crocus Expo Facility in Moscow with almost 250 entries. The very well organised event was part of a huge hobby show and attracted thousands of hobbyists and spectators. The track was a typical European carpet track with wooden jumps and obstacles and due to the amount of drivers each class only had one 2 minute practise run, making it difficult for drivers to adapt to the track. In 1/8th E-Buggy and 2WD Modified Buggy Team C's Hupo Hönigl was to take TQ and win beating Shin Adachi (Yokomo) and Jörg Tiit (Serpent) in 2WD while in E-Buggy Dmitry Malyshko took the runner-up spot. Elsewhere in 4WD Modified Buggy Shin came in 1st followed by Hupo and Jörg.
Click here to view the 2WD podium
Thursday, April 17, 2014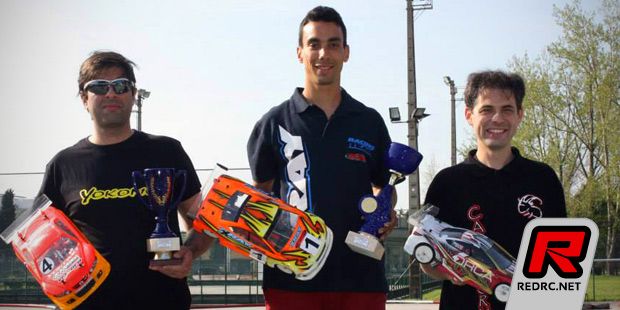 The first round of the Portuguese electric touring car nationals was held at the Coimbra track. Bruno Coelho took the TQ and win with virtually no practice at all as he only arrived on Sunday. Behind him Joao Malveiro and Helder Silva came in 2nd and 3rd respectively to complete the podium.
Source: Xray [teamxray.com]
Thursday, April 17, 2014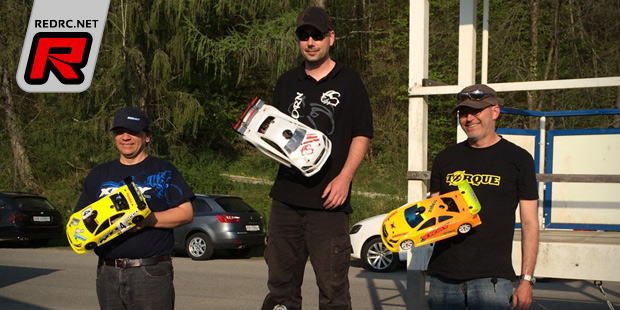 The first round of the Swiss nitro on-road nationals not only saw the running of the 1/8th on-road class but also a 1/10th 200mm sedan race was held. The final saw Capricorn's Marco Rizzo taking the win from Traugott Schär (Xray) and Christian Lehnerr (Xray). Marco Reiser completed the top 4 result.
Source: Xray [teamxray.com]
Thursday, April 17, 2014