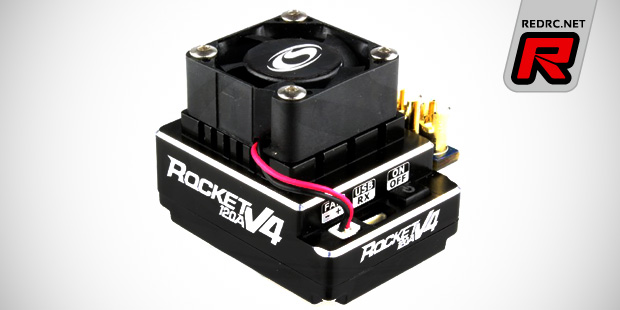 German company CS Electronic have released first images of their forthcoming Rocket V4 120A brushless speed controller. Making use of a common design the ESC will feature an aluminium case with low-profile heatsink, an optional fan unit, an easily replaceable receiver lead and heavy duty solder towers. There are no information about the software features yet but the controller will come including an USB adapter and possibly also a programming box.
Source: CS Electronic [cs-shop.de]
Tuesday, April 22, 2014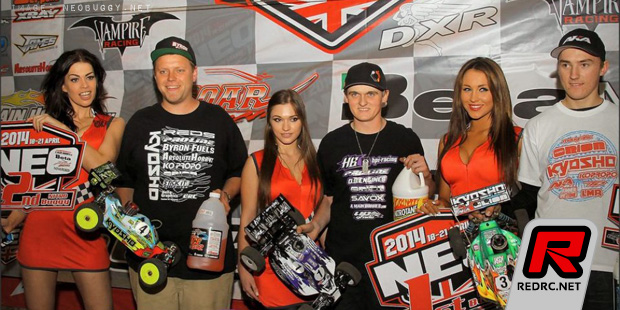 Canada's Ty Tessmann (Hot Bodies) had an amazing Easter weekend at the Neo '14 in the UK, leading almost the entire 45-minute A Final to win the main event, plus winning not just the electric buggy race but the Dash for Cash race as well. On Day 2 after 3 rounds of qualifying that saw different drivers and cars taking the top spot, Team Tessmann started cranking up the pressure, starting with the 'Dash4Ca$h' race, a single 10-minute race with a fat cash prize. Ty waited for the crashes to sort themselves out and from second place on the track homed in on the leader, who was powerless to stop the young Canadian from running off into the distance. Ty then took his first victory of the Neo.
Click here to continue reading
Tuesday, April 22, 2014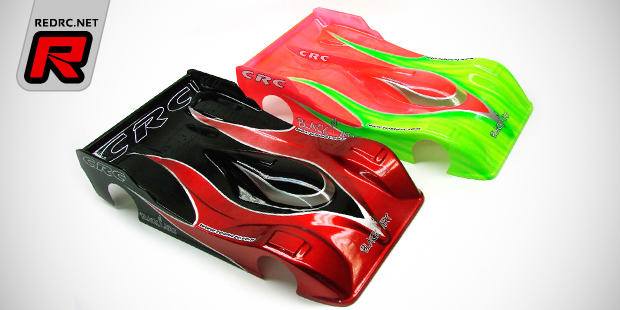 U.S. BlackArt distributors CRC introduce the new Toyota TS030 and Lola B10 1/12th scale bodyshells. Starting with the Toyota, the pink and green body in above image, the shell is designed to deliver increase downforce for high speed tracks while the centre spline makes for added stability. The body already proved its performance by winning at the recent European Championships in Italy. Also new is the Lola B10, the red and black body, that offers a bit less downforce making it perfectly suited for slower tracks, tight and twitchy circuits or Stock class racing. Both bodies are made from genuine GE 0.5mm Lexan and come clear.
Source: CRC [teamcrc.com]
Tuesday, April 22, 2014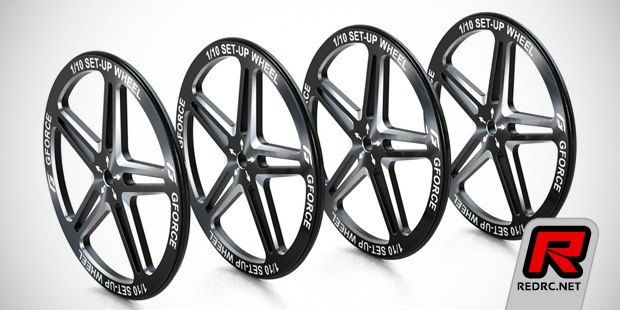 Japanese company GForce introduce these aluminium setup wheels for 1/10th vehicles. They are machined from lightweight aluminium, sport a 5-spoke design and feature rubber O-rings to prevent them from excessively slipping on the workbench or setup board once mounted to the car. The wheels come in sets of four in black or blue colour.
Click here to view the blue colour wheels
Tuesday, April 22, 2014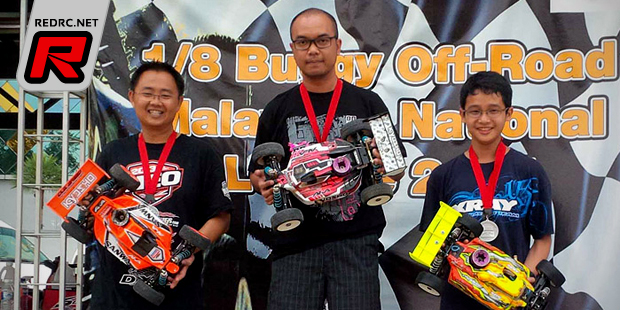 The 2nd round of the Malaysia National League was held with around 100 entries from Singapore, Indonesia, Australia and even Switzerland. After four rounds of qualifying Jason Nugroho (Xray) TQ'd in the Pro Buggy class but he lost his luck in the final where a couple of flameouts let him drop in the ranking. At the end he managed to grab the final podium spot behind race winner Adrian W (Kyosho) and runner-up Stanley W (Kyosho).
Source: Xray [teamxray.com]
Tuesday, April 22, 2014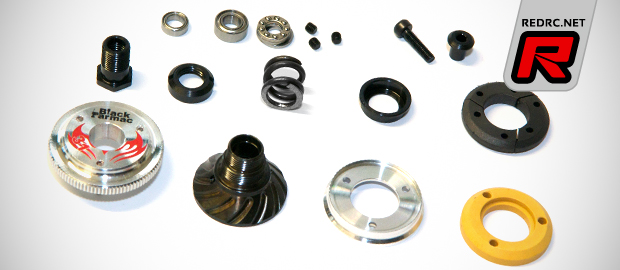 Blacktarmac introduce the double reverse clutch version 2.0 for .12 nitro engines. Offering improved quality and performance, the clutch set includes a new harder spring, a new 7075 Ergal 31mm flywheel, clutch shoes made from a highly durable material as well as new high-quality ball bearings. Available for the Xray NT1, Capricorn Lab C-02 and Shepherd Velox V10 the set also includes a lightweight 30mm flywheel for lower rotational mass, a 32mm all-round flywheel and a hard-coated 7075-T6 Ergal clutch bell.
Click here to view another photo
Tuesday, April 22, 2014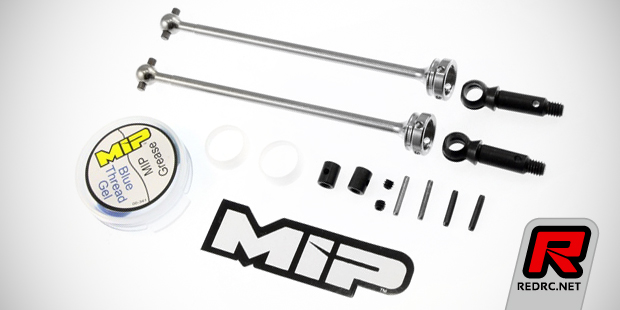 MIP introduce the Shiny C-CVD driveshaft kits for the TLR 22-4 4WD buggy. Available for the front and rear of the buggy the driveshafts feature "shiny" alloy steel dogbones and precision machined wheel axles and offer a no-binding design with captured cross pins for improved reliability. Included with the driveshafts comes a set of blue MIP thread lock gel and suitable grease.
Click here to view the rear driveshafts
Monday, April 21, 2014
New from Exotek and made for the Team Associated B5 and B5M buggy are the Flite titanium front axles. The parts are almost as strong as steel shafts but weight in at only 4.9g compared to the 8.7g the kit parts weight. The axles reduce both the rotational mass and unsprung weight and help to improve the buggy's on-track performance.
Click here to view another photo
Monday, April 21, 2014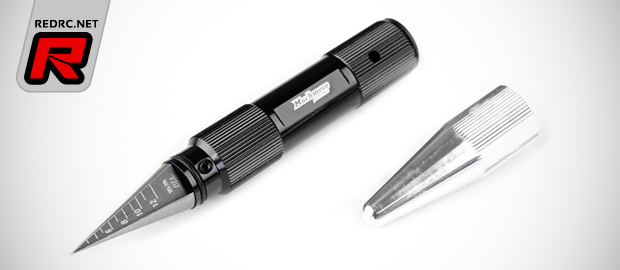 Muchmore have a new body reamer for polycarbonate bodyshells available. Coming with a black anodised knurled handle and a sharp tool tip the reamer allows to drill holes from 1 to 12mm or up to 1/2″ in diameter. The respective size markings are laser-etched into the blade that is protected by a solid aluminium cap.
Source: Muchmore [muchmoreracing.net]
Monday, April 21, 2014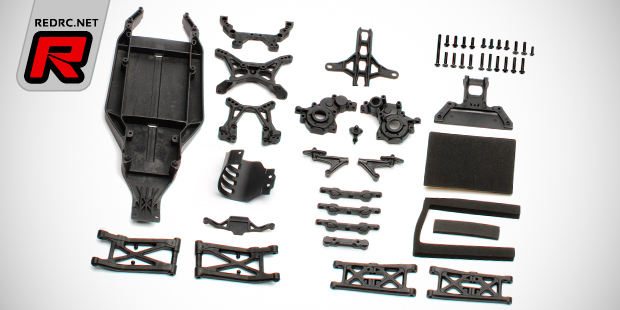 Team Associated introduce new optional parts for the B5 and B5M buggy in the form of two conversion kits and aluminium rear hubs. Starting with the conversion kits, they are available as B5 to B5M and B5M to B5 kit and help to convert a rear motor B5 into a mid motor B5M and vice versa. They come in cheaper than buying a complete new buggy and include all necessary parts minus the respective bodyshells, such as the main chassis, suspension arms and shock towers as well as gearboxes and small parts.
Click here to continue reading
Monday, April 21, 2014