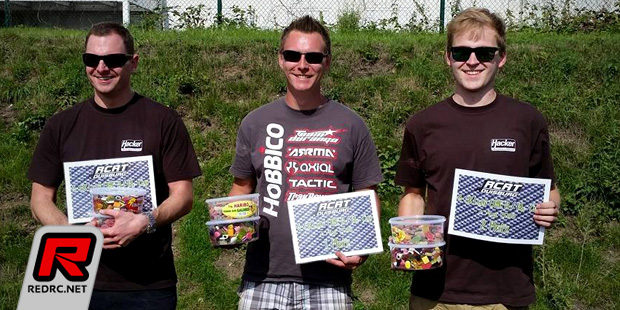 Round four of the German West division 1/8th E-Buggy regionals was held at the RCRT Duisburg track. Hot weather made for dry and dusty conditions and this caused some headache for the drivers and after the qualifiers it was Chris Kammann who came out fastest from Lukas Strothmann an Max Kempchen. In the single 10-minute A-main leg Chris was able to conserve his performance to take a commanding win some 14 seconds in front of second placed Lukas Strothmann. Peter Schulte-Batenbrock would round out the podium in 3rd.
Source: Team Durango [team-durango.com]
Tuesday, August 4, 2015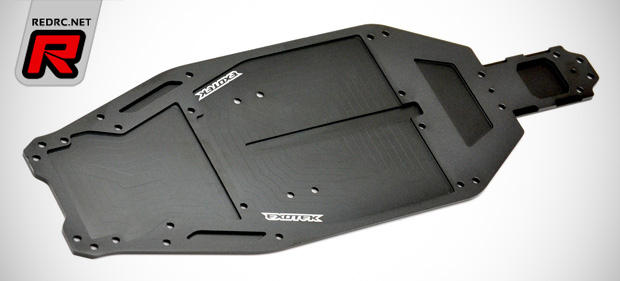 Coming for Exotek's recently introduced Exo22 chassis conversion kits are two replacement bottom plates. Made from either dark anodised 3mm 7075 aluminium or 2.5mm carbon fibre the plates not only are a direct replacement but they also act as a tuning aid as both are interchangeable and offer different characteristics. Using the carbon plate in a former aluminium car makes the buggy lighter and more responsive while the alloy chassis maximises stability and traction beside offering a lower centre of gravity.
Click here to view the carbon fibre chassis
Tuesday, August 4, 2015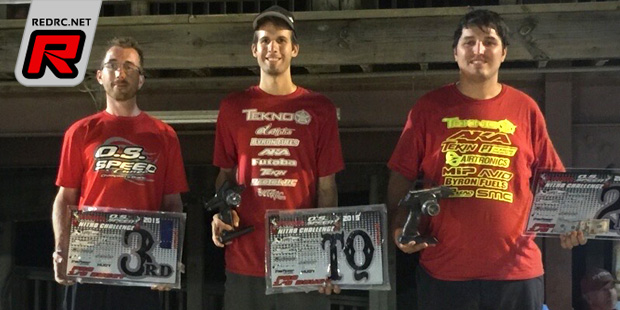 The OS/Futaba Nitro Challenge was held at the St. Louis Dirtburners track with a turnout of over 200 entries. The Levi Jackson built track was a lot of fun, watered and the grip level was pretty decent. As the sun got strong though the track began to dry quicker and it was made a decision to let it groove in early and hopes were it would hold together. By the end of practice on Friday everyone became aware that this wasn't going as planned. The track got super dry and while there was a nice groove it had little holes in that groove that continually grew and spit out sand, dirt, and rocks. By the end of the weekend the track was a complete challenge as finding a setup to traverse the conditions was tricky. Everyone bemoaned about finding consistency and some found themselves using medium hardness tires, even though the conditions were loose.
Click here to continue reading
Tuesday, August 4, 2015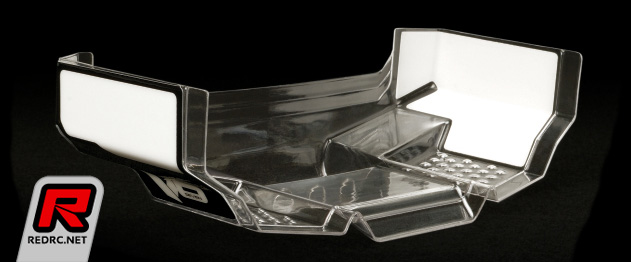 Upgrade RC's Vortex 10 Seven Lexan wing was designed to suit mid-motor 2WD and 4WD 1/10th buggies. Just like its predecessor the unique Dimple System helps to decrease friction drag at higher speeds and increases downforce with reduced drag at low speeds. The wing comes with a set of two side number plates and mounting grids for easy installation.
Source: Upgrade RC [rcidcustom.com]
Tuesday, August 4, 2015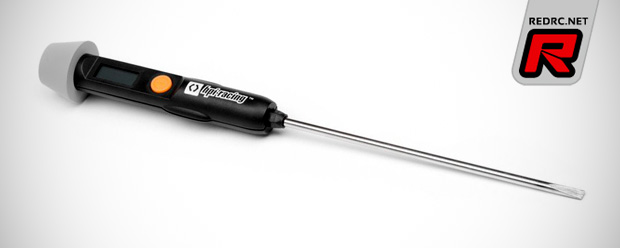 The HPI Racing Pro-Series Temp Driver is a combined infra-red temperature gauge and a flat blade screw driver to adjust the needles of nitro engine carburettors. No longer multiple tools are needed trackside or while bashing to obtain perfect engine tuning. The tool allows to check the temperature of any nitro engine properly as the plug obtains the correct temperature reading, while the flat blade driver helps to fine-tune all carburettor needles. The tool is supplied in a metal tin and it can also be used by electric drivers wanting to keep an eye on motor, speedo, battery or tyre temperatures.
Click here to view the specifications and more photos
Monday, August 3, 2015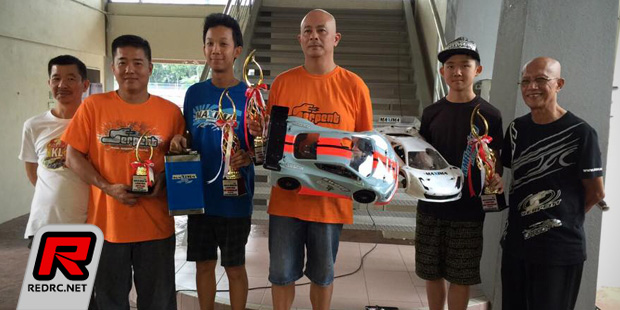 The warm-up race for the 2015 1/5th and 1/8th GT World Cup took place last weekend in Kepong, Kuala Lumpur, Malaysia. Apart from the two classes of the World Cup, the race also saw 1/8th and 1/10th nitro on-road racing. In the 1/8th GT Class, Thailand's Paphon C would take the TQ ahead of local drivers KL Lim and Nick Chong. In the 1/8th class Nelson Lee came out fastest from Alvin Ng.
Click here to continue reading the report
Monday, August 3, 2015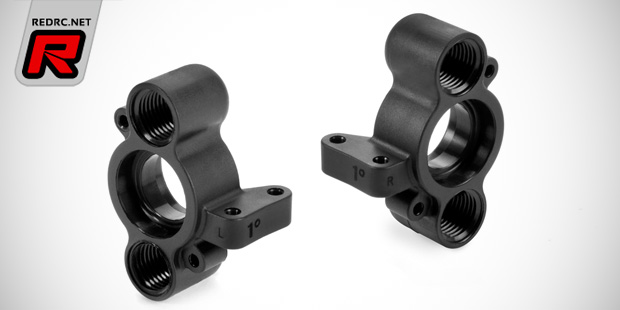 Xray have new steering blocks for the NT1 200mm nitro on-road car available. Designed for the use with carbon fibre aerodiscs the steering knuckles feature 1 degree king pin angle for improved in-corner steering. The parts are marked for easy identification and they are available separately for the left and right hand side of the car.
Source: Xray [teamxray.com]
Monday, August 3, 2015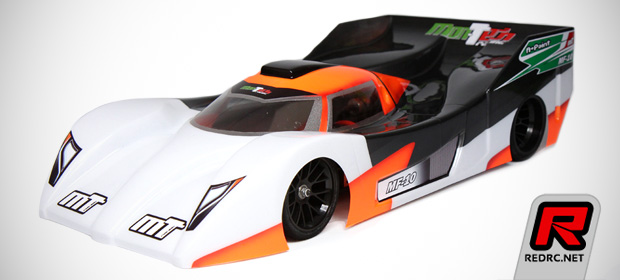 Italian company Mon-Tech has a new 200mm pan car bodyshell and moulded wing for 1/10th Formula models available. Starting with the body, the MF-10 is based off of the M-10 with both sharing pretty similar front end designs but the MF-10 has a more "1/8th scale-ish" rear portion with incorporated side dams and a large tunnel behind the cockpit to channel the airflow towards the rear wing. Moulded from high-quality 0.75mm polycarbonate material the body includes decals and window masks.
Click here to continue reading
Monday, August 3, 2015