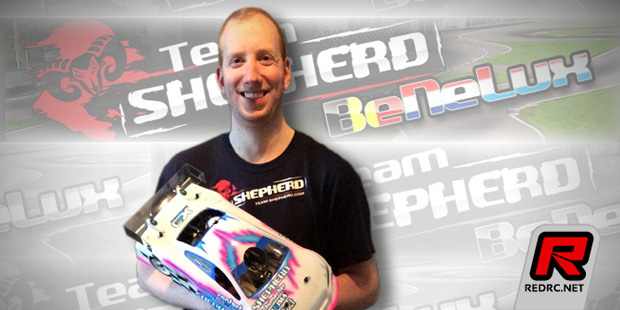 After years of close cooperation of Shepherd Benelux with Robert Krens as setup specialist and pit-crew for several Shepherd drivers, the company now welcomes him to their 1/10th scale nitro team. Robert will compete at the Dutch 1/10th nationals this season and he had the following to say:
After racing EC1:12 and EC1:10 for several years, I've always been looking for new challenges to improve my knowledge and skills. I'm very glad that Shepherd Benelux offered me to be part of the team and gives me this opportunity. I have seen the quality of their products from helping fellow IC1:8 racers during Nationals and was impressed by the quality and performance of Shepherd products. I'm feeling really confident and exited to start the new season.
Source: Shepherd [team-shepherd.nl]
Thursday, March 26, 2015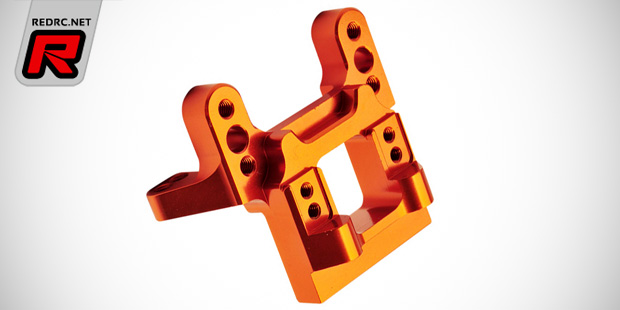 Team C Racing introduce an aluminium rear shock tower mount for the TC02C Evo buggy as well as aluminium servo washers for general usage. Starting with the rear shock tower mount, the part is CNC-machined from aluminium and it replaces the standard composite part for a more durable one. The part offers improved support for the shock tower and it prevents the camber link ball studs from becoming ripped-out on impacts. The bulkhead sports mounting positions for the rear swaybar and it comes orange anodised to match the remainder of the car's alloy options. Also new are 4.3mm aluminium servo washers whose design allows them to interlock with the servo's mounting lashes to ensure a rock-solid installation as the servo cannot move in any direction even in harsh racing situations. The aluminium washers come orange anodised, in sets of four and they fit most standard-size and low-profile servos.
Click here to view the servo washers
Thursday, March 26, 2015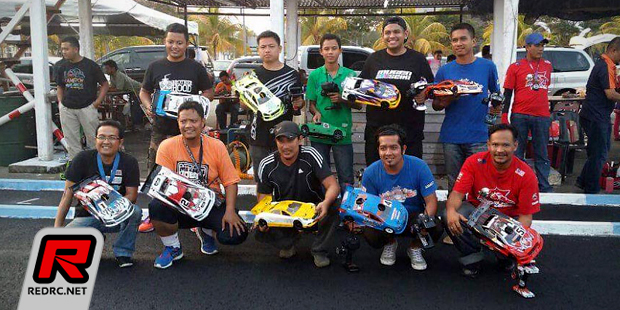 The opening round of the 2015 Malaysia National Challenge kicked off at the Kuala Terengganu RC Track. Run in 1/8th and 1/10th on-road classes the series always attracts local racers and guest from abroad alike and round 1 made no difference. In the 1/10th 200mm class Baha took the TQ but it was Helmi who came out successful in the A-main in front of the TQ holder. Kimie rounded out the podium in 3rd.
Click here to view the final result
Thursday, March 26, 2015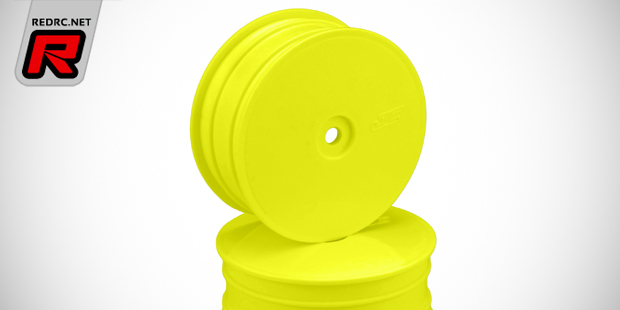 JConcepts introduce the new Mono wheels for the front of the TLR 22-4 buggy as well as the Bullet 4.0″ 1/8th truck wheels. Starting with the 1/10th wheels, they are designed in the popular dish style and available in bright white and fluorescent yellow. They offer the maximum size allowed under ROAR rules and make a statement with their large appearance, flat dish shape and inner rib design. The wheels incorporate an outer glue catch that resists excess glue from running down the wheel face during the gluing process. The wheels are manufactured using advanced techniques to ensure trueness and durability and are branded with the small JC logo for brand identification and authenticity.
Click here to continue reading
Wednesday, March 25, 2015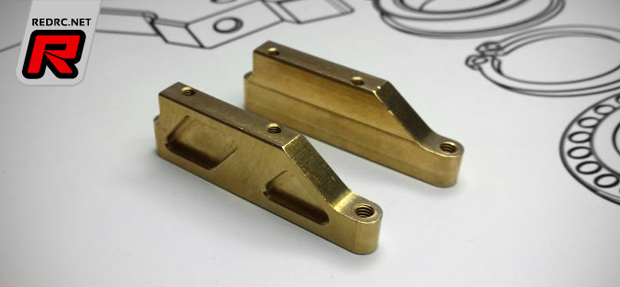 WRC have new option parts available for the GTX 1/8th on-road car in the form of brass engine mount blocks and a battery support plate, made from the same material. Starting with the engine mounts, the 2-piece set is made from solid brass and it comes weight matched to a total of 65g. The blocks help to fine-tune the chassis's weight balance as does the second new part, the brass battery support. The plate is a direct replacement for the stock part, it offers recessions for the battery tape and it weighs in at 46g.
Click here to view the battery support
Wednesday, March 25, 2015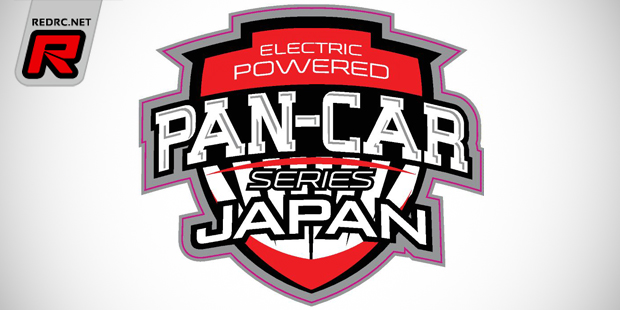 The Electric Powered PanCar Series Japan EPS-J is a new Japanese 5-race RC car series. Run using a combination of IFMAR and ROAR rules the races will see 1/12th Modified, 1/12th 17.5T blink, 1/12th GT 30.5T blinky, 1/10th WGT 13.5T blinky and 1/10th Formula 21.5T rubber classes and the organisers hope to establish more EPS races throughout Asia and in other regions. More information about the series, that kicks off on April 26th, can be found here.
Calendar:
Round 1 Crest Speed Way, April 26th
Round 2: Chance Circuit, May 17th
Round 3: White Stone, June 14th
Round 4: Kyosho Circuit, October 11th
Round 5: Yatabe Arena, date T.B.A.
Wednesday, March 25, 2015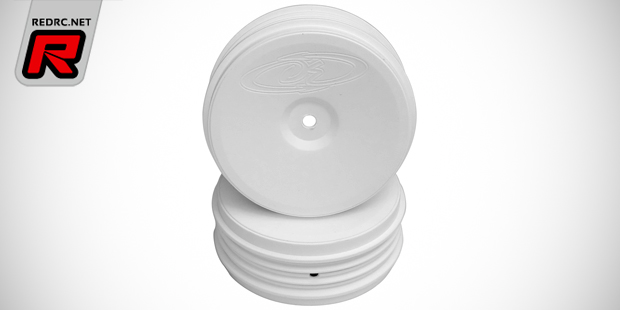 The SpeedLine Plus 2.4 is the latest 1/10th buggy wheel from DE Racing. Offering a 2.4″ diameter, for the use with the latest generation of 1/10th buggy tyres, the wheel delivers maximum corner control and stability by utilising DE Racing's "Sure Lock" foam retention system. This system, comprising of radial ribs that lock the wheel and foam insert together, retains maximum tyre traction to the racing surface while eliminating the vague inconsistencies that come from an insert that is free to move around on its wheel. The rims are available for Team Associated, Kyosho and TLR 1/10th buggies and in white, yellow or black colour.
Click here to view more photos
Wednesday, March 25, 2015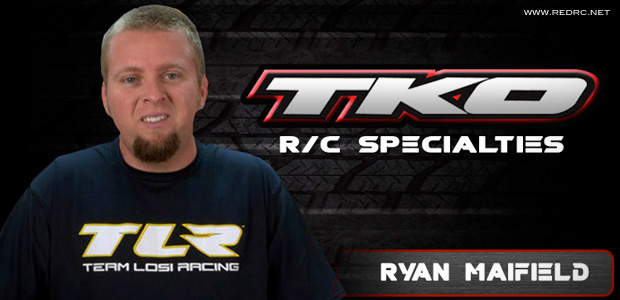 TKO have announced that Team Losi Racing's Ryan Maifield has joined their team. TKO products, such as wheel, clutch and engine bearings will be in his race cars and with the rolling out of TKO's new electric performance product line Ryan will also help with testing and development. Currently Ryan is running TKO products such as ceramic engine bearings, flat & finished diff rings, special RT clutch bearings and wheel bearings, Eureka gear box lube, and Enhanced Rotation bearing lube with more to come.
Source: TKO [tkocompetitiondev.com]
Wednesday, March 25, 2015