November 29, 2007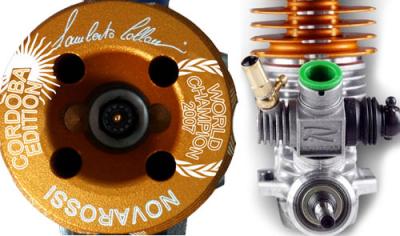 Novarossi have announced that they have created, and will begin selling, a limited edition range of motors to celebrate Lamberto Collari's 8th World title in Cordoba, Argentina. Limited to only 999 pieces, the 'Cordoba Edition' is an exact replica of the engine that Collari used to win Novarossi's 9th World title.
The 35 PLUS 21 LC "Cordoba Edition" has an all-new carburettor. Made from a different kind of alloy and combined with the integrated cooling fins will it keep the temperature of the fuel down before it will enter the engine's internals. The cooling fins will also reduce the overall mass of the engine; this improves the performance of your 1:8 On-road racing car. Next to the new carburettor we also have made a new look on the cooling head, to remember our victory in Cordoba. The sun we used is very similar to the sun in the flag of Argentina.
Available in December, if you want one you'd better start saving as it isn't going to be cheap.
UPDATE: We've been informed by NR that it is expected to be in the EUR500-600 region, so not as dear as we originally thought.
Source: Novarossi [novarossi.com]
---