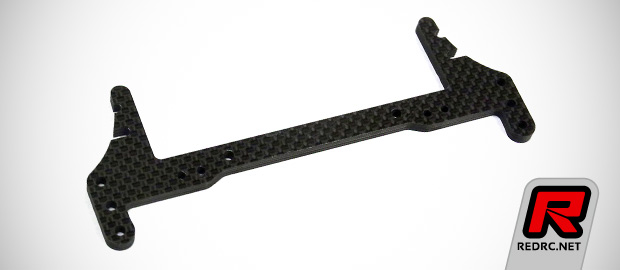 Team CRC Japan introduce this 4mm carbon fibre tweak plate for the CRC Altered Ego 1/12th scale car. The part replaces the kit brace with a 4mm thick and more durable plate in order to improve crash resistance. The tweak plate is available world-wide via Team CRC Japan.
Source: Team CRC Japan [kimihiko-yano.jp]
Thursday, April 17, 2014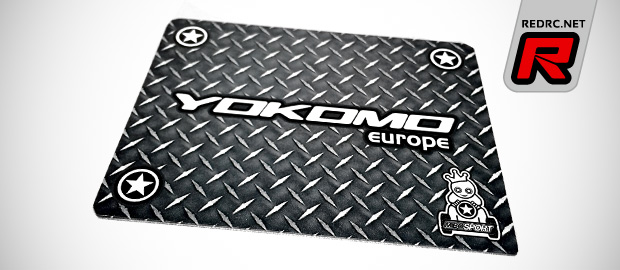 Yokomo Europe introduce this under LiPo weight. It is of a universal design, weights in at 50g and is usable with a wide range of chassis while the Yokomo Europe and Mibosport graphics make for additional visual impact.
Source: Yokomo Europe [teamyokomo.eu]
Wednesday, April 16, 2014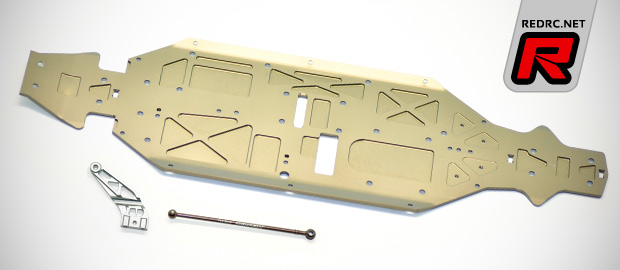 Serpent now have the Plus4 chassis, that is part of the updated S811 2.1, available as a separate set to allow the upgrade of existing Cobra 811 buggies. The main chassis plate is 4mm longer in the rear to create a more planted rear end on tracks with short bumps and a rough surface. Included with the hard-anodised chassis comes a longer rear centre driveshaft and an updated aluminium rear chassis brace. All parts are also available separately.
Source: Serpent [serpent.com]
Wednesday, April 16, 2014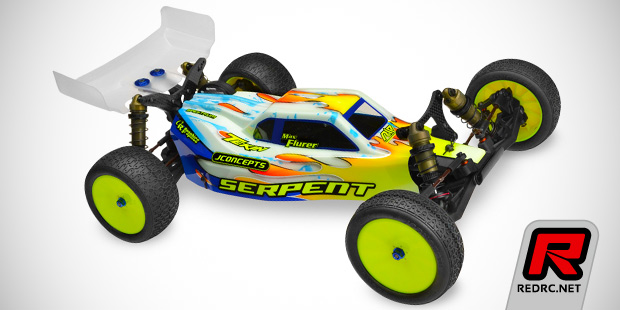 JConcepts introduce their popular Silencer bodyshell design for the Serpent SRX-2 mid motor buggy. Making use of the well-known Silencer design cues such as a mild cab forward design, a roof top shark fin and pronounced sidepods, the body is a direct replacement for the kit item and it comes clear, including window masks, decal sheet and two 6.5″ Hi-Clearance rear wings.
Click here to view more photos
Wednesday, April 16, 2014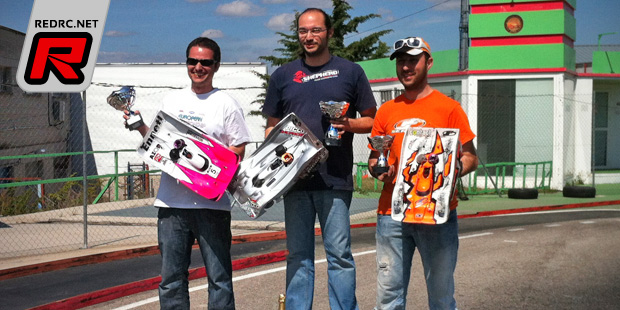 Carlos Peracho won the first race of the 2014 Spanish 1/8th on-road national championship held past week in Madrid at the ARCA circuit. The pole position after the qualifiers went to reigning champion Nacho Lopez, while the superpole – after the semifinals – was achieved by fast Joaquin Signes. In the final Carlos Peracho (Shepherd/Picco) came in first in front of Victor Gonzales who ran a perfect race but was later on disqualified due to the fuel tank of his car being to large. Carlos' problems handed Sergio Montesinos (Mugen/Novarossi) the runner-up spot while Sergio Rivas (Serpent/Novarossi) completed the podium.
Click here to continue reading the report
Wednesday, April 16, 2014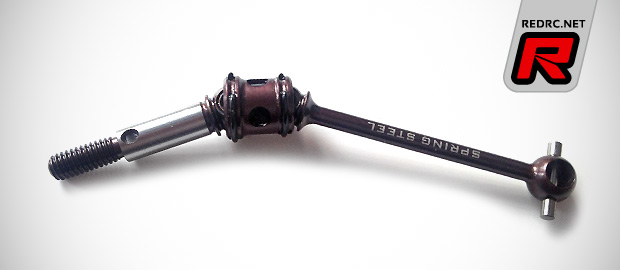 WRC have new dual joint front driveshafts for the STX 2014 touring car available. The ECS called universals are 52mm long, made from spring steel for best possible durability and reduce the chatter of the front tyres at high steering angles due to their design.
Source: WRC [wrc-racing.com]
Wednesday, April 16, 2014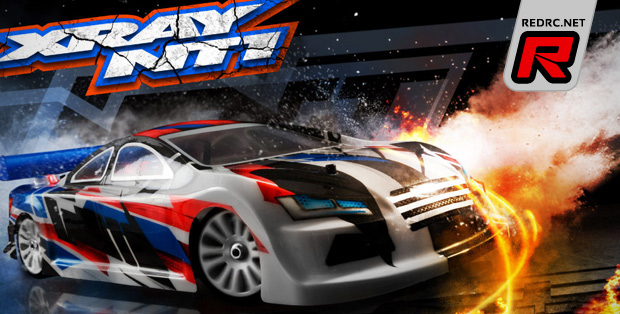 Xray introduce the latest incarnation of their World and European Championship winning NT1 1/10th nitro on-road in the form of the 2014 Spec kit. Compared to its predecessor the car features only subtle refinements such as a new chassis and radio plate, a new fuel tank mounting system, a new smaller 2-speed gearbox and an updated front middle shaft mounting system. Other new features include redesigned shock towers, shocks and a new battery mount. The new features are meant to make maintenance and setup even easier while also adapting the car to harder hand-out tyres, as designer Martin Hudy describes in our exclusive interview some days ago.
Click here to view more photos
Wednesday, April 16, 2014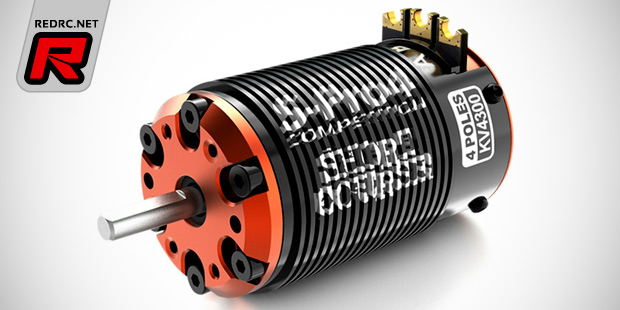 Following yesterday's announcement of the 2-pole S-Pro2 brushless short course motor SkyRC now also introduce a 4-pole variant. Built around a T6 billet aluminium heatsink can the motor is of a 4-pole/12-slot design and features neodymium magnets, a sensored design, high RPM oversized bearings and high-purity copper windings. The motor is compatible with sensored and sensorless motors alike, it measures 38×63.5mm and comes in five kv variants from 4300kv down to 1850kv.
Source: SkyRC [skyrc.com]
Wednesday, April 16, 2014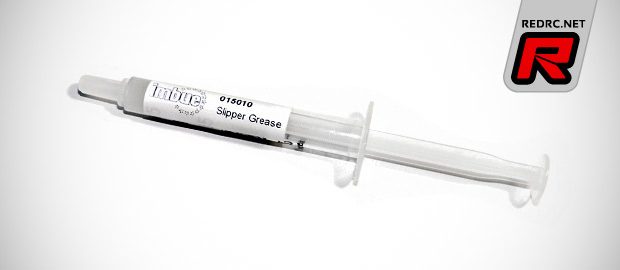 Imbue introduce a long-life slipper pad grease for off-road and on-road vehicles. Applied to the contact surface of the slipper pads and slipper plates, the grease reduces slip-friction and operating temperatures in order to prevent the dreaded pad glazing. Reduced maintenance time and a smoother, longer lasting slipper action are the result. The grease comes 2ml syringes for easy application.
Source: Imbue [imbuemotorsports.com]
Wednesday, April 16, 2014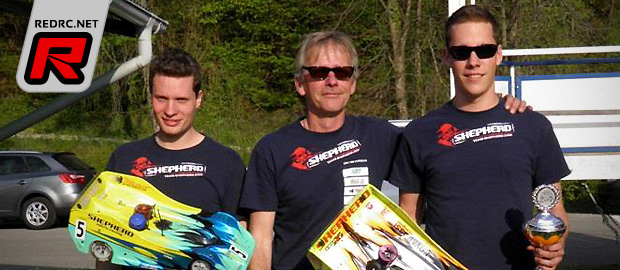 Last weekend the first round of the Swiss nitro on-road nationals took place at the Schaffhausen track. Winning every qualification and being the only one who was able to make 22 laps in 5 Minutes, Shepherd's Simon Kurzbuch started from pole position into the semi-final. After winning the semis Simon also held the pole-position for the final which he lead all the way through the 45 minutes taking the win in front of Mattia Pesenti in 2nd and Silvio Hächler in 3rd position.
Source: Shepherd [team-shepherd.com]
Wednesday, April 16, 2014