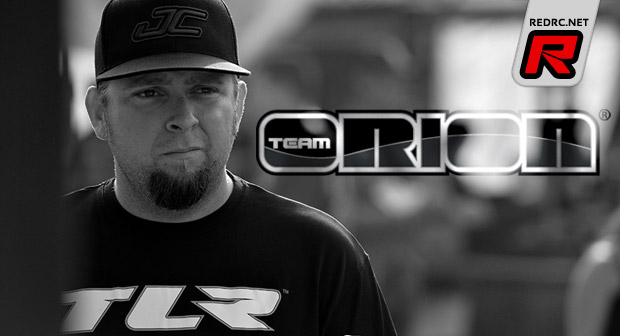 It turns out the rumours floating around the paddock in Sicily were true with new TLR signing Ryan Maifield making the switch from Novarossi to Team Orion's nitro factory team. The US driver, who started from pole position and lead last Saturday's main final until a steering servo took him out of contention, joined their electric section earlier this year and will now also be using all Team Orion CRF nitro products in his cars from January 1st 2015. CRF team manager Adrien Bertin commented on Ryan's decision as follows: "Drivers of the caliber of Ryan Mayfield have their choice of engines to run. It is with great satisfaction that we welcome Ryan in our team and admire his decision to run with Team Orion CRF engines. It is another confirmation of our successful product and team strategy."
Source: Team Orion [teamorion.com]
Tuesday, September 30, 2014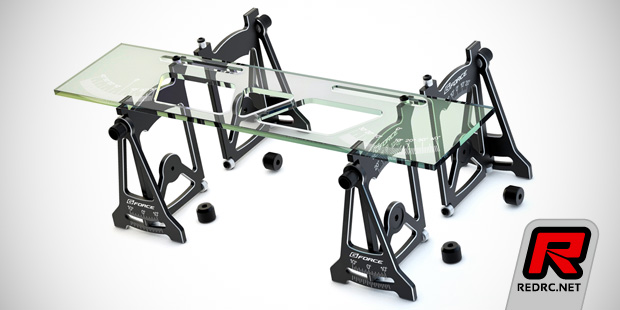 Japanese company GForce introduce an aluminium setup system for 1/10th touring cars as well as a range of gauges for droop and ride height measurement. Starting with the setup system, it is designed to precisely measure camber and toe settings as well as the castor value. All parts are made from high-quality aluminium and knurled nuts allow for easy assembly and disassembly without additional tools being needed and the clear polycarbonate toe plate has cutouts to make way for long body posts. The setup system is available in black and blue colour and it comes in a zipped bag for easy storage and transportation.
Click here to continue reading
Tuesday, September 30, 2014
After five races on different tracks all over Holland, the national Dutch Touring Car outdoor championship in both the Modified and Stock class would be decided in the 6th and final race. Qualifying started on a dry track on Sunday with Mitchel van Es seeming to be the man to beat in the Modified category. Unfortunately he made a small mistake on the last lap of the first qualifier loosing the TQ to Rob Jansen. In the Stock class Robert Krens posted a clean TQ run with a gap of a couple of seconds in front of Sybrand de Boer and Jitse Miedema.
Click here to continue reading the report
Tuesday, September 30, 2014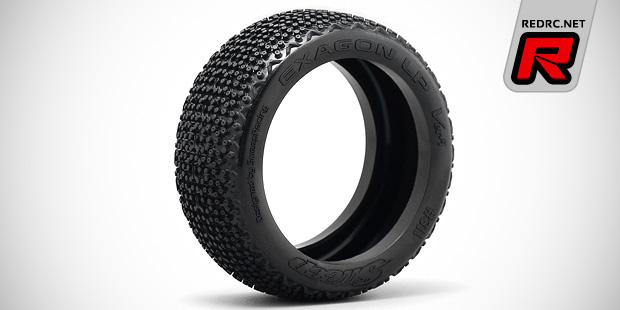 Sweep Racing introduce the new Exagon LP low profile 1/8th scale buggy tyre. An evolution of the well-known Exagon the low profile version features the same shape as the 310 Revolt and a 0.1mm lower pin height than original for a more precise driving feeling. The tyre is also 4mm smaller in diameter to prevent excessive ballooning which makes the – often forbidden – cutting unnecessary. Another new feature of the tyre, that will become available in ultra soft, extra soft, soft and medium compound, are revised sidewall pins for smoother cornering.
Click here to view another photo
Tuesday, September 30, 2014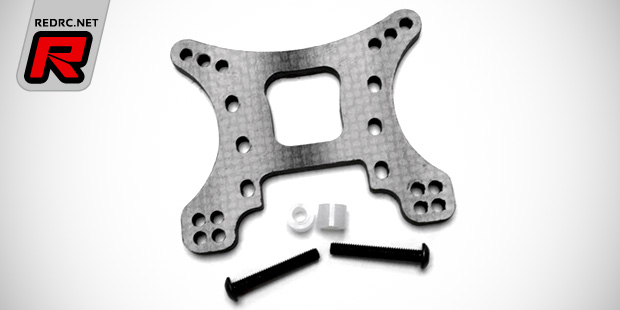 Xtreme Racing introduce two new carbon fibre option parts for the Axial Yeti off-road vehicle in the form of a front shock tower and a roof plate. Starting with the shock stay, the part is cut from 4mm carbon fibre and made to replace the standard plastic item with a cooler looking and more durable piece. Included with the tower come mounting screws and bushings. The second new part is a carbon fibre roof plate that makes for added protection and improved looks. The plate is a direct replacement for the stock body roof.
Click here to view more photos
Tuesday, September 30, 2014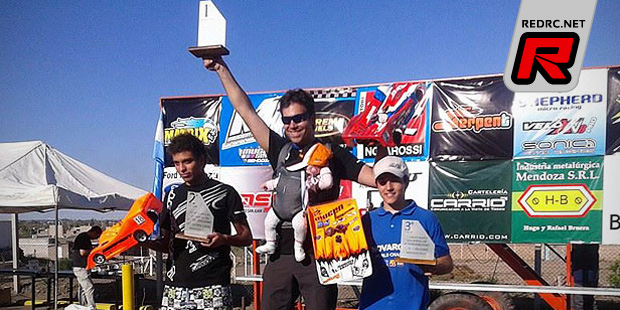 Francisco Rinaldi has recently won at the Argentine 1/8th nitro on-road championships. He took the win with his Novarossi-powered Serpent ride in front of Agusto Quinteros (Serpent/Novarossi) and TQ Agustin Cutini (Mugen/Novarossi).
Source: Novarossi [novarossi.it]
Tuesday, September 30, 2014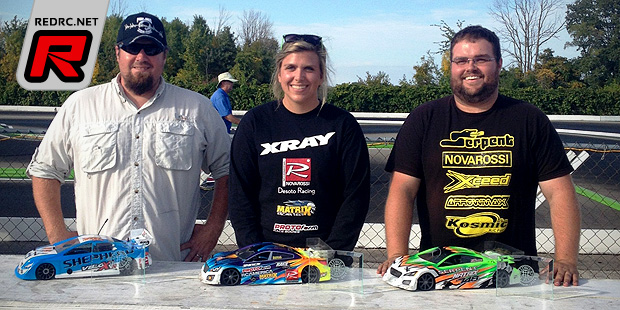 The last round of the US Midwest Series took place in Toledo, Ohio. Racing started on Saturday with open practice, followed by three rounds of qualifying. On Sunday, one additional round of qualifying was run, followed by 30 minute finals for each main. In 200mm Sedan A-main Loran Whiting was able to take a solid lead some laps into the race after qualifying 3rd. Towards the end of the race, Loran failed to hear her dad/pitman call her into the pits for a fuel stop and flamed out at the end of the sweeper. But with a 2 lap lead and following a quick restart Loran kept her leading position. At the end she was able to take the win even with her car running out of rubber in the closing stages.
Click here to view the final result
Tuesday, September 30, 2014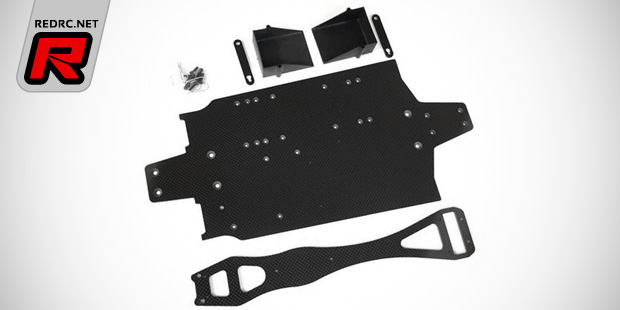 Made for Traxxas' XO-1 1/8th scale supercar is this carbon fibre chassis conversion kit from Xtreme Racing. Designed to replace the stock chassis and offering a short wheelbase configuration of around 324mm the converted car is usable with most 1/8th GT bodyshells. Included with the set comes a 3mm carbon fibre main chassis, a new shorter topdeck and new battery cups. The conversion will require some DIY work such as shortening the centre driveshaft by 80mm and some other minor modifications and beside the carbon fibre version there is also a black G10 fibre glass kit available.
Click here to view more photos
Monday, September 29, 2014