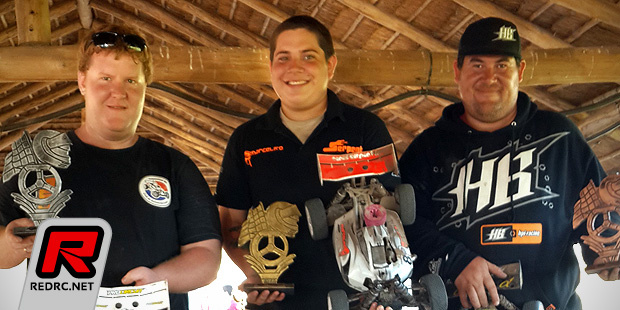 The 4th and final round of the Paraguay Nationals Championship was held this past weekend following events in Hohenau, Captain Meza, and Ciudad del Este. The race format saw two round of 10 minute qualifying followed by 30 minute semis and a 45 minute main final. At the end Marcelo Garcete Talavera came out successful in front of his Serpent teammate Manuel Dressler.
Source: Serpent [serpent.com]
Monday, November 24, 2014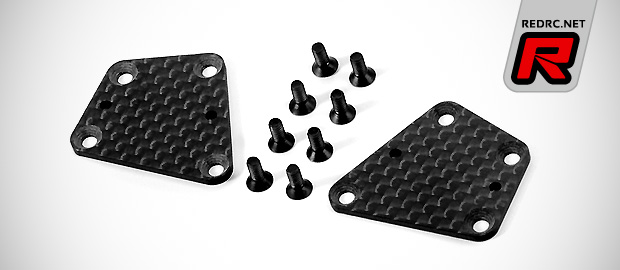 Xray introduce optional graphite rear arm stiffeners for the use with the T4'15's ARS system. Designed to make the car more stable and reactive in high-grip conditions reducing the amount of twist of the composite arms, the plates cut from 1.6mm carbon fibre attach to the rear lower A-arms using the included countersunk screws for swift and easy wishbone stiffness adjustment.
Source: Xray [teamxray.com]
Monday, November 24, 2014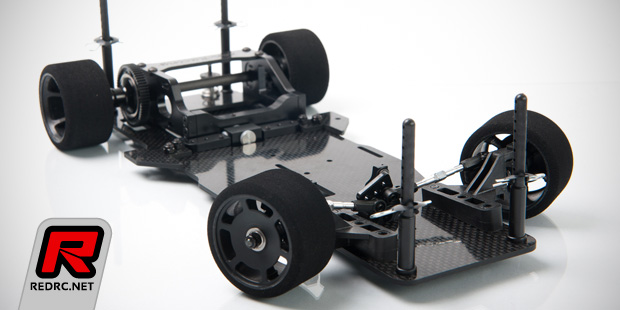 Following first teaser images UK company Zen-Racing now have more information and photos on their first full-car kit available. Coming in two different specifications as extended RSGT12 Race and standard RS12GT12 kit, the 1/12th scale GT12 kit is of an ultra lightweight design with carbon fibre main chassis, aluminium pod plates and a solid graphite rear axle. A unique pivot system allows the rear end to float while the moulded front end suspension parts give only a minimum of adjustments, making the car user friendly even for less experienced drivers while still allowing enough fine-tuning potential for the Pro. Both the standard and Race kit come with pre-glued and trued JFT foam tyres, a 66T Kimbrough spur gear and duraluminum turnbuckles while the Race kit also includes aluminium servo mounts, a full set of front and rear ride height adjusters, a full positive lock rear diff, machined front suspension blocks for alternative caster and camber settings and more.
Click here to view the features and more photos
Monday, November 24, 2014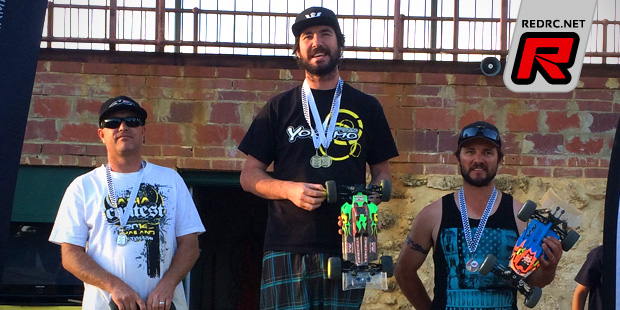 The Western Australia EP Off-Road Interclub Series recently kicked off at MORBC in Whiteman Park with 84 entries across six classes with 20 4WD Modified and 18 EP8 entries to bolster the racing and excitement. The MORBC club put on an incredible event, turning it up with a fresh and exciting layout designed with 1/10th cars in mind. With a little help from the weather to put on a fantastic day, the scene was set for some great racing with WA's best and fastest drivers all turning out including back-to-back 4WD Modified Australian champion Josh Pain, 2014 4WD SCT Australian champion Kyle Francis and 2014 2WD Modified runner-up and 4WD Modified number three driver Craig Laughton.
Click here to continue reading
Monday, November 24, 2014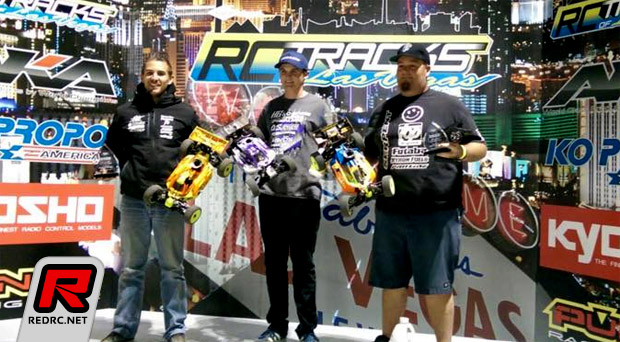 This past weekend saw the Opening Race at the RC Tracks Las Vegas venue, home of the 2016 1/8th Offroad Worlds. The 1/8th Nitro Buggy class saw HB's Ty Tessmann taking the win in the A-main from his newly signed teammate Renaud Savoya who finished only 5 seconds down on Ty after being held off by traffic. Serpent's Mike Truhe rounded out the podium in 3rd. Dylan Rodriquez and Cody King came in 4th and 5th respectively. The Nitro Truggy class then was a bit of relief for Reno as took the win in the A-main from Mike Truhe.
Click here to view the Truggy podium
Monday, November 24, 2014
Capricorn introduce their new V3 shock absorbers for the company's 1/8th on-road kit. They are of an updated design that allows to use one or two O-rings in the lower cartridge for smoother operation with reduced friction or improved sealing. A newly designed piston rod uses a screw to keep the piston in place for easier setup changes and a fixed piston that does not rotate within the shock housing. The 1/8th scale V3 shocks are available in 57.5mm and 60.5mm length and are meant to work best with 60 shore volume compensators.
Click here to view another photo
Monday, November 24, 2014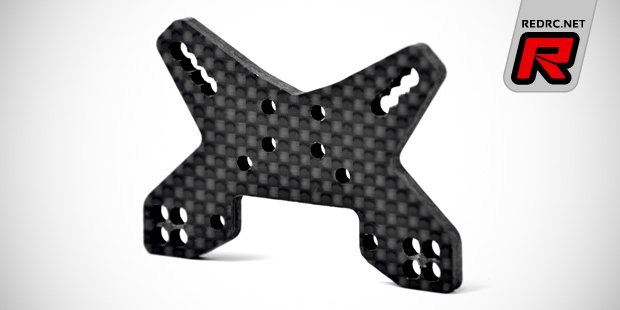 Exotek have announced a range of carbon fibre and aluminium option parts for Losi's Mini 8ight range of vehicles. First up are 3mm carbon fibre shock towers for the Truggy variant. Stronger and lighter than the original parts the front tower also allow for a more upright shock position for improved jump handling.
Click here to continue reading
Monday, November 24, 2014
The first round of the TopRC Winter Electric Series was held with around 50 drivers in attendance at the Genius Ring indoor facility. The event attracted a good amount of local talent and also some internationally experienced racers such as 2014 Large Scale European Champion BA Arnaldi as well as 2014 ETS Stock and European Stock Champion Marek Cerny beside former European 1/8th Champion Jernej Vuga. The weekend started with free practice on Saturday with one round of controlled practice followed by three rounds of qualifying kicking off the Sunday.
Click here to continue reading the report
Monday, November 24, 2014