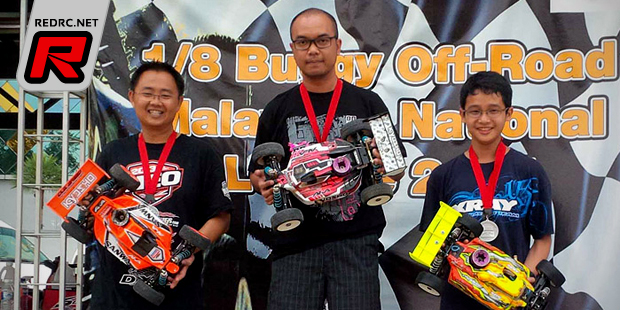 The 2nd round of the Malaysia National League was held with around 100 entries from Singapore, Indonesia, Australia and even Switzerland. After four rounds of qualifying Jason Nugroho (Xray) TQ'd in the Pro Buggy class but he lost his luck in the final where a couple of flameouts let him drop in the ranking. At the end he managed to grab the final podium spot behind race winner Adrian W (Kyosho) and runner-up Stanley W (Kyosho).
Source: Xray [teamxray.com]
Tuesday, April 22, 2014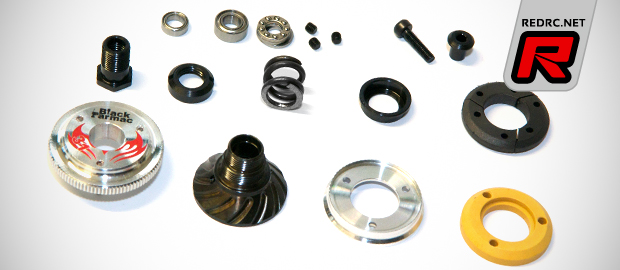 Blacktarmac introduce the double reverse clutch version 2.0 for .12 nitro engines. Offering improved quality and performance, the clutch set includes a new harder spring, a new 7075 Ergal 31mm flywheel, clutch shoes made from a highly durable material as well as new high-quality ball bearings. Available for the Xray NT1, Capricorn Lab C-02 and Shepherd Velox V10 the set also includes a lightweight 30mm flywheel for lower rotational mass, a 32mm all-round flywheel and a hard-coated 7075-T6 Ergal clutch bell.
Click here to view another photo
Tuesday, April 22, 2014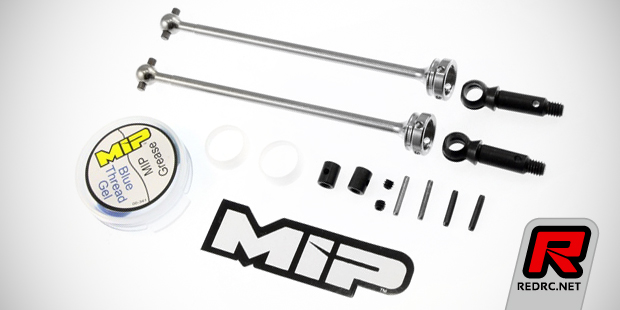 MIP introduce the Shiny C-CVD driveshaft kits for the TLR 22-4 4WD buggy. Available for the front and rear of the buggy the driveshafts feature "shiny" alloy steel dogbones and precision machined wheel axles and offer a no-binding design with captured cross pins for improved reliability. Included with the driveshafts comes a set of blue MIP thread lock gel and suitable grease.
Click here to view the rear driveshafts
Monday, April 21, 2014
New from Exotek and made for the Team Associated B5 and B5M buggy are the Flite titanium front axles. The parts are almost as strong as steel shafts but weight in at only 4.9g compared to the 8.7g the kit parts weight. The axles reduce both the rotational mass and unsprung weight and help to improve the buggy's on-track performance.
Click here to view another photo
Monday, April 21, 2014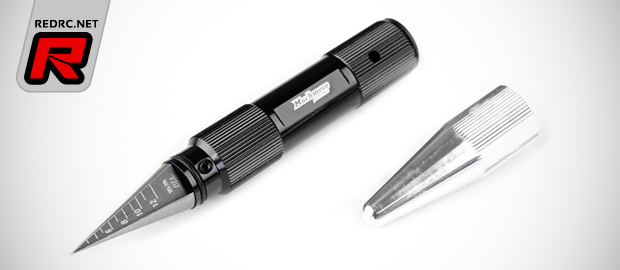 Muchmore have a new body reamer for polycarbonate bodyshells available. Coming with a black anodised knurled handle and a sharp tool tip the reamer allows to drill holes from 1 to 12mm or up to 1/2″ in diameter. The respective size markings are laser-etched into the blade that is protected by a solid aluminium cap.
Source: Muchmore [muchmoreracing.net]
Monday, April 21, 2014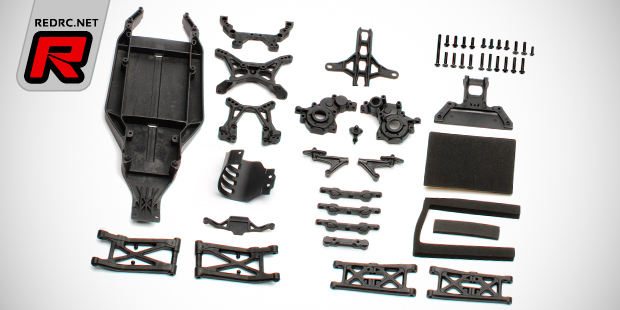 Team Associated introduce new optional parts for the B5 and B5M buggy in the form of two conversion kits and aluminium rear hubs. Starting with the conversion kits, they are available as B5 to B5M and B5M to B5 kit and help to convert a rear motor B5 into a mid motor B5M and vice versa. They come in cheaper than buying a complete new buggy and include all necessary parts minus the respective bodyshells, such as the main chassis, suspension arms and shock towers as well as gearboxes and small parts.
Click here to continue reading
Monday, April 21, 2014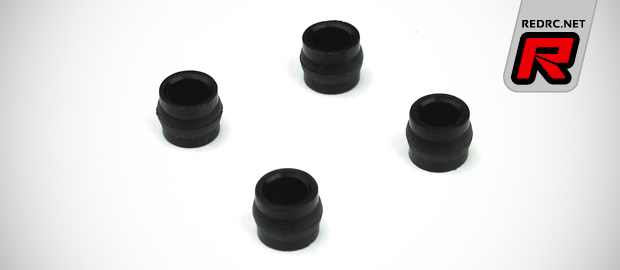 Tekno RC announce the release of their shock cap bushings as a separate item. The company has received many requests from their customers to offer the parts as a stand-alone items and the bushings are available in a convenient 4-piece pack. The bushings are compatible with all Tekno RC vehicles such as the EB48.2, NB48, ET48, NT48 and SCT410.
Source: Tekno RC [teknorc.com]
Monday, April 21, 2014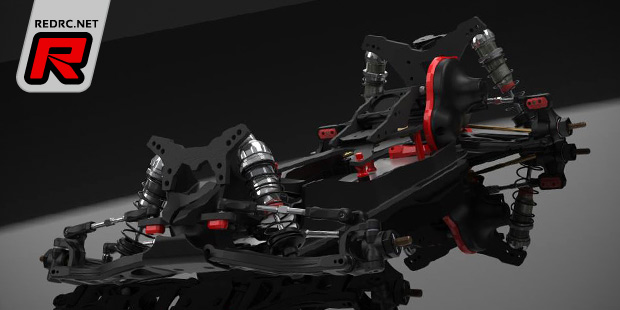 VBC Racing have released first renderings of their forthcoming Firebolt DM 2WD off-road buggy. The company's first buggy kit features a slim aluminium chassis with composite sidepods, "gullwing" front and rear wishbones, aluminium big-bore shock absorbers and – by the looks of things – carbon fibre front and rear shock towers. Given the images, many of the suspension settings are adjustable using threaded inserts and a brace on front of the mid motor allowed the use of a fan unit for improved cooling in hot ambient temperatures. Although the images only show the mid motor variant it is understood that the Firebolt will feature a convertible gearbox design to run the buggy in rear motor configuration also. The kit will hit the stores this Summer and we bring you more information as soon as we get them.
Click here to view more photos
Monday, April 21, 2014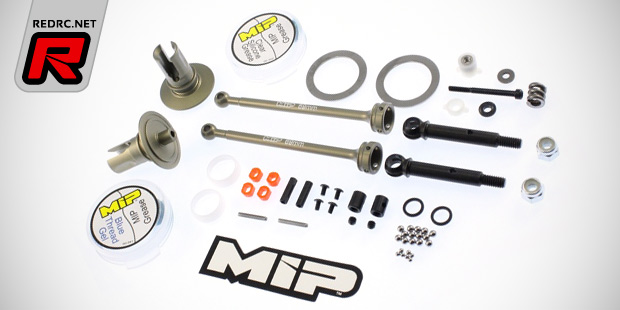 MIP introduce two new Pucks drive systems for the TLR 22 2.0 buggy. First up is the lightweight 17.5 drive system specially designed for Stock racing as it makes use of lightweight C-CVD aluminium driveshafts and Lite Drive aluminium outdrives, scrubbing around 50 percent of overall rotation mass. The Shiny drive system for Modified racing relies on the more robust "Shiny" steel C-CVD shafts and steel outdrives. Both kits make use of MIP's Pucks system that offers a greatly increased contact patch between the driveshaft's drive pin and the differential outdrives for a smoother operating drivetrain while offering easier maintenance at the same time. Both the Stock and Modified kit include a pair of driveshafts with wheel axles, differential outdrives, diff rings and balls, the Pucks assembly as well as several small parts.
Click here to view the Modified kit
Sunday, April 20, 2014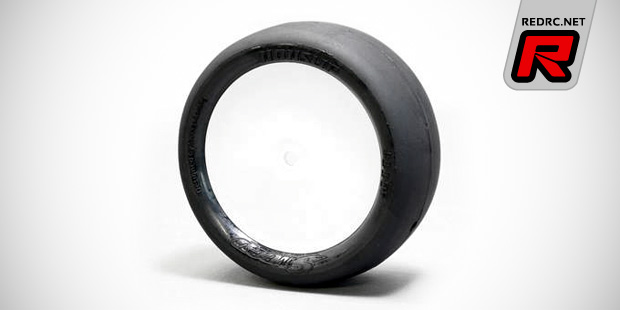 Sweep Racing introduce the Nonslip slick tyres for 1/10th buggies. Available as 2WD/4WD front and rear tyre in ultra soft Silver, extra soft Blue, soft Red, medium White and a special clay compound, the tyres are made for all track slick tyres can be run on such as specially prepped clay and some carpet tracks.
Click here to view the rear tyres
Saturday, April 19, 2014