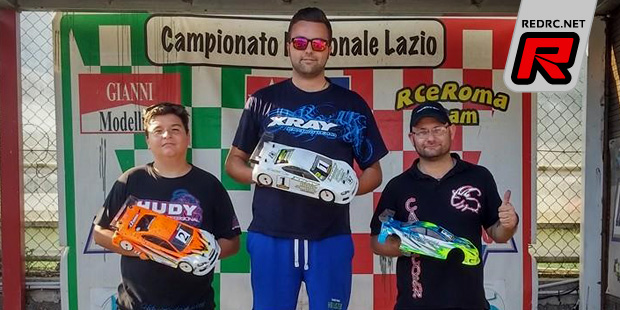 The first round of the Roma Shock Championship was held at the T5 Track in Rome, Italy. In the Touring Car Modified class Alessio Menicucci was the man to beat after scoring a new track record on Saturday. On Sunday the track was a bit dirtier which forced drivers to adjust their car's setups but it was again Alessio Menicucci who came out successful and who took the win in front of Alessio Valentini and Simone D'Ottavio. Valter Cola and Alessandro Manciocchi rounded out the top 5 result.
Source: Xray [teamxray.com]
Friday, September 12, 2014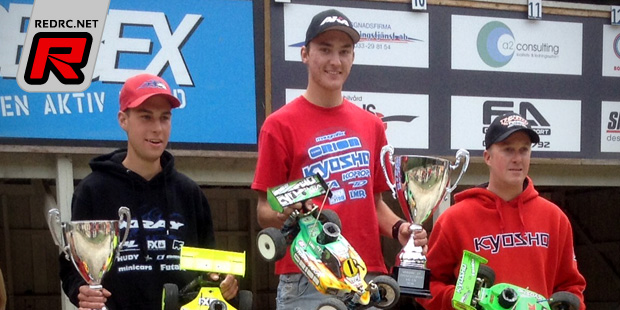 Last weekend the fourth and final round of the Swedish Cup Series took place at the track of Borås MRK. Normally a place where rain comes into play, however this year it was not like that as the sun was out all weekend. The overall winner of the cup was going to be decided with a few guys having a shot at it. However the race was pretty much dominated by David Ronnefalk as he TQ'ed every round of qualifying and later on started from pole position into the final. The spectators then witnessed a close and fun battle between David and Kennie Ekenstierna towards the end with David coming out on top ultimately. This meant the overall cup would went to David as he won all three races he attended after missing one round due to a date clash.
Thanks to David Ronnefalk for sending the report.
Friday, September 12, 2014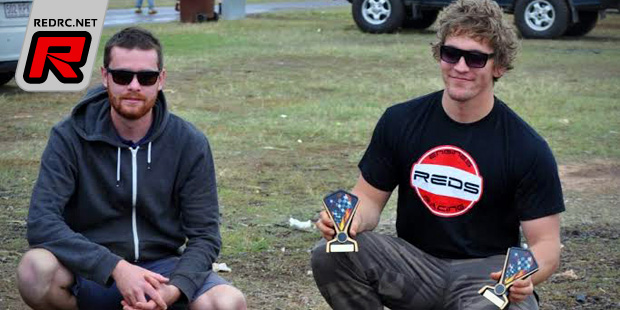 Over 70 drivers made their way to Maryborough, QLD for the Wide Bay Weekender Challenge. Reds Racing's newly signed Aaron Stringer was on fire during qualifying as he TQ'ed all Buggy qualifying rounds and won three out of the four Truggy qualifiers to take the overall TQ in both classes. Unfortunately the weather moved in for the finals and while the host club tried hard to clean up the track, mother nature won and the event was called off and the results were based off qualifying handing Aaron the overall win in both Nitro Buggy and Truggy while Reds Racing teammate Shane Freiberg took the runner-up spots behind Aaron.
Source: Reds Racing [redsracing.it]
Thursday, September 11, 2014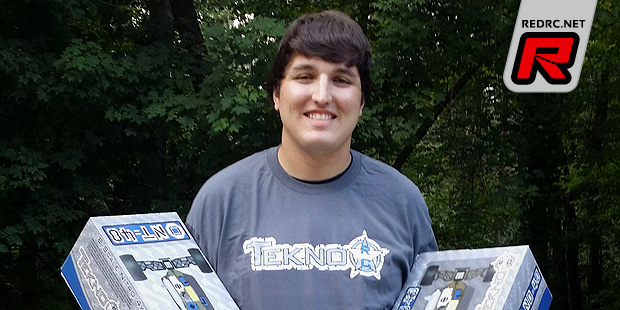 Tekno RC announce that Joe Bornhorst will be joining their race team for the remainder of 2014 and the 2015 racing season. Joe has been making a name for himself all over the U.S. in the 1/8th off-road racing classes and will be travelling to many races representing Tekno RC in the future. Joe had this to say about the deal:
I would like to take this opportunity to thank everyone at Serpent America/Desoto Racing for all of their support that they have given me over the past couple of years. With that being said, I am very excited to join the Tekno team for the 2015 season. I am confident that with the help of the entire team, we will be able to accomplish some big things over the course of the next year. I would like to thank Daniel Lewis and Matt Wolter for giving me this opportunity, along with a special thanks to teammates Jeff Beck and Sean Ramos for helping me through the process of making this switch.
Source: Tekno [teknorc.com]
Thursday, September 11, 2014

Novarossi announce the release of a new 4-shoe clutch system for 1/8th off-road buggies. The clutch is of a completely tuneable design using different spring and shoe combinations, with the springs being available in three different hardnesses while the clutch shoes come made from aluminium and controlled friction CFM material. The clutch is meant to reduce fuel consumption and improve traction at the same time while making for a more efficient power delivery.
Source: Novarossi [novarossi.it]
Thursday, September 11, 2014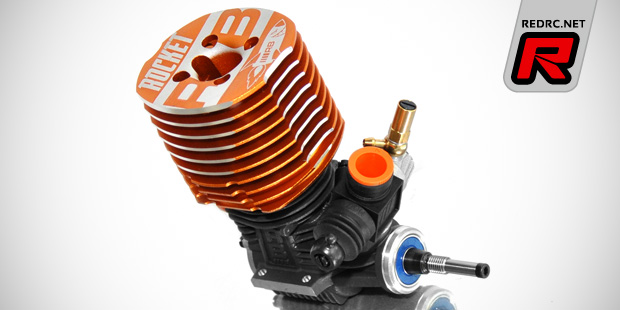 RB's new .21 Rocket engine is the follow-up model of the long-running and now sold out Blast line of engines. The limited edition piece is of a long stroke design, it offers a 14.5mm lightened and balanced turbo crankshaft, a 7-port multi-exhaust liner, a lightweight piston and a strong competition conrod. The composite slide carburettor comes with three 6mm to 8mm venturi inserts and the black-coated crankcase is equipped with a 14.5mm high-speed bearing and topped by a new 60mm orange anodised and laser-engraved cooling head. The engine is available separately or including an EFRA 2097 in-line pipe and manifold set.
Click here to view the features and more photos
Thursday, September 11, 2014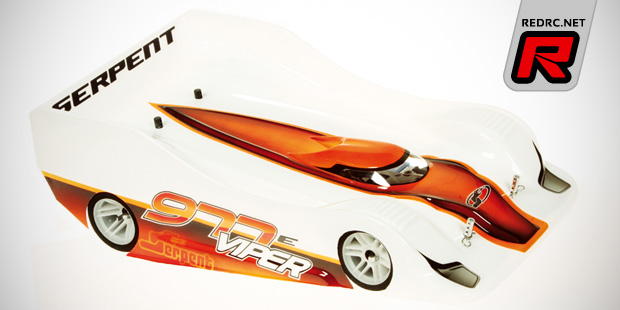 Serpent introduce the Viper 977-e 1/8th scale electric on-road kit. The car is based off the nitro-powered and World Championship winning 977 and features a 5mm carbon fibre main chassis with 2.5mm upper deck, an efficient 2-belt drivetrain with large belt pulleys and a centred 7075-T6 aluminium motor mount that allows for easy motor swaps. The proven 977 suspension geometry ensures a balanced feel of the car that will have a race-ready weight of around 2650g, depending on the electrical components. The carbon fibre battery mount is designed for the use with common 3S LiPo battery packs and it sits off-centre in a very low and balanced position. The car is fully adjustable in terms of suspension setup and designed for the use with dual 2S to 3S LiPo battery packs and 1/8th-class brushless motors.
Click here to view the features and more photos
Thursday, September 11, 2014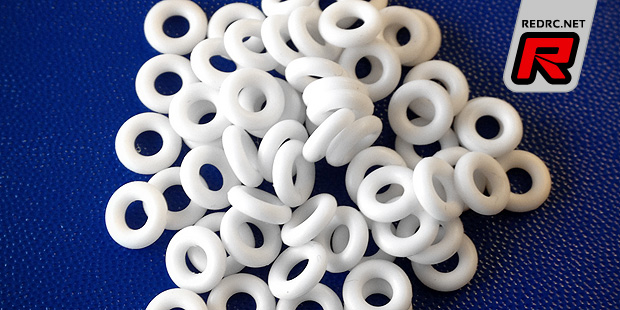 H-Speed introduce the Smoothies shock absorber O-rings for a range of 1/10th scale on-road and off-road vehicles such as the ones from Team Associated, Losi, Team C, Tamiya, Xray and Yokomo. The white colour O-rings offer the smoothest possible shock action without the often feared swelling or leaking for consistent damping characteristics over a long period of time. The O-rings come in packs of 8 and they are available now.
Source: H-Speed [h-speed.at]
Thursday, September 11, 2014