February 16, 2007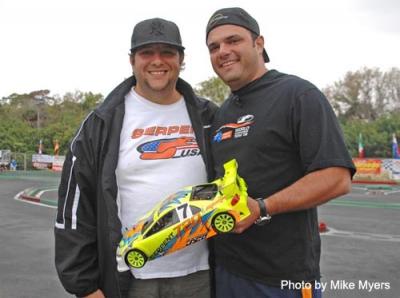 Well the rain came and interrupted play today on the last day of qualifiers for this years Florida Winternats. With the 1/8th scale class not managing to complete a full round of qualifying without the rain stopping proceedings, the results from Wednesday will stand, which means Kyosho racer Josh Cyrul will start on pole position for Saturdays A-main race. In 2nd position is Chris Tosolini driving another Kyosho Evolva, with reigning champion Mike Swauger driving his MRT Ninja powered Mugen MRX4-R lining up just behind him. Vincent Jackson, also driving for Mugen, looks like the danger man in this race, the relative unknown lines up 4th and could produce the surprise of the day. In 5th sits former multiple winner, and highest qualifying Serpent, Michael Salven from Germany just ahead of team mate Paolo Morganti, both drivers with something to prove after showing top pace in the heats but just not being able to pull it together when it mattered.
In 1/10th scale its all change, with the organisers managing to get in one of the final 2 rounds of qualifying for this class run, in between the showers. Serpent 720 driver Paolo Morganti pulled out a stunning drive in cold conditions to go 9 seconds quicker than he previously managed, to take the pole position from top Xray driver and overnight pole man Ralph Burch. Jilles Groskamp who moved to using a Mega MF motor for his final qualifying runs, managed to get 3rd fastest qualifying time but was disqualified for his car being underweight after the lead weight in his car fell out, which meant that 3rd position went to Kyosho racer Josh Cyrul. In 4th position was Danny Horta, driving a Serpent 720 who managed to move himself up the order and finish ahead of hot shot Xray driver Paul LeMieux who ended qualifying a very respectable 5th for his first nitro race.
The lower finals take place today, Friday, and if there is no rain delay, the A, B and C-mains will take place on Saturday. The top 11 fastest qualify directly into the A-main in all classes with the winner of the B-main bumping up to make it 12 starting in the A-main.
Not so many pictures today but the ones we have you can see below along with the final top A-main standings… content
---