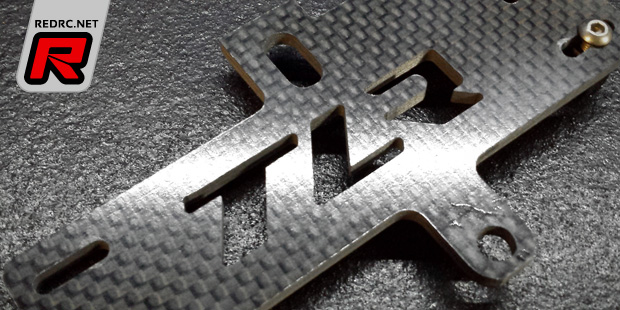 Factory RC introduce a carbon fibre shorty battery brace for the TLR 22-4 buggy. The battery hold down features an adjustable battery stop block that allows to more easily and conveniently adjust the battery position within he chassis. The brace replaces the stock plastic part, it is cut from 3mm carbon fibre and it comes with heavy duty carbon steel or titanium screws.
Click here to view more photos
Friday, November 21, 2014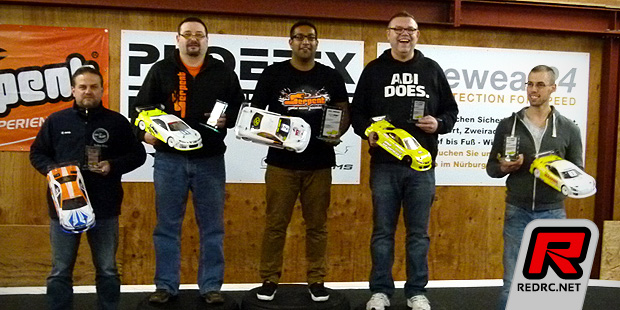 The 2nd round of the Tonisport-Winter-Cup was held at the Eifel-Ring, a permanent indoor track in Leimbach, close to the World-famous Nürburgring. A total of 40 racers attended the race that was organized by the MAC Adenau. The 13.5T Touring Car class saw an impressive battle for positions already in the three six-minutes qualifying heats. Finally Ingo Herschbach took pole position in front of his Serpent fellows Majuran Tharmalingam and Oliver Kaufmann, winner of the first TWC race weekend.
Continue reading the report here
Friday, November 21, 2014

Made for the Tamiya TRF418 and TRF419 are the P8 double joint driveshafts from Spec-R. They are of a reinforced design with a large diameter cross joint, 1.8mm cross pins and strong 0.8mm circlips for the cross pins. Made from high quality spring steel and offering precision-ground wheel axles the shafts are recommended for the use in combination with a front spool axle and they minimise wheel chatter at high steering angles due to their design.
Source: Spec-R [spec-r.com]
Friday, November 21, 2014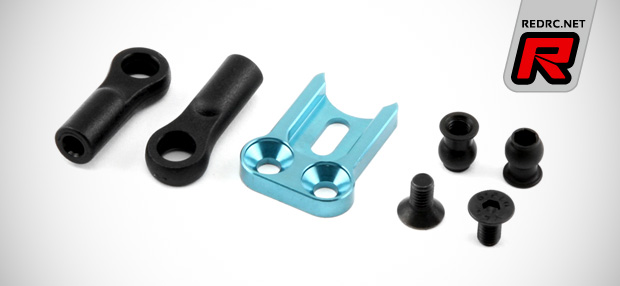 Shepherd have a new option part for the Velox V10 Pro 200mm nitro on-road car available in the form of an updated steering Ackermann plate and linkage parts. Due to a much smaller steering differential angle, the new 8mm servo saver Ackermann plate provides even more steering and a completely different, more aggressive overall handling. Prototypes have been successfully tested at the this year's European and World Championships and also at the ENS in Fiorano with a higher corner speed noticed by all drivers. The servo saver Ackermann plate is available as a set including new 4.9mm uniballs and ball joints or as a single part from now on. The new uniballs and ball joints are also available separately as a replacement of the standard parts to eliminate play in the V8 and V10 steering linkage while allowing smooth operation.
Click here to view the linkage set
Friday, November 21, 2014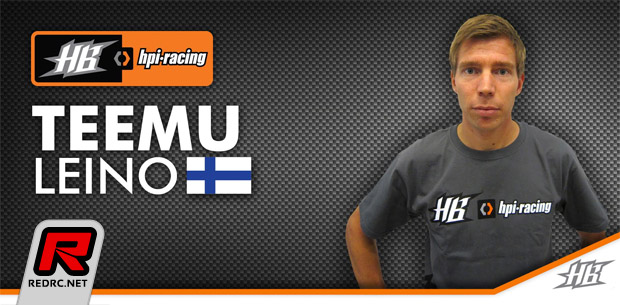 Team HB have announced that Teemu Leino has extended his contract to drive for the HB racing team. A mainstay of Team HB since first signing with the team, the Finn is a European Champion in the electric touring car class but his focus is now 100% nitro, and he is one of Team HBs most versatile racers, racing at the top level in 1/10th nitro touring cars, 1/8th nitro track racing and 1/8th buggies. He has been instrumental in developing the HB R10, R8 and D812 and has been a great teammate for every member of Team HBs international factory team. In 2012, Teemu was TQ at the Worlds with the R10 nitro touring car, and Team HB is confident of more success for Teemu with the R10 and other HB racing cars.
I look forward to another season with HB-HPI Racing. They give me the best cars on the market for all my racing categories. Also, the team work is really great in Team HB. I look forward to another year working with great people and having some fun at the track. I want to say thanks to Tatsuro Watanabe and Hiroyuki Kasuya for this opportunity. See you at the races next year.
Together, Teemu and the entire HB factory and R&D team will help continue to develop and improve HB racing cars for more race wins and championships, not just for themselves but for all HB racers. We are very excited to see what Teemu can accomplish with the HB R10, R8 and the World Champion D812 in 2015.
Source: HPI [hpiracing.com]
Friday, November 21, 2014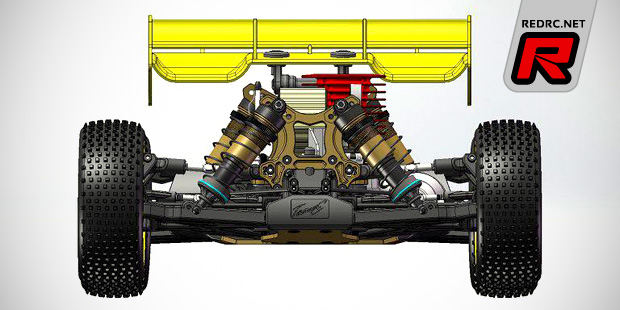 Team C have released a first teaser image of the forthcoming TM8 1/8th nitro off-road buggy. So far only one CAD rendering is available and from the looks of things the buggy will be of a class-standard design although it is not clear if some fancy gizmos are hidden behind the front shock tower. We bring you more information as soon as we get them.
Source: Team C [teamcracing.net]
Friday, November 21, 2014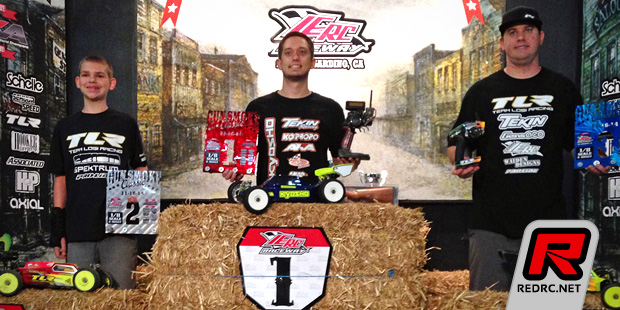 The recent Gun Smoke Classic race held at IERC Raceway in San Bernardino, CA saw a tight battle of Lucas Sanford, David Jenson and Brian Sullivan over the top spots in the 1/8th E-Buggy class. Brian Sullivan had a very good run in the first heat taking the TQ but Lucas Sandford would take the overall TQ in Rd1 by 2 seconds and a near perfect run. In Q2, David Jenson pressed hard for the entire race, but Sanford had another great run taking the win. Sanfords 2nd round TQ meant he would not have to race the third qualifier, and would start on the pole for Sunday's A-mains, with Eric McNeil 2nd and Brian Sullivan 3rd.
Click here to continue reading
Friday, November 21, 2014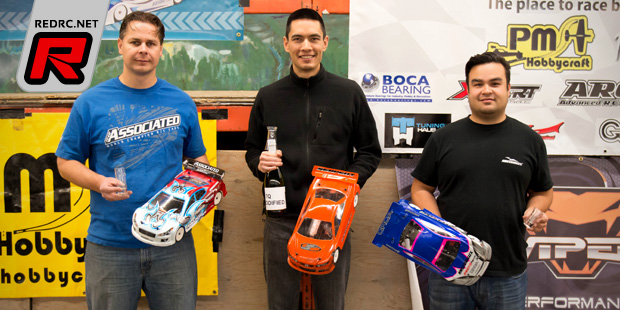 Round 1 of the newly established Alberta Touring Series was held in Calgary, Alberta, hosted by the CARCAR club. 125 entries spread across the five classes of Touring Car Modified, Touring Car Stock, Mini, 1/12th scale Stock and Formula. In the Touring Modified class where the Reedy Race Format was used, there were 24 entries, with five rounds of random sorted heads up racing. In the end, Steve Soon (Serpent) with a five win record beat out Peter Toszer (Team Associated) on tiebreak points to take top spot on the podium with Wayne Mah (Awesomatix) coming in 3rd.
Click here to continue reading the report
Friday, November 21, 2014