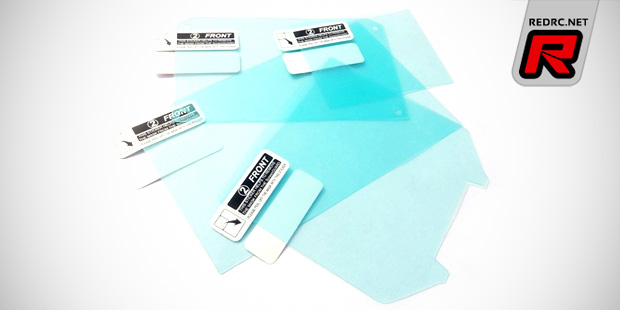 Hiro Seiko introduce transmitter screen protectors for a range of high-end transmitters. Made from a multi layer Japan-made material the protectors are ultra clear and they offer a hard-coat protection against scratches and fingerprints. The pre-cut sheets are available for the Futaba 4PX, KO Propo EX-1 KIY and Sanwa M12 with more transmitters to follow shortly.
Source: Hiro Seiko [hiro-seiko.com]
Tuesday, December 16, 2014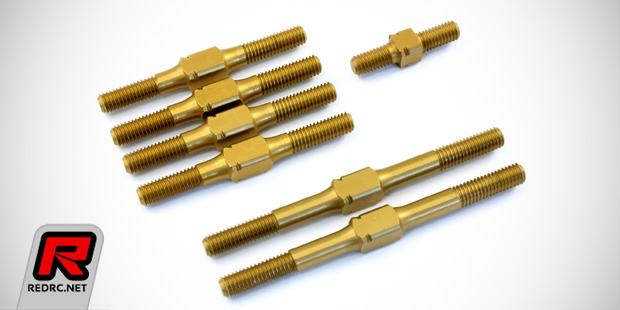 Radtec RC have new hard-coated aluminium turnbuckles available. Coming as complete kits for the Tamiya TRF/VBC D07, Yokomo BD7 and Xray T4 a set of six turnbuckles weighs in at only 5g and they are also available as pairs in lengths of 16mm, 26mm, 30mm 39mm and 42mm.
Click here to view the Yokomo and Xray sets
Tuesday, December 16, 2014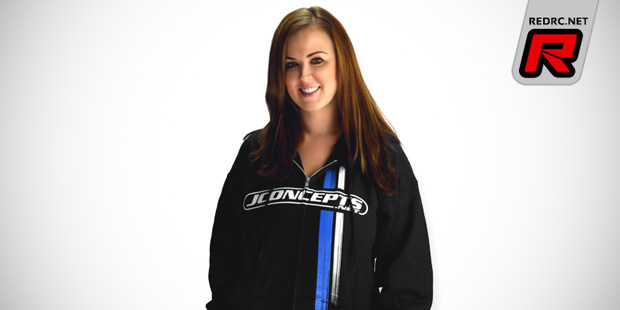 New from JConcepts comes the zipper hoodie sweatshirt with Racing Stripes print. Much like the muscle cars of the 1970's, the blue and white racing stripes vertically positioned extend well below the logos for decorative impact and presence. The hoodie is made from 90/10 cotton and polyester fabric, black of colour and it comes in medium to xxx-large sizes.
Monday, December 15, 2014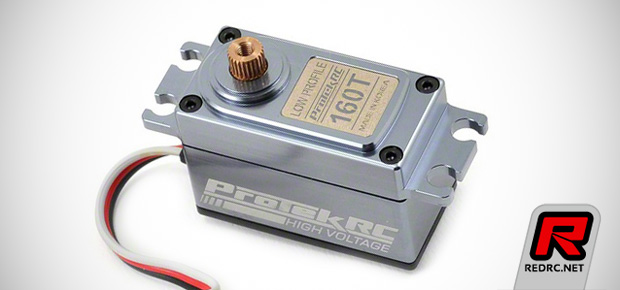 New from ProTek R/C comes the low profile 160T high torque servo. Featuring a robust 19.7kg-cm of torque and 0.06s transit time at 7.4V, the  servo features a metal drivetrain, ball bearings and an all-aluminium heatsink case. Included with the servo, that is usable from 6.0V input on, comes a blue-anodised aluminium servo horn and aluminium servo ear guides.
Source: Amain [amain.com]
Monday, December 15, 2014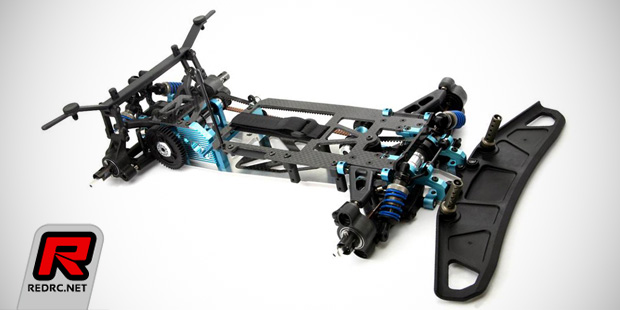 After the first preview in November Shepherd finally release detailed information about the Velox E8 1/8th electric on-road competition car. The vehicle is based on the European Championship winning Velox V8 EC nitro car and it offers nearly the same balance which is possible by using a one-piece 6S LiPo battery mounted in the same area as the fuel tank of the nitro-powered car. Dedicated batteries will soon be available through Shepherd and various battery manufacturers. Making use of many features seen on the nitro variant, such as the complete suspension, the 3-belt drive train and other features like the laid down steering servo the performance on the track is similar or even better compared with the nitro version. The car allows the use of standard 1/8th scale brushless motors and speed controllers as well as the high-end combos of Swiss company TTB without any additional parts needed. For the use of standard components a 7075-T6 aluminium motor mount and a high quality carbon plate for the ESC are included in the kit while the TTB combo can be mounted directly on the chassis plate for a perfect fit. The Velox E8 comes with an high quality 7075-T6 aluminium chassis plate for optimised engine cooling with a carbon insert to protect the battery from heating up. The kit is available from now on.
Click here to view the features and more photos
Monday, December 15, 2014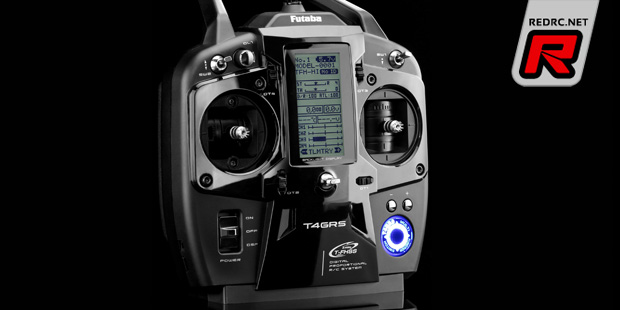 German Futaba distributors Robbe introduce the T4GRS 2.4GHz T-FHSS telemetry stick radio system. The transmitter offers a transmitting rate of 2.9ms, a large 128×64 back-lit display for realtime telemetry monitoring, Futaba's S-Bus technology to make maximum use of the company's S-Bus servos, controllers and sensors and the 4-channel radio is fully decked out with 9 widely assignable switches. The menu operation is done by a 4-way dial and two additional buttons with the transmitter offering a full load functions such as dual esc, gyro, brake and 4-wheel steering mixes along the usual array of settings such as dual rate, exponential, EPS and more. The radio will hit the stores by the end of December.
Click here to view the features and more photos
Monday, December 15, 2014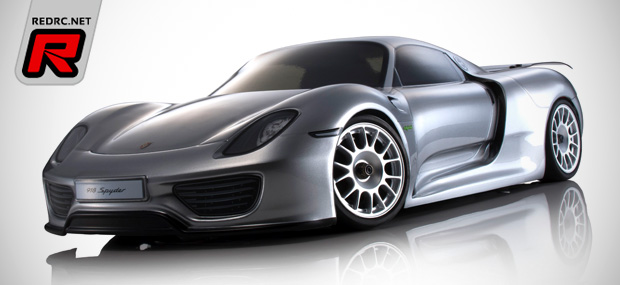 Kyosho introduce two new bodyshell variants for the Fazer VE entry level 4WD touring car chassis. Coming as Spyder Silver or Weissach Package both cars make use of the popular shaft-driven Fazer chassis with sturdy fixed length suspension components, metal gear differentials, sealed receiver box and grippy racing tyres. The pre-assembled cars come including a waterproof high-torque steering servo, waterproof Team Orion R10 One brushless speed controller and Team Orion Neon One brushless motor as well as a 2.4GHz FHSS pistol grip radio, a Team Orion 1800mAh NiMH battery pack and suitable wall charger. The package is topped off by your choice of a silver Spyder or white/red Weissach Package 918 bodyshell.
Click here to view more photos
Monday, December 15, 2014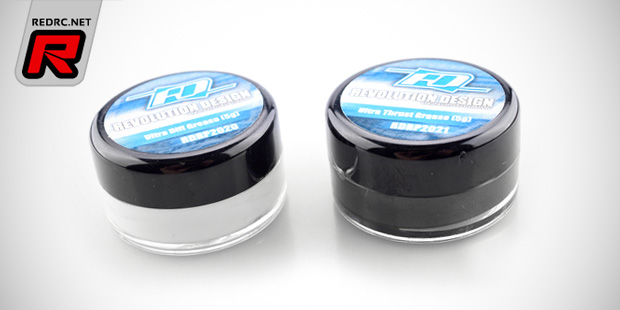 Revolution Design Racing Products introduce their new line of dedicated greases for the use with ball differentials and thrust races. The Ultra Ball Diff Grease was previously sold under the Vampire Racing brand and now makes a revival in Revolution Design's chem series. Although gear differentials are a more common sight in today's vehicles ball differentials are still a welcome tuning option when running in low to medium grip conditions. The grease is designed to perform in off-road buggies, touring cars and pan/formula cars. The white-colour ball diff grease comes in cups of 5g. Also new is the black thrust race grease. Containing finely ground graphite for improved load stability the lubricant is ideally used on the thrust races of ball differentials. Like the diff grease the thrust race lube comes in a handy cup containing 5g of grease.
Source: RDRP [revolution-rc.com]
Monday, December 15, 2014