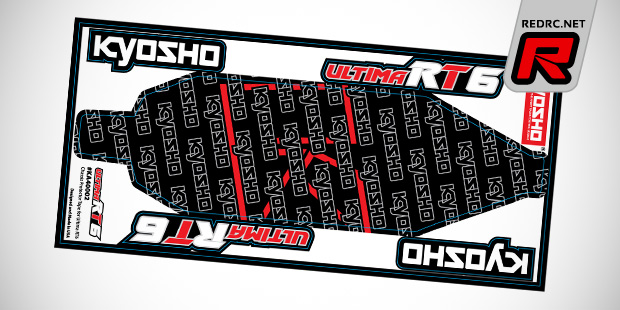 Kyosho introduce chassis protective decals for the RT6 truck as well as new snap back hats. Starting with the chassis skins, the protective decals are pre-cut and come in sets of two including one black and one white themed skin. They are made to protect the bottom of the chassis from becoming overly scratched while adding some visual impact. Also new are two snap back caps in red or black colour. They sport an embroidered Kyosho logo and let you show your passion to everything Kyosho.
Click here to view the other new products
Thursday, April 17, 2014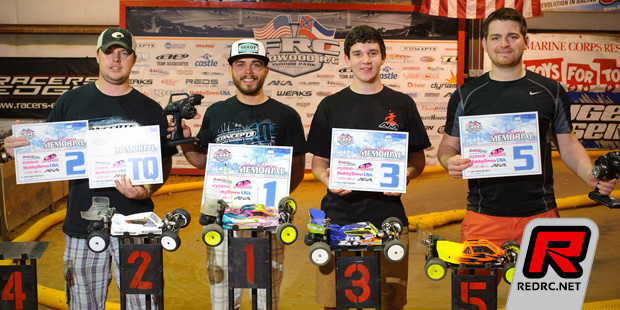 This past weekend the first annual Jamie Rogers Memorial race was held in Flowood, Mississippi. Jamie passed away in January due to a fatal heart attack while attending Flowood's "January Jam" race. Around 150 racers from the surrounding states joined together to remember a fallen hero in the RC community. Bubba Barham, race director, did a great job for Jamie's son Ty and his Mother, Melissa. FRC had many sponsors donating product to be raffled off to raise money for Ty and his family, with close to $4,000 raised.
Click here to continue reading
Thursday, April 17, 2014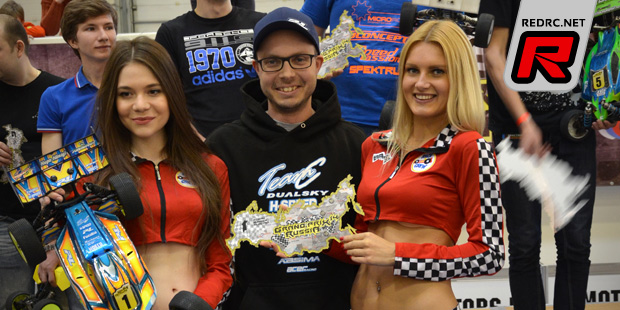 The Grand Prix of Russia 2014 was held at the huge Crocus Expo Facility in Moscow with almost 250 entries. The very well organised event was part of a huge hobby show and attracted thousands of hobbyists and spectators. The track was a typical European carpet track with wooden jumps and obstacles and due to the amount of drivers each class only had one 2 minute practise run, making it difficult for drivers to adapt to the track. In 1/8th E-Buggy and 2WD Modified Buggy Team C's Hupo Hönigl was to take TQ and win beating Shin Adachi (Yokomo) and Jörg Tiit (Serpent) in 2WD while in E-Buggy Dmitry Malyshko took the runner-up spot. Elsewhere in 4WD Modified Buggy Shin came in 1st followed by Hupo and Jörg.
Click here to view the 2WD podium
Thursday, April 17, 2014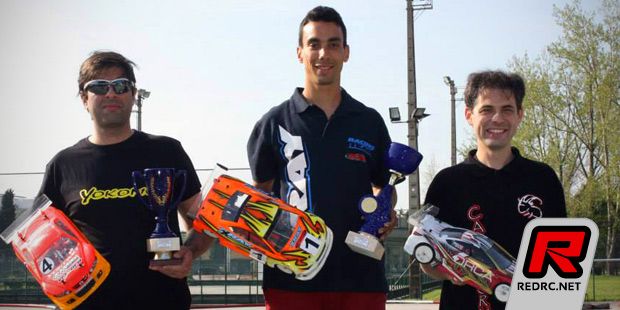 The first round of the Portuguese electric touring car nationals was held at the Coimbra track. Bruno Coelho took the TQ and win with virtually no practice at all as he only arrived on Sunday. Behind him Joao Malveiro and Helder Silva came in 2nd and 3rd respectively to complete the podium.
Source: Xray [teamxray.com]
Thursday, April 17, 2014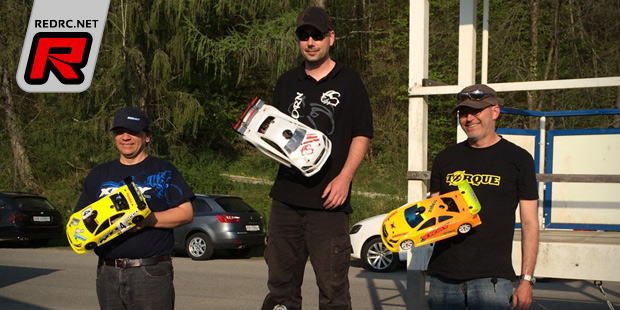 The first round of the Swiss nitro on-road nationals not only saw the running of the 1/8th on-road class but also a 1/10th 200mm sedan race was held. The final saw Capricorn's Marco Rizzo taking the win from Traugott Schär (Xray) and Christian Lehnerr (Xray). Marco Reiser completed the top 4 result.
Source: Xray [teamxray.com]
Thursday, April 17, 2014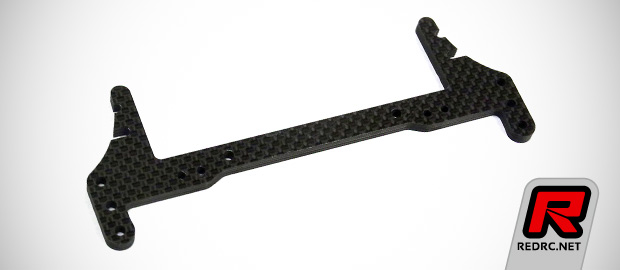 Team CRC Japan introduce this 4mm carbon fibre tweak plate for the CRC Altered Ego 1/12th scale car. The part replaces the kit brace with a 4mm thick and more durable plate in order to improve crash resistance. The tweak plate is available world-wide via Team CRC Japan.
Source: Team CRC Japan [kimihiko-yano.jp]
Thursday, April 17, 2014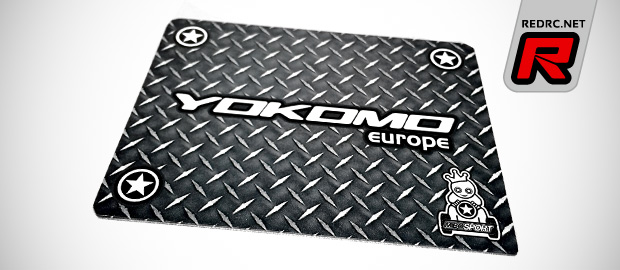 Yokomo Europe introduce this under LiPo weight. It is of a universal design, weights in at 50g and is usable with a wide range of chassis while the Yokomo Europe and Mibosport graphics make for additional visual impact.
Source: Yokomo Europe [teamyokomo.eu]
Wednesday, April 16, 2014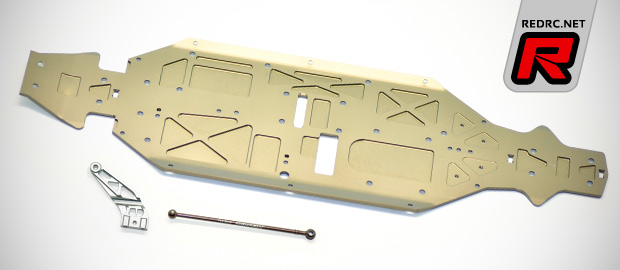 Serpent now have the Plus4 chassis, that is part of the updated S811 2.1, available as a separate set to allow the upgrade of existing Cobra 811 buggies. The main chassis plate is 4mm longer in the rear to create a more planted rear end on tracks with short bumps and a rough surface. Included with the hard-anodised chassis comes a longer rear centre driveshaft and an updated aluminium rear chassis brace. All parts are also available separately.
Source: Serpent [serpent.com]
Wednesday, April 16, 2014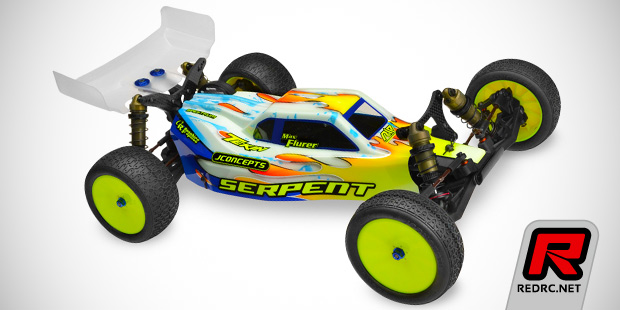 JConcepts introduce their popular Silencer bodyshell design for the Serpent SRX-2 mid motor buggy. Making use of the well-known Silencer design cues such as a mild cab forward design, a roof top shark fin and pronounced sidepods, the body is a direct replacement for the kit item and it comes clear, including window masks, decal sheet and two 6.5″ Hi-Clearance rear wings.
Click here to view more photos
Wednesday, April 16, 2014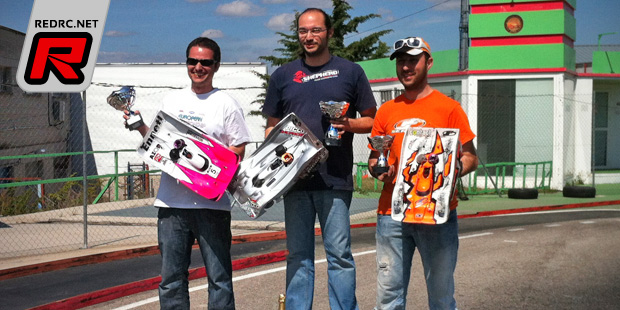 Carlos Peracho won the first race of the 2014 Spanish 1/8th on-road national championship held past week in Madrid at the ARCA circuit. The pole position after the qualifiers went to reigning champion Nacho Lopez, while the superpole – after the semifinals – was achieved by fast Joaquin Signes. In the final Carlos Peracho (Shepherd/Picco) came in first in front of Victor Gonzales who ran a perfect race but was later on disqualified due to the fuel tank of his car being to large. Carlos' problems handed Sergio Montesinos (Mugen/Novarossi) the runner-up spot while Sergio Rivas (Serpent/Novarossi) completed the podium.
Click here to continue reading the report
Wednesday, April 16, 2014