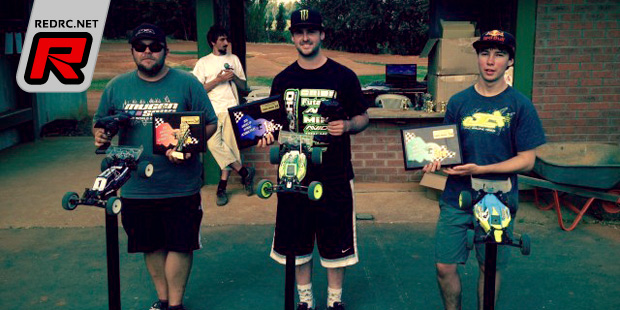 The 2013 Victorian State Titles for EP 1/10 off-road started with controlled practice on Friday and culminated in the finals run on Sunday. In the first 2WD modified A-main TQ Matt made a mistake in the second lap allowing Ben and Ash to get by. Both drivers then battled for entire leg swapping positions several times and at the end it was Ben who passed Ash at the triple handing him the leg 1 win although his contender tried another move on the Kyosho driver. A-main number 2 had Matt taking the win while elsewhere Ben got hit multiple times only allowing him to finish 7th in the run.
Click here to continue reading
Monday, December 9, 2013 - add a comment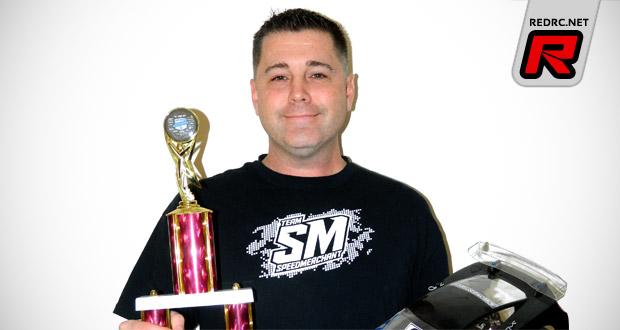 Team SpeedMerchand driver Steven Boice took the win in the World GT class at the 34th running of the Cleveland Indoor Championships. After a mixed qualifying Steve made the most out of his 6th place on the starting grid, taking second place after only a couple of laps. He then started to chase the leader and ultimately took the first position with around a minute to go. The 2nd place car then made a run at Steve but ended up taking himself out of contention. After that, Steve put it on cruise control and finished with a straight-a-way lead over 2nd place.
Source: SpeedMerchant [teamspeedmerchant.com]
Monday, December 9, 2013 - add a comment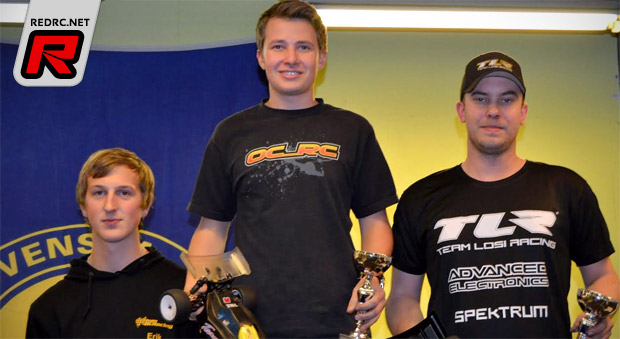 The second round of the VBC Swedish Indoor Cup took place at the Klippan RCK track. In the competitive 2wd class it was round 1 winner Oskar Levin that was on top of his game and took the top qualification spot with his Team C car. In the finals Oskar would convert that pace into the win in front of TLR driver Otto Ausfelt in 2nd place while Erik Månsson completed the podium in 3rd.
Source: RC Hobbysyd Racing [rchobbysydracing.se]
Sunday, December 8, 2013 - add a comment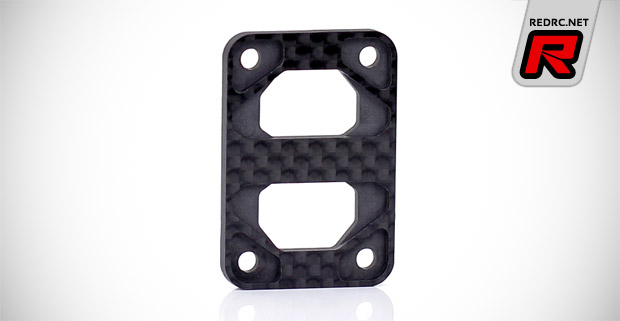 PSM have introduced two new optional parts for the Kyosho Inferno MP9e TKI and the CML Centro C4.2. First up for the MP9e is a 3mm thick lightweight carbon fibre centre differential brace which replaces the standard nitro brace included in the kit. For the C4.2 are new battery strap posts which are made from high quality 7075 aluminium and will replace the original Posts. A perfect fit with the original battery strap, they come supplied with the required fasteners.
Saturday, December 7, 2013 - add a comment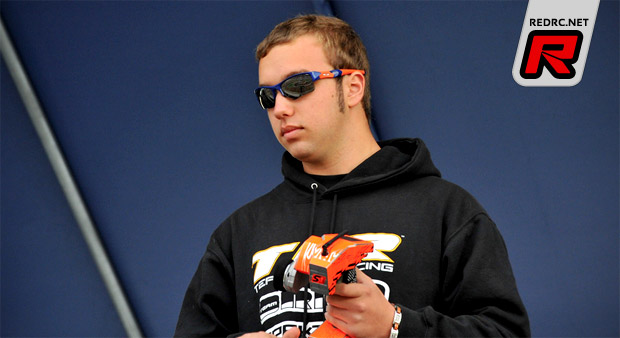 Team Losi Racing announce another re-signing, this time of US National Champion Dakotah "The Phenom" Phend for the 2014-2015 racing seasons. Dakotah had what many would consider to be a dream year in 2013, driving his Team Losi Racing vehicles to 3 ROAR National Championships in 1/8-scale electric buggy, 4WD short course truck and the prestigious 2WD modified buggy classes. To follow this up on his success Dakotah finished 8th in the debut for the new TLR 22-4 4WD buggy in the 2013 IFMAR World Championships. He had this to say:
I, along with Team Losi Racing, have had a great 2013 racing reason and I'm looking forward to my renewed partnership with them through the 2015 season.  The last few years with TLR have been great and I'm excited to continue driving, tuning and winning with the full-lineup of electric and nitro TLR vehicles.
Source: TLR [tlracing.com]
Saturday, December 7, 2013 - add a comment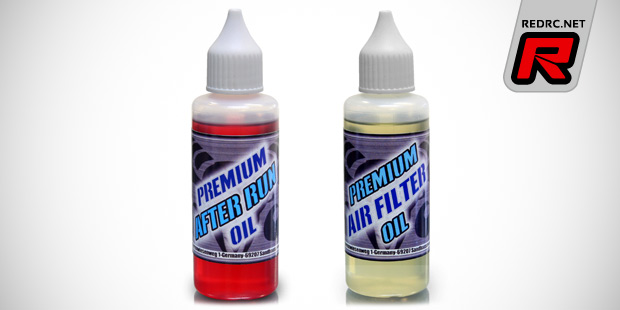 A new range of high-quality premium oils for nitro applications is available from Shepherd. First up is an after run oil specially developed for the use with nitro engines. It keeps the internal engine parts lubricated and protected from oxidation and excessive wear when storing the engine or starting it from cold. It is recommended for the use after every racing day and before storage. The second new product is the sticky air filter oil that protects the engine from dust and dirt. It allows enough air to flow through the filter while airborne particles adhere to it ensuring an optimised combination of protection and performance. Both oils come in handy 50ml bottles.
Source: Shepherd [team-shepherd.com]
Saturday, December 7, 2013 - add a comment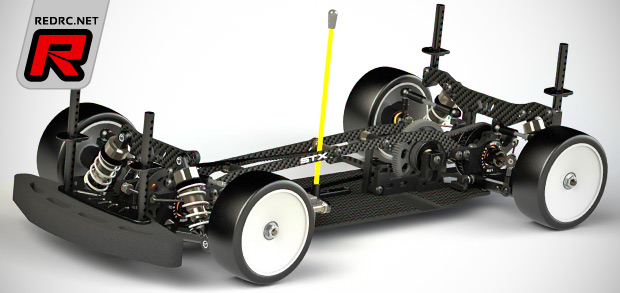 Italian company WRC have announced the latest version of their electric touring car, the STX '014. The updated version is more of a small update than a whole new car with the main changes coming in the form of a new chassis, new inner split suspension mounts for more flex, new battery locators and improved shock absorbers for better handling and cornering. For those who have the current car, an upgrade kit will be made available to bring up to the '014 spec. Available now.
Source: WRC [wrc-racing.com]
Friday, December 6, 2013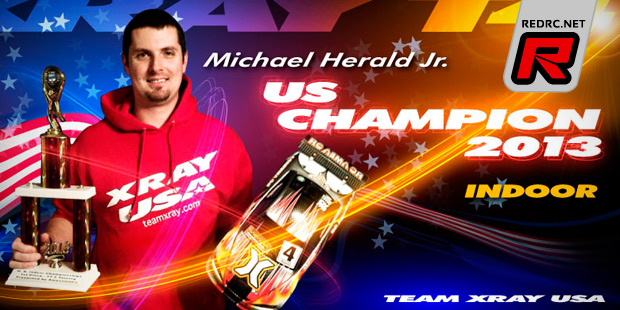 This past weekend the 2013 U.S. Indoor Championships were held at the Holiday Inn at Strongsville, Ohio. As usual, 17.5 Touring was the biggest TC class of the event. The start of the final was fairly clean resulting in a breakaway of about the first 5 or 6 cars, but the following minute or two was a little rough resulting in some tough breaks for Xray's Sam and Mike Herald Jr.. They both kept pushing hard and around halfway through the feature found themselves 1 and 2 with Herald Jr. leading, and they never looked back. Sam was able to reel in Mike to make it close at the end, but Mike drove flawless and held on to win with Sam Isaacs in second and Dave Johnson in third.
Click here to continue reading
Friday, December 6, 2013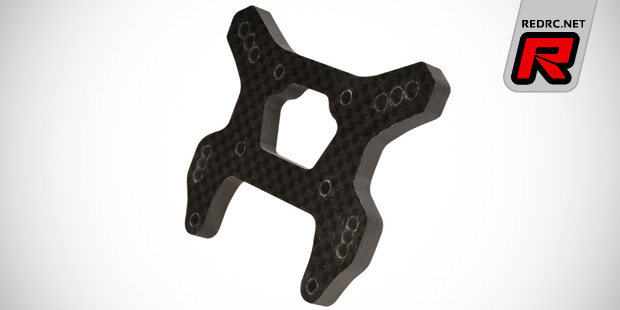 Team C Racing introduce carbon fibre shock towers for their GT8 line of cars. Coming as front and rear item the shock stays are machined from thick high-quality carbon fibre, they offer multiple mounting points for the shocks and camber links and are usable on the GT8, GT8L and GT8LE.
Click here to view the rear shock tower
Friday, December 6, 2013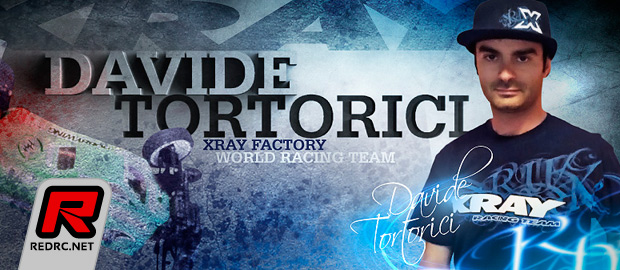 Xray announce that multiple European and Italian Champion Davide Tortorici has joined the team to race the company's 1/10th electric off-road cars. Davide will use the XB4 & XB4 2WD at all Italian races as well as internationally at the EOS and European Championship. This is what Davide has to say about the deal:
I would like to thank Xray to give me this opportunity to race with the currently best 1/10 off-road cars. I am really happy to be part of the extremely professional and dedicated team and the quality and performance of the car give me a real confidence. I hope to see you all at EOS or Euros.
Source: Xray [teamxray.com]
Friday, December 6, 2013