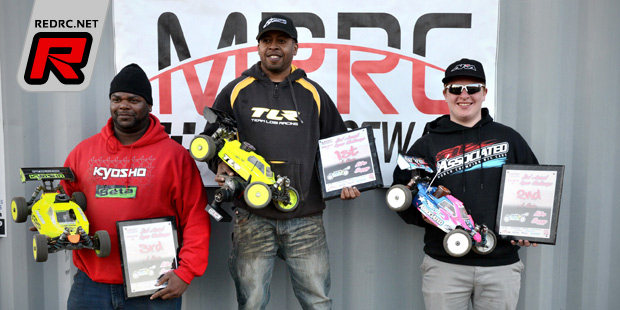 The 2014 Nitro Season began this past weekend on Long Island, NY at MRRC Raceway for the 2nd annual MRRC Super Challenge. Over 140 entries from NY, NJ, CT, PA, MA and even Canada made the trip to run on the newly built Joey "The Dirt" Christensen layout. Round one of Nitro Buggy qualifying would go to Mugen's Jerome Treignier from Quebec Canada followed by Associated's Gunnar Rieck & TLR's Jay Bless. Round Two would see TLR's Anthony Mazzara reset the TQ with team mate Stephen Plackis less than 2 seconds behind.
Click here to continue reading the report
Saturday, April 12, 2014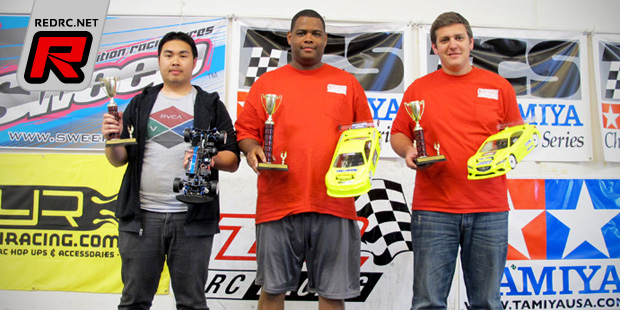 TQ RC Racing hosted the ROAR Region 12 regional championships with 60 competitors raced in 7 different rubber and foam tire classes at the indoor carpet track in Southern California. In Modified Sedan taking the win after a race long battle was top qualifier Fred Hubbard just a few seconds ahead of second place Peter Chuu with newcomer to the class Kyle Goodwine rounding out the top three.
Click here to continue reading the report
Saturday, April 12, 2014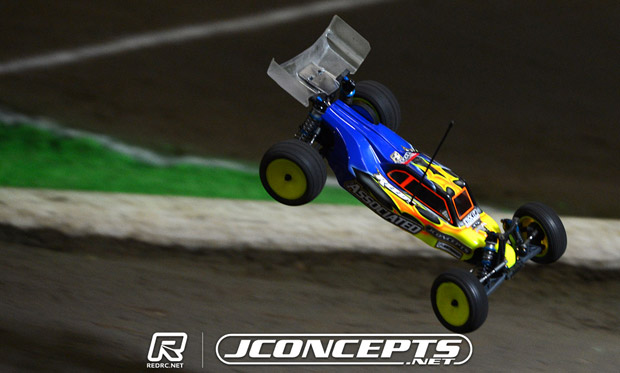 Playing host to its first ever JConcepts Indoor National Series race and being the first time for all of the series' front running drivers to visit Scott Brown's Tacoma RC Raceway in Washington State, drivers have used the day to get accustomed to the track. Having run a day of open practice, drivers have had plenty of opportunity to get in a lot of track time but it won't be until this evening's single round of controlled practice that will determine the seeding of the heats for tomorrow's qualifying that we will get an indication of drivers true form.
Continue reading this report here or view our full event coverage here.
Saturday, April 12, 2014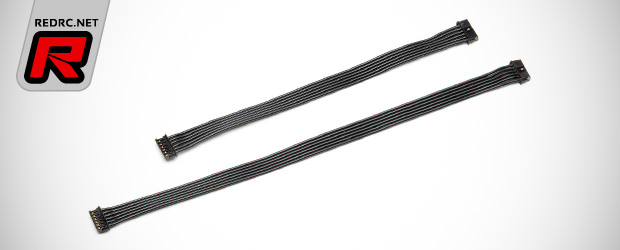 Team Associated introduce new flat sensor wires in two dimensions ideal for the B5 and B5M buggy. Coming as 125mm "B5″ and 175mm "B5M" variant the wires make for a very clean wiring job with five additional wires from 70mm to 270mm being also available.
Source: Team Associated [rc10.com]
Friday, April 11, 2014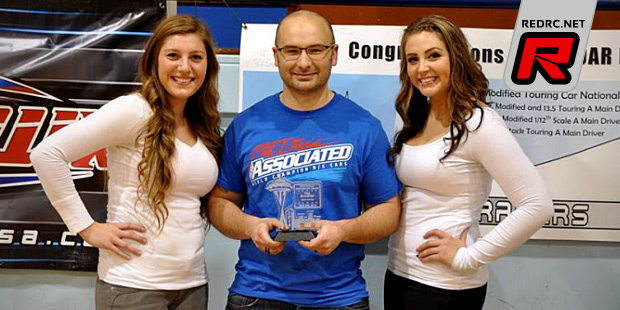 On-road racers from the Pacific Northwest and Western Canada gathered last weekend for their winter season finale, the Emerald City Classic. The Seattle RC Racers hosted over 150 entries on the high-bite gym track known as "the smooth". The largest class of the event was 17.5 Touring. In his first race Team Associated's Andrew Cartwright was the man to beat every time he hit the track. Andrew topped the time sheets in all three qualifying rounds. He also set a new track record on his way to a convincing win in the A-Main event.
Source: Team Associated [rc10.com]
Friday, April 11, 2014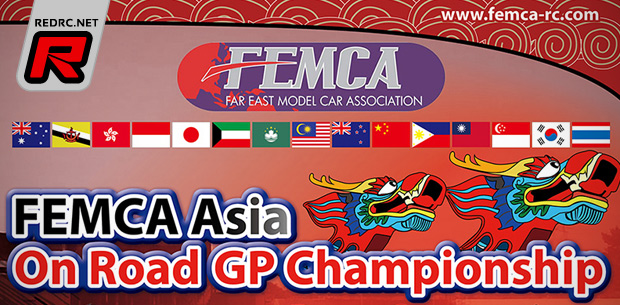 The 2014 FEMCA Asia nitro on-road championships will take place on the weekend of the 11th of May at the TRC Racing Track in Yuen Long, Hong Kong. The race will be run in 1/8th and 1/10th 200mm nitro classes and is also qualifying race for all Hong Kong based drivers at the 200mm World Championships. Online registration for the event is available by clicking this link.
Friday, April 11, 2014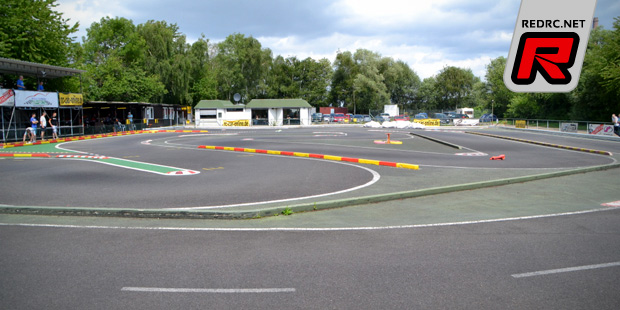 The popular Western German Championship is turning into an international competition for the 2014 season with drivers from six nations are fielding the top-level class 1 in 1/8 scale nitro on-road. When the lights will turn green on Sunday at round one in Dormagen, two-time W.C. finalist and former German Champion Robin D'Hondt from Belgium is on top of the newcomers in the regional championship which comprises four rounds of qualifying for the single event German Nationals on the weekend of the 14th of September at the Munster track in the South of Hamburg. Motonica factory driver D'Hondt is facing a strong challenge from drivers like country-fellow Steven Cuypers (Mugen), John Ermen (Xray) from the Netherlands, Dirk Rischard (Serpent) from Luxembourg or top German drivers like Michael Salven (Serpent), Tobias Hepp (Xray) and Karl-Heinz Meister (Serpent). Others foreign drivers will include Alain Levy (Shepherd) from France and Emil Kostadinov (Mugen) from Bulgaria.
Click here to continue reading the preview
Friday, April 11, 2014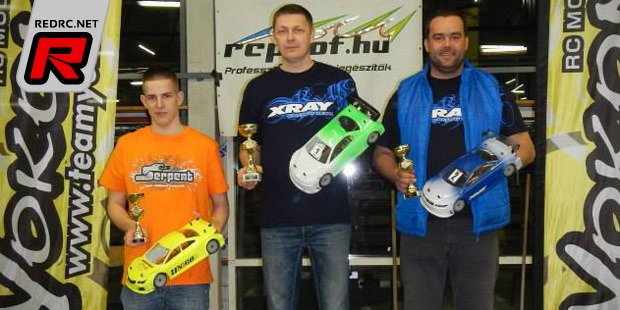 The 7th and final round of the Hungarian RCProf Speedpassion Challenge was held in Budapest. In the Touring Car Stock class the overall championship was already decided for Janos Birinyi who also took the TQ for the finals. The Xray driver then also went on to win the A-mains in a controlled manner, taking the 6th win this season. Tamas Pongho came in second while Mate Toth completed the podium of the 7th round. Behind Janos, Tamas Pongho and Peter Taal completed the 2013/14 series sitting in 2nd and 3rd place.
Click here to continue reading
Friday, April 11, 2014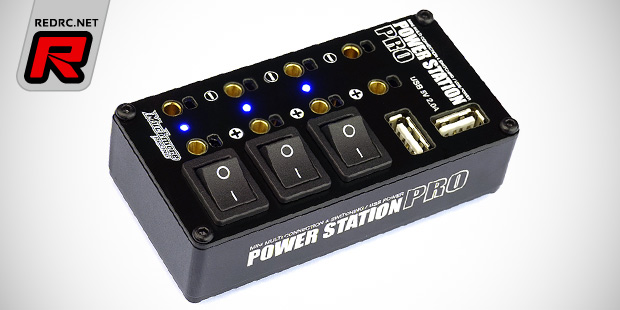 Muchmore introduce the Power Station Pro multi distributor. The box multiplies the available outputs of power supplies and offers three switched and one non-switched output as well as two 5V/2A USB charging ports for mobile devices. Available in two colours, black and blue, the box is usable with 4mm banana and alligator clips alike as it offers a pair of holes next to each connector tube for secure fixing of the alligator clips.
Click here to view more photos
Friday, April 11, 2014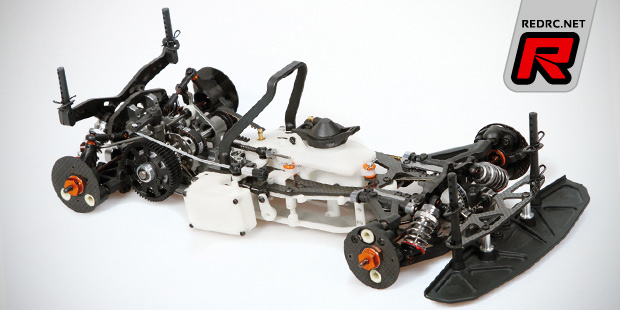 Serpent have released first images of the Natrix 748 200mm nitro on-road kit. The follow-up model of the successful 747 is designed with the input of Serpent's factory team drivers such as Mark Green and the Sahashi brothers in order to create a platform that works for club and high-level racers alike. Therefore the kit comes with redesigned differentials that sport new housings and internals, repositioned ball-raced anti-roll bars, lightened rear brake and 2-speed shaft holders, a redesigned fuel tank that makes for a lower centre of gravity and new servo mounts with a more centralised position. A new chassis plate with a more backward mounted engine helps to optimise the weight balance while a new steering block design, taken over from the 977, allows for a leading or trailing position and adjustable kingpin inclination. Both the front and rear hubs are designed for the use with aero discs and the carbon fibre radio plate offers a wide range of flex adjustments. The Natrix 748, that is visible with white 3D printed prototype parts here, will be ready for a release around mid-May.
Click here to view more photos
Thursday, April 10, 2014