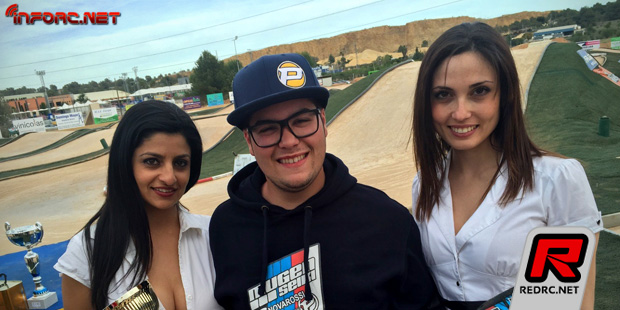 The opening round of the Spanish 1/8th Nitro Off-Road Nationals was held this past weekend and to the surprise of many the race marked the end of an era. After 9 years of dominating the championship, except for two races were he was hampered by technical issues, Robert Batlle did not win a round of the Spanish 1/8th nationals. Instead round one saw a legit win of Oscar Baldo with whom Robert had some very nice battles until the very last lap. Oscar's race for the win seemed to be in doubt early in the main when he crashed and dropped to 12th place and even stalled the engine but with a great recovery he managed to get to the top of the field again to fight with Robert and to take the win. Behind Oscar and Robert, Bryan Baldo, who started from the pole position, rounded out the all-Mugen podium in 3rd.
Click here to view the final result
Monday, April 20, 2015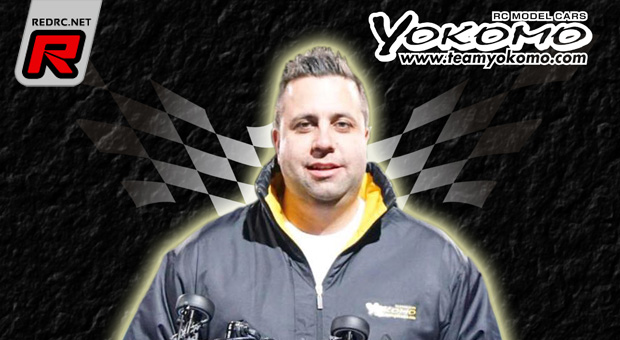 Yokomo have announced the signing of up and coming Australian driver Nathan Reese to their team. Nathan is a regular A-finalist in Australia and alongside Simon Nicholson he will continue to grow and support the brand in Australia. Nathan will compete in all state and national championships in Australia as well as the TITC and next year's World Championships in Shanghai and he had the following to say:
It's a great opportunity to be able to join a world class team and one that I am extremely grateful for. I look forward to continuing to assist in the growth of the Yokomo brand and team within Australia. I'd like to say a huge thank you to Mr Yokobori, Aso Minoru, Yukijiro Umino, Robert Itoh, Ji-Hyun Jang and Simon Nicholson for providing me with this opportunity.
Source: Yokomo [teamyokomo.com]
Monday, April 20, 2015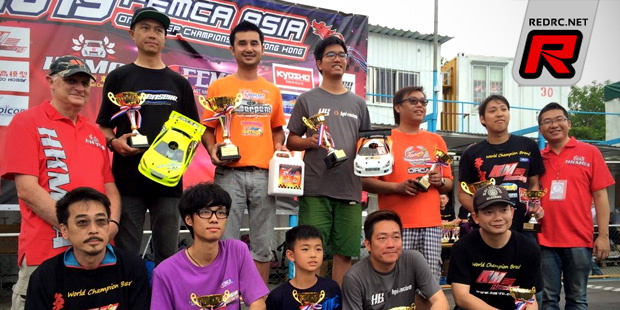 The 2015 FEMCA Asia Championships were held at the TRC track in Hong Kong this weekend. In the 1/10th 200mm class Surikarn Chaidajsuriya grabbed his 5th FEMCA title by winning the hour long main final 12 laps ahead of Wong Wai Kei. Felix law completed the podium another two laps down.
Image: Surikarn Chaidajsuriya
Sunday, April 19, 2015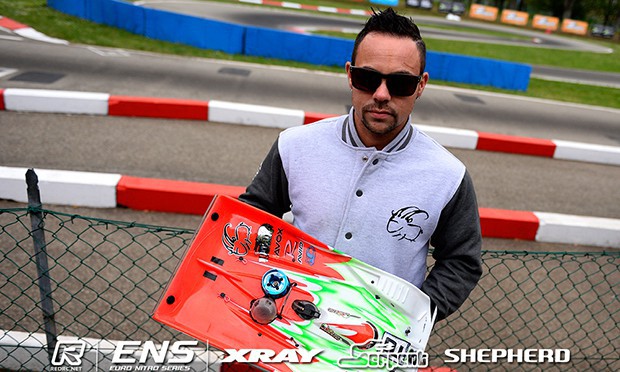 Dario Balestri is the Top Qualifier for the season opening race of the Euro Nitro Series, the Capricorn driver set to start Sunday's 45-minute Main ahead of host track owner and master of race strategy Lamberto Collari.  Going into the sixth round of qualifying it was only Collari who could deny the European Champion from starting on pole but it would be Alberto Picco that would catch them all by surprise as he TQ'd what would become the days final qualifier.  A scheduled seventh round of qualifying would be cancelled due to the arrival of rain at the L.Collari RC Raceway.  Defending ENS Champion Simon Kurzbuch will line-up 6th for the start of his title defence, two places behind his main 2014 title rival Robert Pietsch.
Continue reading this report here or view our full event coverage here.
Saturday, April 18, 2015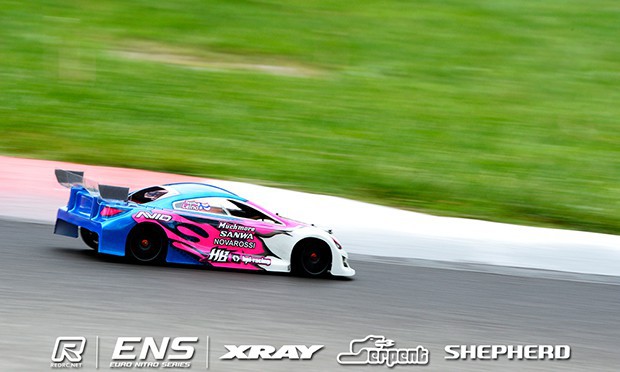 Just as he did last year when the Euro Nitro Series kicked off in Melzo, Italy, Teemu Leino is the 1:10 Top Qualifier for Round 1 of the 2015 championship at the L.Collari RC Raceway in Bologna. The HB driver claimed the No.1 starting spot on the grid for tomorrow's 45-minute final when he took his R10 to its third TQ run of the weekend in the sixth & final round of qualifying. Behind the Finn, Team Xray's Bruno Coelho secured second overall for his first ENS race start ahead of the Serpent's of Dominic Greiner and Alessio Mazzeo. For defending champion Eric Dankel his title defence is going to start out in the B-Main, a difficult day meaning he will need to bump up having qualified only 14th overall.
Continue reading this report here or view our full event coverage here.
Saturday, April 18, 2015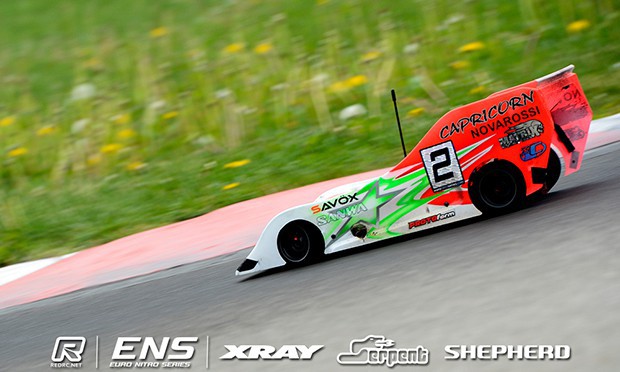 Dario Balestri closed in on becoming Top Qualifier for the Euro Nitro Series season opener at the track owned by Lamberto Collari, the two Italians swapping position in the latest two rounds of qualifying in Bologna.  With Collari posting his first TQ run just ahead of Balestri in Q4, the order would be reversed in the fifth qualifier as the latter claimed his third TQ run of the event.  Behind, Q4 would see an improved Albero Picco complete the Top 3 while Q3 pace setter Robert Pietsch would post the third quickest time on his fifth run.
Continue reading this report here or view our full event coverage here.
Saturday, April 18, 2015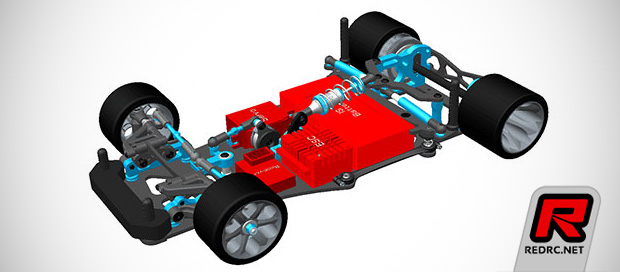 Teamsaxo have released first renderings of their forthcoming GT-300W 1/12th scale pan car kit. Based on a 2.5mm carbon fibre main chassis the car will feature a widely adjustable front end with alloy mounting brackets for the front lower A-arms, a single bellcrank steering assembly and a rear link-type suspension with dual roll dampers and a large volume centre shock. By the look of things the car accepts transversal battery layouts only and it should become available shortly.
Click here to view more photos
Saturday, April 18, 2015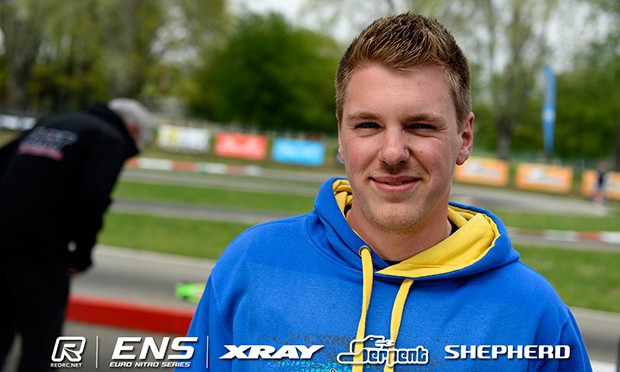 World Championship Top Qualifier Dominic Greiner posted his first TQ run of the Euro Nitro Series season opener with the Serpent driver claiming the fifth qualifier in Bologna.  Becoming the fourth driver to top the time sheets, only Teemu Leino managing two TQ runs when he was again fastest in Q4, Greiner headed the times by just 0.093 of a second from an impressive Joe Kerry. Having got Day 2 of the event off to a strong start but retiring from Q4, France's Leo Arnold would post his first Top 3 time.
Continue reading this report here or view our full event coverage here.
Saturday, April 18, 2015