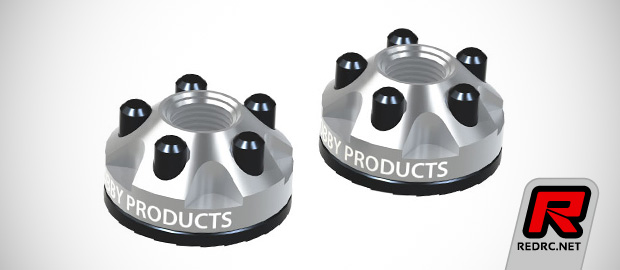 Active Hobby Products from Japan soon have scale 5-bolt wheel nuts for 1/10th drift cars available. Machined from aluminium and sporting a realistic 5-bolt design, the wheel nuts offer a serrated section for a secure fitment without the usual nyloc insert. The nuts are available in several variants with dark blue, light blue, red, gun metal, pink and purple highlighted bolts. Fastening the nuts requires a special driver that will become available on time with the wheel nuts.
Click here to view a photo of the wheel nut in place
Monday, July 21, 2014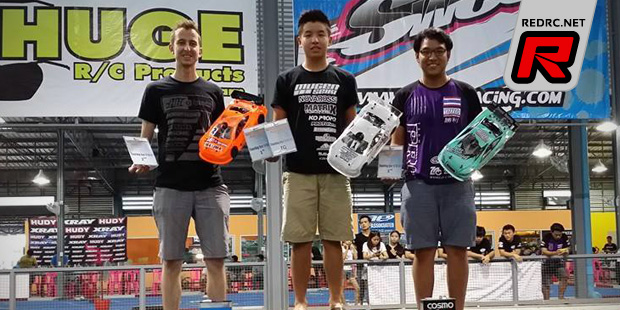 Mugen's JJ Wang took the win at the 1/10th 200mm nitro on-road World Championship warm-up race, held this past weekend at the Huge RC Project facilities in Thailand. The Mugen driver, running the new MTX-6, came out successful leaving Hot Bodies' Andy Moore behind in 2nd, only a lap down. Trin T. finished another 7 laps down to take the last remaining podium spot. Paphon Chanyasak and Meen Vejrak completed the top 5 result.
Source: Hiro Seiko [hiro-seiko.com]
Monday, July 21, 2014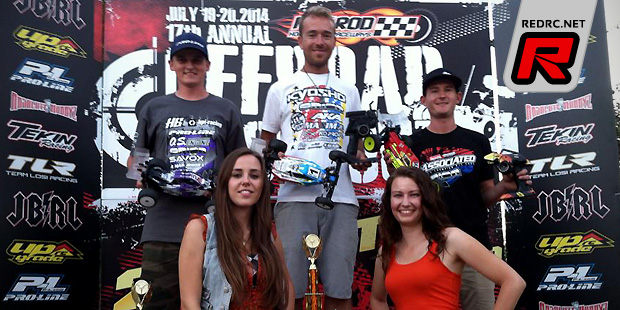 The 17th Annual Hot Rod Hobbies Shootout was held this past weekend in Saugus, California. The race always attracts some of the country's fastest off-road drivers and the 2014 edition was no exception and so 2WD class qualifying had Hot Bodies' Ty Tessmann taking the TQ in round 1 in front of Jared Tebo (Kyosho) while the two swapped positions in round 2. Tebo then also TQ'd round 3 in front of Ty to take the overall TQ position for the finals. 4WD Buggy qualifying saw TLR's Dustin Evans TQ-ing round 1 in front of Ty Tessmann who in return grabbed TQ honours in the second qualifier from Team Associated driver Ryan Cavalieri. Round 3 then went to Ty Tessmann who left Carson Wernimont behind. The round win then handed Ty the overall TQ for the finals.
Click here to continue reading the report
Monday, July 21, 2014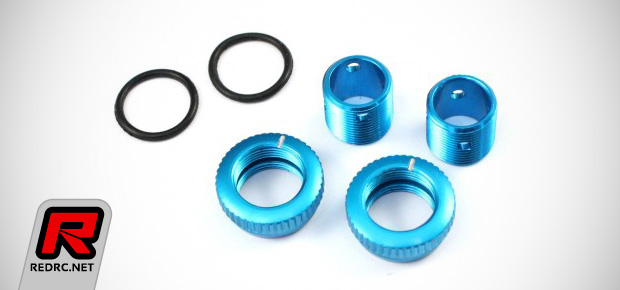 The Radtec RC aluminium body height adjusters are made from high quality aluminium material and they are available in a range of colours including a light "Tamiya" blue, a darker "Yokomo" blue, general black and also red anodising. Coming as pairs, the sets include two threaded aluminium tubes that slide over the chassis' body posts and that are secured using pins or body clips while O-ring equipped knurled nuts allows for infinite body height adjustments. Laser-etched markings on the nuts help with precise adjustment.
Click here to view the colour variants
Sunday, July 20, 2014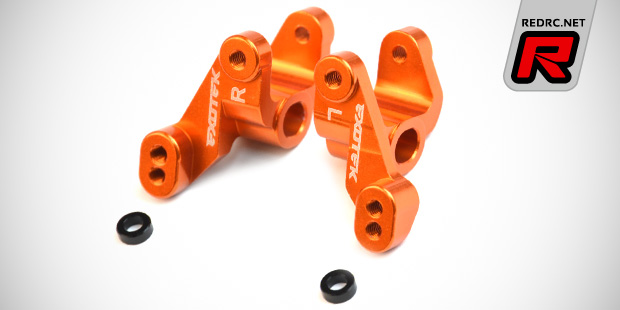 Exotek Racing have two new aluminium option parts available for Serpent's SRX-2 line of buggies and trucks. First up is a front C-hub set made from 7075 aluminium. Weighing in at only 12 grams, the parts are lightweight yet strong and with the included 2mm spacers they match the stock SRX C-hub geometry. With the vertical ball end mounting, roll centre adjustments are easily made by adding or removing spacers.
Click here to continue reading
Sunday, July 20, 2014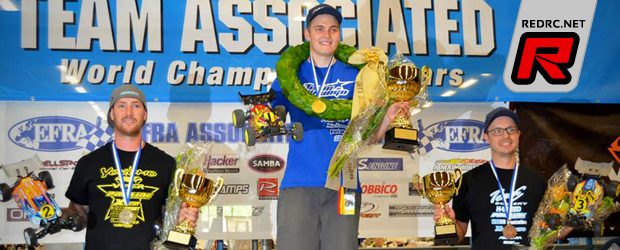 After winning the 2WD class at this week's EFRA Electric Buggy European Championships Team Durango's Jörn Neumann also won the 4WD class. The qualifying saw Jörn walking away with the TQ from Yokomo's Lee Martin and Team C's Hupo Hönigl. Kyosho's David Ronnefalk had a better qualifying than in the 2WD class with a 4th place overall whole Team Associated's young Joona Haatanen completed a top 5 result that saw five different chassis manufactures battle for the top spots. Robert Battle (Yokomo), Daniel Kobbevik (Team Associated) and Michal Orlowski (Team Durango) put their buggies on 6th, 7th and 8th on the grid while Tom Cockerill (Schumacher) and Ellis Stafford (TLR) made for seven different brands in the top 10 qualifying result.
Click here to continue reading
Sunday, July 20, 2014
Arrowmax now have a 4-piece aluminium spring cup set for Yokomo's B-Max line of 2WD and 4WD buggies available. Offering improved rigidity over the stock parts, the cups promise a more secure fit of the springs. They come blue anodised and with laser-etched Arrowmax logos.
Source: Arrowmax [arrowmax-rc.com]
Saturday, July 19, 2014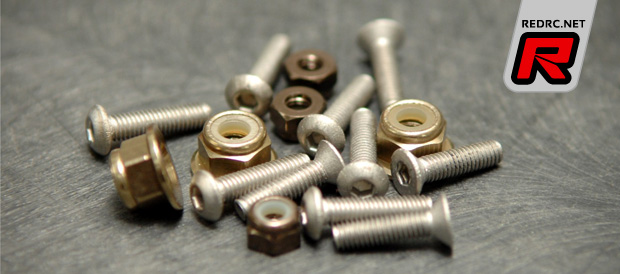 ST Racing Concepts introduce two new weight reduction kits for the TLR 22 2.0 and TLR 22-4 buggies. Including lightweight titanium hex head screws and aluminium locknut hardware, the sets weight in at about half the weight of the standard steel hardware. The aluminium nuts come in gun metal anodising to match the colour of TLR's aluminium parts. Coming as specific assortments for the 2WD and 4WD 22 series, the 22 2.0 set also includes all needed screws for both mid and rear motor converted cars.
Source: STRC [teamstrc.com]
Saturday, July 19, 2014