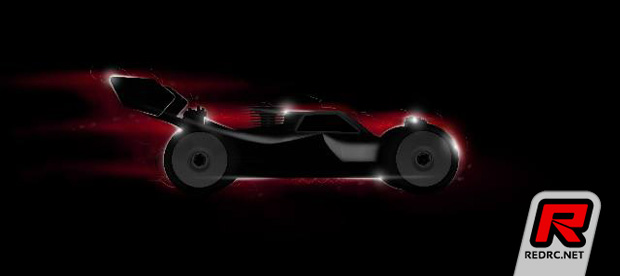 Team Durango soon have a range of all-new 1/8th kits and a new 1/10th short course truck available. As for the 1/8th vehicles you can expect the DNX8 nitro and DEX8 electric 1/8th buggies alongside the DEX8T electric 1/8th truggy. No word yet on a nitro-powered truck but Team Durango will also have a new 1/10th scale short course truck available although the company did so far not specify if it is a 2WD or 4WD kit. We will bring you more information as soon as they surface.
View the other teaser images here
Tuesday, February 24, 2015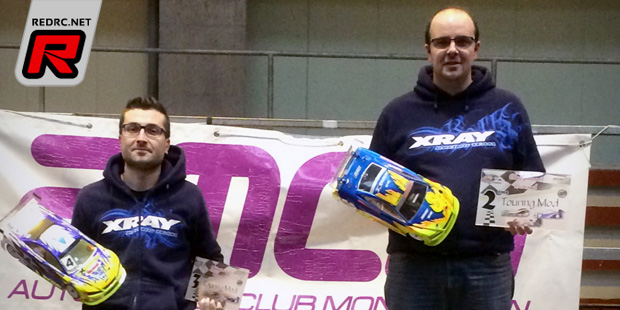 This past weekend the 4th and final round of the French Winter Championship was held in Montbrison. In the premier class of Touring Car Modified, Cyril N'Diaye took the overall TQ from Jeremy Limoge and Mathieu Briere. The opening final then saw Cyril taking the win in front of Alexandre Laurent and Mathieu Briere who suffered a bit on used tyres. In A2 Mathieu started with a new set of tyres and he was able to challenge Cyril but the latter managed to stay in front to take the win and with it the overall victory early. Mathieu came in 2nd while Jeremy rounded out the top 3 so far. In the final A-main Mathieu cemented his runner-up spot by winning the leg in front of Alexandre and Jeremy. With the 2nd place finish in the final round of the championship Mathieu Briere took the overall 2014/15 French Winter Championship title.
Click here to continue reading the report
Tuesday, February 24, 2015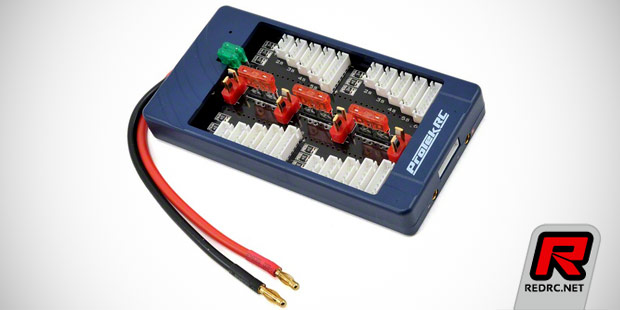 ProTek's all-new 2S-6S 4-battery parallel charger board will enable to charge up to four batteries simultaneously, while balancing the individual cells of each pack. The board is encased in an impact-resistant custom-molded plastic shell and is compatible with LiPo, LiIon and LiFe batteries. The DC input and battery port are protected with replaceable fuses, and each cell and balance wire is protected with self-resetting poly fuses. The board uses standard T-style connectors and JST-XH balance connectors for the batteries and it should only be used when the charging batteries are of the same cell count, similar age and similar discharge rates.
Click here to view the features and specifications
Monday, February 23, 2015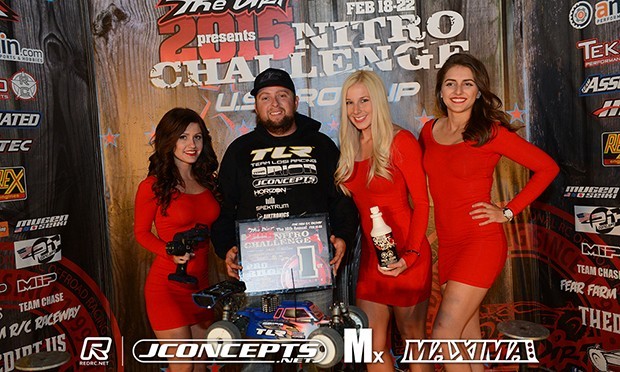 Ryan Maifield has won the big one at this year's 16th running of the Dirt Nitro Challenge.  The TLR driver would claim his 2nd buggy title at the Fear Farm but more significantly his first big nitro win for his new manufacturer when on the penultimate lap of the exciting 45-minute A-Main he got ahead of former team-mate Ryan Cavalieri.  A race that saw four different leaders, Maifield went to the front ahead of defending champion Ty Tessmann 4-minutes in until a mistake at the 10-minute mark would drop him to third.  His challenge then looked to be over as he fell further down the order to sixth.  A driver famed for his late charges, the Arizona ace never gave up and as a gusting wind added to the challenges of the tough track conditions in the closing stages, Maifield was there to capitalise to take his second major title of the new season having last month claimed his first ever Reedy Race of Champions win.  Unfortunately for the stars of last night's epic Truggy final Tessmann and new champion David Ronnefalk their races would hit trouble.  Holding a comfortable lead with just 8-minutes to go Tessmann would suffer a problem with his battery connector and losing over a minute in the pits fixing it the World Champion would be leaving with no titles this year finishing up 7th overall.  Trying to recover from a frantic start, Ronnefalk would twice run out of fuel after communication issues with his pit crew.  With Maifield and Cavalieri  separated by just 0.684, joining them on the podium would be the other of America's offroad establishment trio Jared Tebo.  Leading a total of close on 1/3 of the race, Dakotah Phend would just miss out the podium by half a second, the wind being the downfall to the 18-year-old's quest for a first DNC title.
Continue reading this report here or view our complete event coverage here.
Monday, February 23, 2015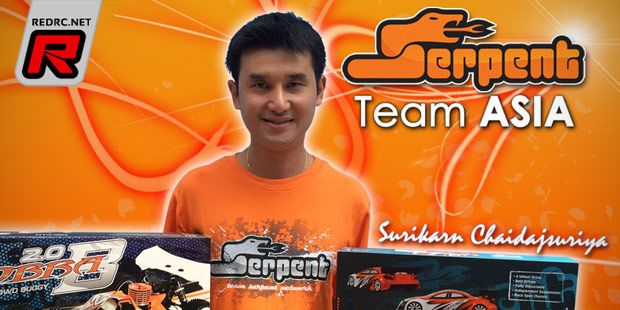 Former IFMAR ISTC World and Asian Champion Surikarn C. has joined the Serpent nitro team to race 1/8th nitro off-road buggy and 1/10th nitro on-road classes on a national and international level. Surikarn's race calendar will see appearances at major Thai races along selected international races such as the FEMCA 1/10th GP in Hong Kong and the Asia Contest in Pattaya.
Source: Serpent [serpent.com]
Monday, February 23, 2015

Xray has announced that young and talented Malin Karlsen will continue to be part of the factory junior team, Xray's melting pot of uprising RC talents. The 8 year old girl from Norway has so far shown an exceptional talent and she will continue to race Xray's XB8, XB8E, XB4 and XB2 in her 2015 campaign that will include appearances at the 1/8t and 1/10th EFRA Euros, the EOS, the Nordic Championships and the Swedish National Championship and the Swedish Cup Series. Malin has the following to say:
I love RC cars and Xray was my first car and I have a lot of passion for this car and like everyone on the team. I am very proud that I was chosen by Xray to be part of the junior factory team and I am very happy to be given this opportunity. This year I will continue to participate at as many races as possible around the globe to learn as much as possible and to gain new experiences to improve my skills and results. I am looking forward to meet you all again.
Source: Xray [teamxray.com]
Monday, February 23, 2015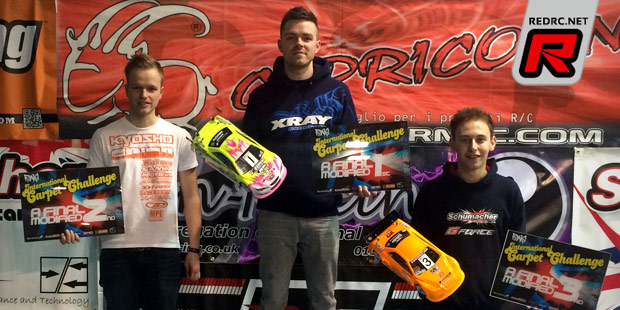 The International Carpet Challenge was held in Southend, south-east England over the weekend. Xray's Olly Jefferies completed his domination of the 2015 ICC event by taking a clean sweep of qualifying and the triple leg finals. The British National Champion was clearly the class of the field at signature race of the well-known EWS team in the UK. Olly topped the controlled practice rounds, and then proceeded to win every one of the five qualifying rounds at the 2-day event. German star Christopher Krapp looked liked being Olly's closest challenger, taking his Kyosho to second place in the opening three rounds of qualifying.
Click here to continue reading the report
Monday, February 23, 2015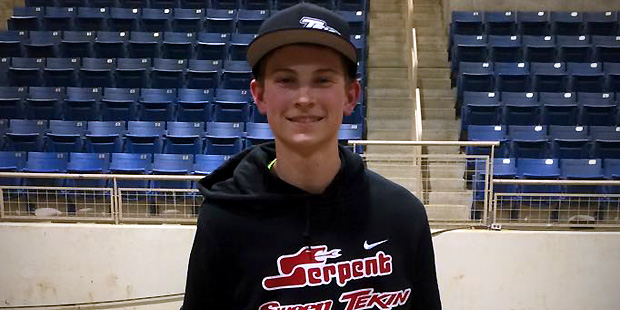 This past weekend the annual Motorama race was held in Harrisburg, Pennsylvania. In the Pro E-Buggy class Serpent's Griffin Hanna took the TQ and he went on to win the main final also while coming in 2nd in the Pro E-Truggy class.
Source: Serpent [serpent.com]
Monday, February 23, 2015