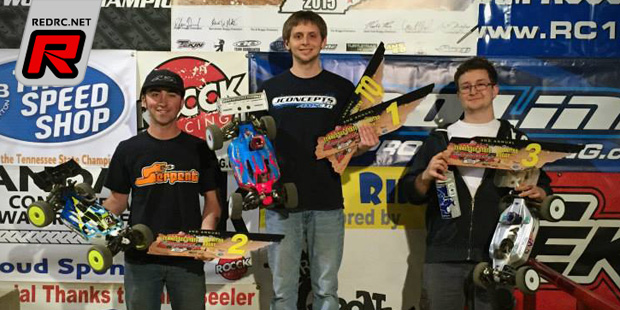 This past weekend the Tennessee State Championship race was held at ROCCK Racing in Knoxville, TN with an amazing crowd of over 160 racers from all over the Southeast. Shay Brand TQ'd all three rounds of Pro E-Buggy to take the overall TQ. After some really close qualifying battles with Dylan Gerard in both Truggy and Buggy, Shay was able to take the final round and get the TQ in those classes as well.
Click here to continue reading
Monday, March 23, 2015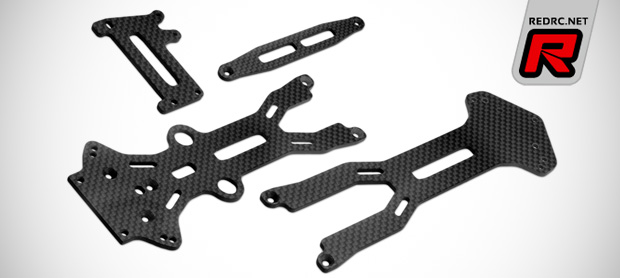 During the 2015 Reedy Race of Champions, JConcepts debuted the B44.3 carbon fiber front and rear top deck, servo and battery brace. This carbon fiber parts set is unique in looks, tough in durability and contributes to tuned flexibility which leads to a better handling vehicle. The top decks feature slotted locations which were added to free up the rigidness of the vehicle. More flex will contribute to a more confident driver who wants a more flowing drive out of the vehicle. In addition, the antenna mount was removed from the front top deck and placed on a new and included servo deck piece. The new position of the antenna mount is perfect for the popular servo mount location as well as convenient for the receiver and antenna wire. For racers choosing the new Silencer B44.3 body it also pulls the antenna mount out of the cab area and places it down on the side pod area similar to a 2WD buggy, cleaning up the entire look of the vehicle. To finish, JConcepts has included a matching battery brace along with hardware to directly fasten the battery in place for complete security. All carbon fiber parts are designed by JConcepts, produced with genuine 2.5mm material and machined to perfection.
Click here to view another photo
Monday, March 23, 2015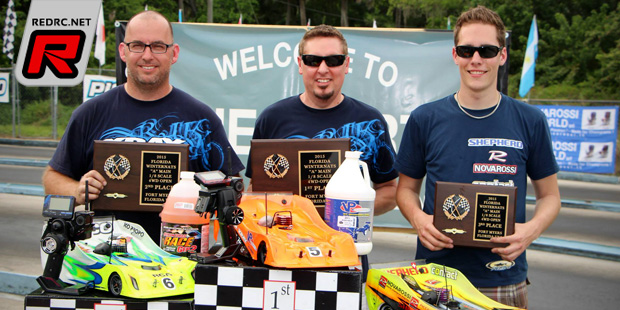 The 2015 Florida Winternats were held this past weekend in Ft. Myers, Florida with the usual mix of national drivers and international guests. Held in several 1/8th and 1/10th nitro on-road categories the premier class of 1/8th Open was won by Ralph Burch, who took the win from Mike Swauger and Simon Kurzbuch. Kyle Branson and Paolo Morganti rounded out the top 5 result.
Click here to continue reading the report
Monday, March 23, 2015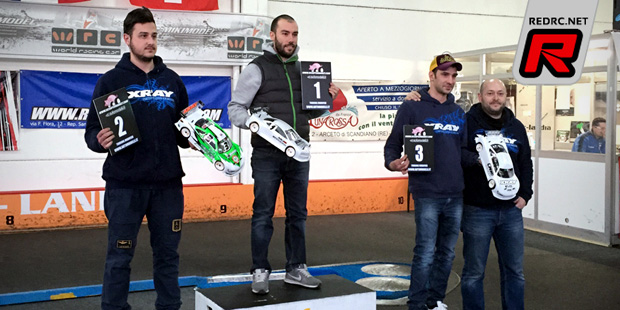 RCLandia in Scandiano, Italy hosted the Automodelli.it Race in several electric on-road classes including Touring Car Modified and Stock, Formula and Mini with more than 90 drivers in attendance. In the Touring Car Modified class Manuel Busoli made a perfect race to take the win in front of Federico Milanesi and Fabrizio Manicardi.
Click here to continue reading the report
Monday, March 23, 2015
Round 2 of the JConcepts Super Cup Championship Series was scheduled to be run in the beautiful Florida sunshine outdoors at Coral Springs. The unpredictable Florida weather was calling for some rain, so a last minute decision was made on a venue change for a roof and 4 walls. Newly opened Beachline Raceway stepped in to help with the event. 182 entries would fill the 21 heats of racing with Florida's premier 10th scale racers.
Click here to continue reading the report
Monday, March 23, 2015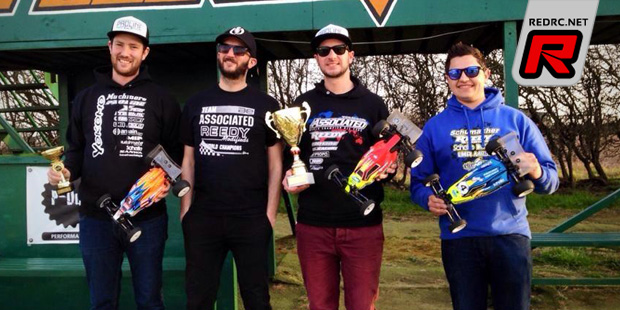 This past weekend the Robin Hood Raceway played host for the Bradby Cup, in honour of the late Derek Bradby. It was a very cool formatted race run by Paul Bradby with four rounds of qualifying and all 4 rounds counting followed by bump up finals. It's a format Derek always wanted to try and it made for some great racing. In the 2WD class Neil Cragg (Team Associated) finished just in front of Lee Martin (Yokomo) with local hero Ben "Jemmo" Jemison (Schumacher) coming in 3rd.
Source: LMR [l-m-racing.co.uk]
Monday, March 23, 2015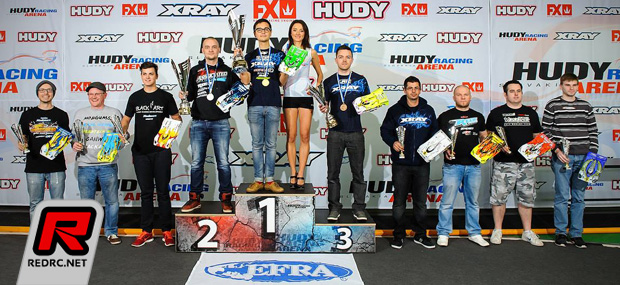 The 2015 EFRA 1/12th scale European Championships were held at the famous Hudy Racing Arena in Trencin, Slovakia this past weekend. Almost 100 entries from all over Europe split into the two classes of Modified and Stock. Practice and the first round of qualifiers were on schedule for Friday with 2014 European Champion Alexander Hagberg (Xray) being on rails from the early beginning as set the early pace in the Modified class while Hupo Hönigl (Serpent) placed himself on top of the timing sheets in the Stock class.
Click here to continue reading the report
Monday, March 23, 2015
New from KM and made for the H-K1 200mm nitro car is a shorter rear shock tower. Designed for the use with short springs the shock stay, made from 4mm carbon fibre, will allow for a more aggressive driving style and to turn tighter.
Source: KM [km-rc.com]
Monday, March 23, 2015