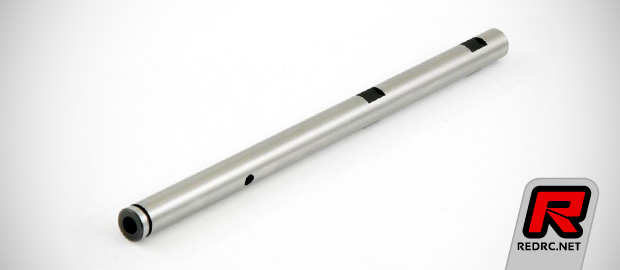 Shepherd introduce a new lightweight 2-speed shaft for all Velox V10 vehicles. The shaft is hollowed to reduce weight and rotating mass by about 30 percent, resulting in improved acceleration. Machined from premium steel the part is heat-treated and ground for maximum precision and a smooth ball-bearing fit without sacrificing durability.
Source: Shepherd [team-shepherd.com]
Wednesday, August 27, 2014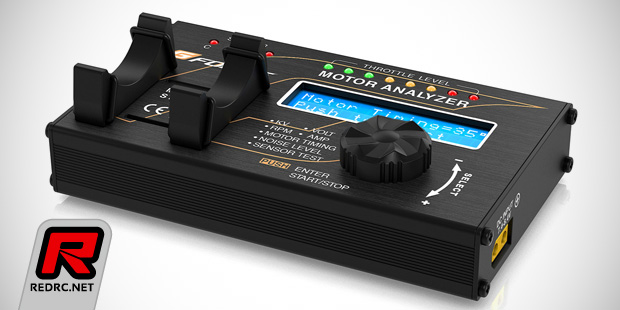 New from GForce comes the motor analyser, a device to check multiple parameters of car and flight brushless motors. Housed in a sturdy case with a blue backlit display, the motor analyser allows to check the motor's KV rating, voltage and amp draw, as well as the sensors. A timing test helps to precisely adjust the timing level while a noise level test can give a hint on the motor's ball bearing condition. The motor tester is made for the use with 7.4V to 8.4V input power sources and it comes with a set of adapter wires for the motor and power supply.
Click here to view more photos
Wednesday, August 27, 2014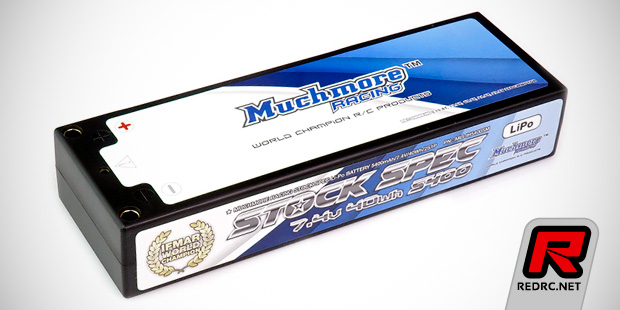 Muchmore introduce the Stock Spec 5400mAh 2S LiPo battery pack for 1/10th touring car and buggy racing. Offering a high capacity and maximum voltage output the battery is ideal for 13.5T to 27.5T stock racing classes. The hardcase battery sports dimensions of 138.3×46.3×25.2mm and weighs in at only 280g.
Source: Muchmore [muchmoreracing.net]
Wednesday, August 27, 2014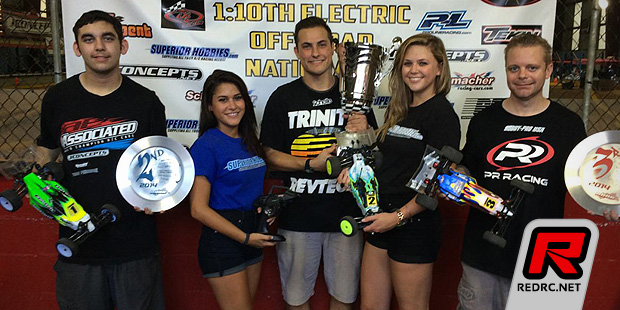 The 2014 ROAR 1:10 Electric Off-Road National Championship made its way to the East coast of Florida, just miles away from the famous Cape Canaveral NASA facility to Space Coast R/C Raceway. With a hard packed, high grip and bumpy indoor track surface and sweltering heat and humidity, the racers were challenged not only on the track, but off the track as well. In the 17.5 2WD Buggy class Nathan Bernal and Jeremy Harris were the class of the field. Bernal would start 1st on the grid for the triple A-mains with Harris in 2nd. With Harris taking the victory in A1 and Bernal the victory in A2, the stage was set for a championship showdown in A3. The two drivers raced clean the entire 6 minutes and in the end it was Harris who crossed the line just ahead of Bernal to claim the 17.5 2WD Buggy National Championship.
Click here to continue reading
Wednesday, August 27, 2014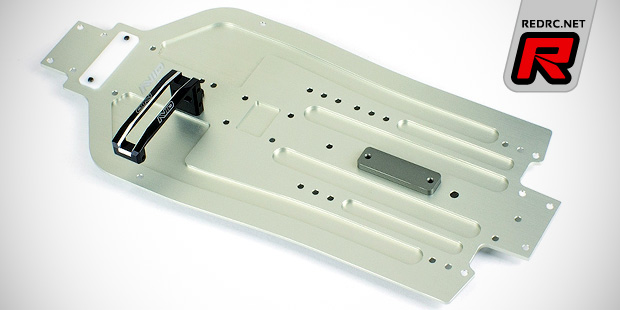 Avid have released a first image of their forthcoming aluminium chassis set for the Hot Bodies D413 4WD buggy. The chassis set will feature an updated ballast weight system and an optional floating servo mount as known from the electric touring cars. Unlike the World Championship winning Avid B44.2 aluminium chassis set, the D413 will utilise a rotated front ballast position to add steering compared to the B44.2′s centralised position that will increase stability, hindering steering agility. Full information about the chassis set will become available soon.
Source: Avid [avidrc.com]
Wednesday, August 27, 2014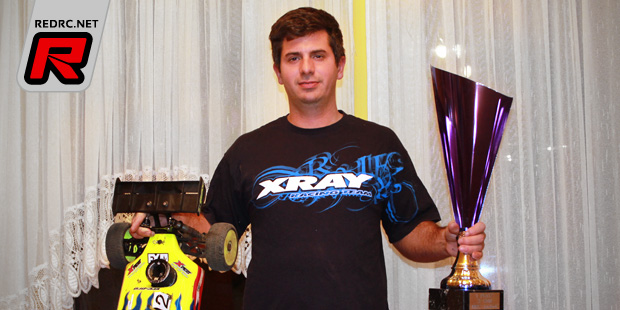 The 3rd round of this year's Austrian 1/8th off-road championship was held on the low-grip Jaidhof track. In the main final Martin Wollanka, coming from the 2nd position on the grid, was able to overtake Rene Kargl in the opening stages. Martin then faced a shock situation around the 15 minute mark when he clipped a track barrier pipe at full speed but he was able to recover and to take the win a lap ahead of 2nd place driver Marin Karner, making it three national wins in a row for Martin Wollanka. Rene Kargl completed the podium in 3rd.
Source: Xray [teamxray.com]
Wednesday, August 27, 2014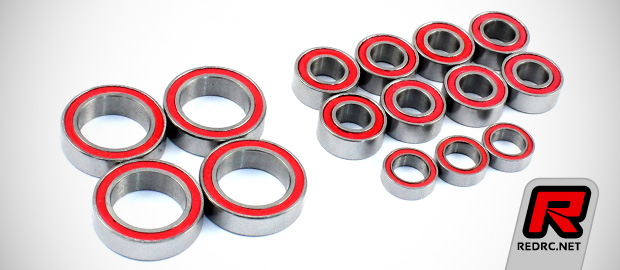 Roche RC have released a new bearing set for the Yokomo BD7-2014. The set contains high quality red seal ceramic bearings for reduced drivetrain drag and higher efficiency and includes four 10x15x4mm, eight 5x10x4mm and three 5x8x2.5mm ball races.
Source: Roche [roche.hk]
Wednesday, August 27, 2014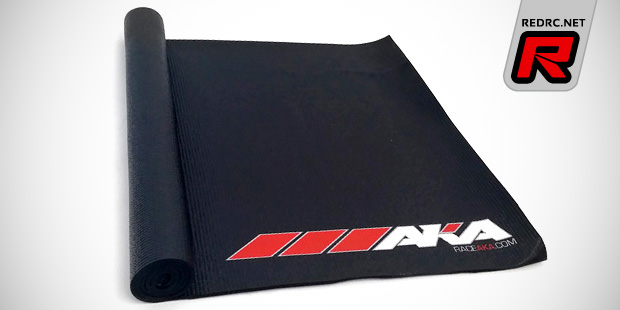 Available now from AKA is this rubber pit mat that helps to protect your pit table while making it look clean and sharp at the same time. The mat measures in at around 120x60cm, it is made of durable 3mm PVC which is chemical and water resistant, easy to clean, and it features an AKA graphic in the bottom right hand corner.
Source: AKA [raceaka.com]
Wednesday, August 27, 2014