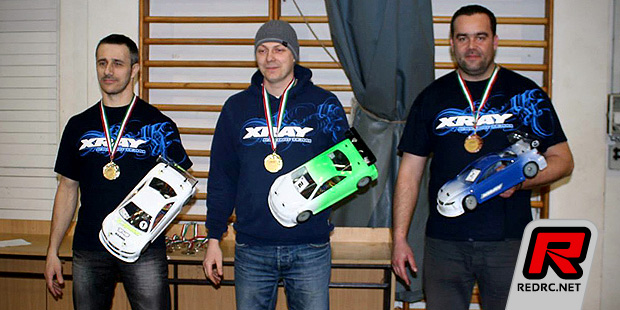 The 6th round of the East Hungarian National Championship was held near Debrecen. Xray driver János Birinyi was able to win A1 and A2 coming from the second spot on the grid. Ferenc Gibala (Xray) and Tamás Ponghó (Xray) finished second and third respectively.
Source: Xray [teamxray.com]
Saturday, March 1, 2014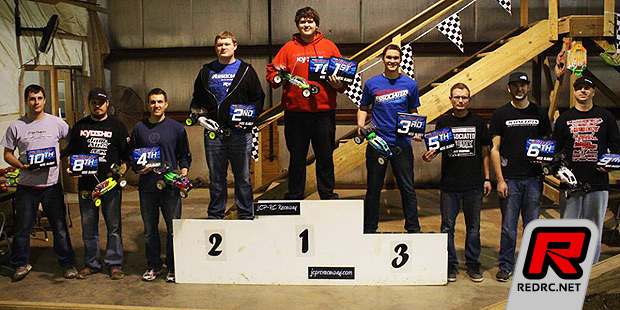 The 2014 Winter Cup at JCP RC Raceway in Indianapolis, Indiana took place with a total of 160 entries. The race format saw four qualifiers, and triple A-mains with bump-ups. In the highly contested 2WD Modified class Kyosho's Zach Phillips took TQ and made maximum use of the pole position by winning the first A-main with a clean run. In A2 he had a small bobble in the opening laps letting him drop to 2nd, but he was able to recover in order to take the win and therefore also the overall victory in the 2WD Mod class.
Click here to view the Top 10 result
Saturday, March 1, 2014
New from O.S. comes the 21XZ-B VII competition buggy engine. Sharing the same liner, piston and conrod as the Speed version the engine's output is comparable to the Speed Spec II but the price tag is more aimed towards the regional and national level racer. The engine features a 22B2 single needle carburettor with 7mm venturi insert, a silicone-filled crankshaft with tungsten counter weights and a blue anodised low-profile cooling head with lightening holes for reduced weight.
Click here to view the specifications
Friday, February 28, 2014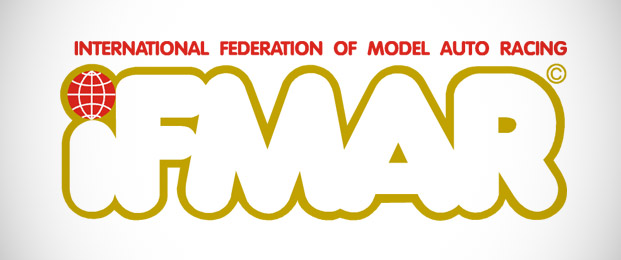 The organisers of this year's IFMAR World Championship have announced the location of the 1/12th scale portion of the event. While the ISTC Touring Car race will take place at the Full Throttle Raceway in Kissimmee, the 1/12th race is set to take place in Largo, Florida (Minnregg hall, 6340 126th Ave Largo, FL 33773) close to Tampa, some 100 miles away from the outdoor track. A well known venue, having hosted ROAR nationals in the past, for the first time the distance between locations means racers who are planning to race both classes will have to arrange separate accommodation for each event.
Friday, February 28, 2014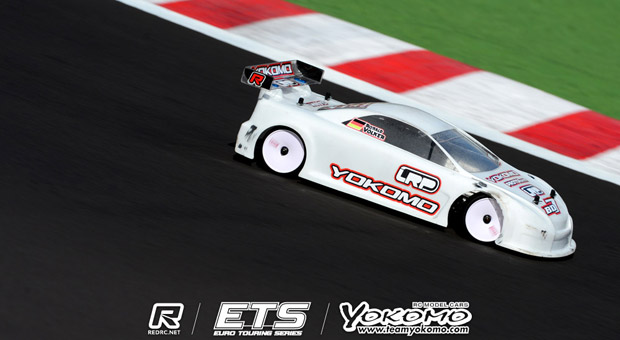 With official timing finally becoming available with the first round of controlled practice it is Ronald Volker who set pace during the single 5-minute round at the Yokomo Euro Touring Series in Gran Canaria.  After issues with the newly resurfaced track that saw much of the day's practice run as open practice by class,  the Team Yokomo driver set the fastest three consecutive laps ahead of Xray's Adrian Bernsten with team-mate Alexander Hagberg and Serpent's Marc Fischer sharing identical times to be be third fastest.
Continue reading this report here or view our complete coverage here.
Friday, February 28, 2014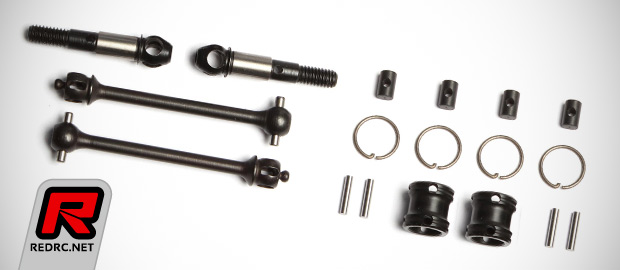 Team Associated introduce these DCV double joint driveshafts for the TC6.1 and TC6.2. The dual joint design improves the efficiency and eliminates most of the unwanted wheel chatter at high steering angles. All parts are also available separately for easy service and maintenance.
Source: Team Associated [rc10.com]
Friday, February 28, 2014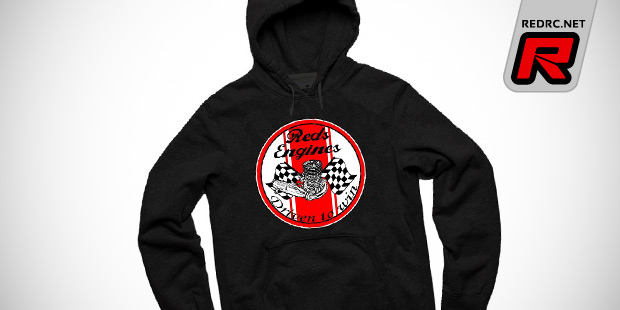 Show your passion to everything Reds Racing with this new hoodie. Made from high-quality black cotton the hooded sweater sports a somewhat vintage looking Reds Engines logo and it is available in S to XL sizes.
Source: Reds Racing [redsracing.it]
Friday, February 28, 2014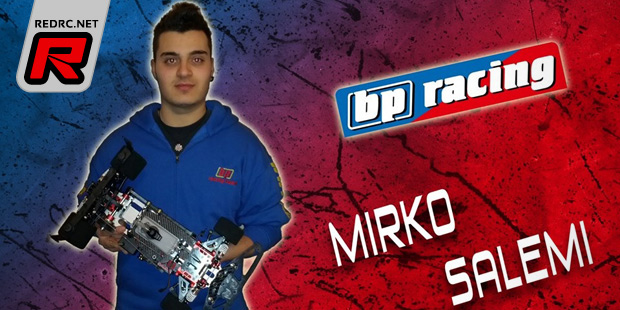 Italian company BP Racing announce the signing of Mirko Salemi for the 2014 season. Mirko will run the new BP-RS4 1/8th nitro on-road car nationally and internationally. This is what Mirko has to say about the deal:
First tests have been very good and I am sure the car will reach some important results both nationally and internationally.
Source: BP Racing [bpracing.it]
Friday, February 28, 2014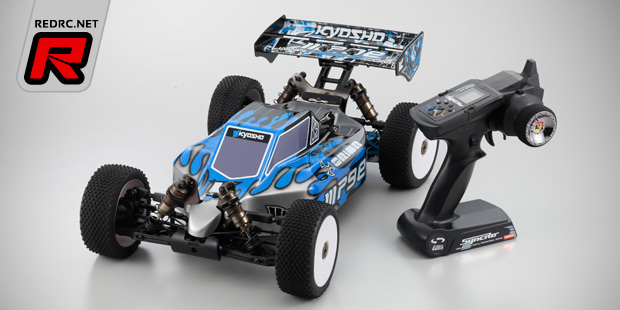 Coming in April is Kyosho's MP9e TKI ReadySet 1/8th electric off-road buggy. Building on the proven MP9 platform, the buggy features an aluminium chassis and shock towers, threaded aluminium big bore shock absorbers, machined suspension plates, front universal driveshafts and moulded chassis braces. The factory assembled vehicle comes with a 2.4GHz radio system, a newly developed high response KT-401 steering servo and a genuine Team Orion Vortex 8 waterproof speed controller and Neon8 2100kv brushless motor. The package is rounded out by a pre-finished bodyshell and grippy pin tyres on white disc rims.
Click here to view the features and more photos
Friday, February 28, 2014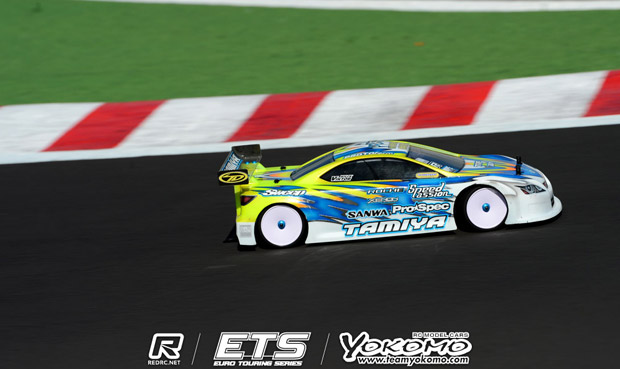 Round 3 of the Yokomo Euro Touring Series got underway officially today in Gran Canaria but recent work to the track has challenged drivers as they struggle for traction on the highly abrasive new surface.  Originally drivers where to run open practice for the first half of the day before conducting two control practice rounds that would determine the seeding for the day's opening round of qualifying. However when drivers started to run tyres from the freshly produced batch of handout tyres provided by Ride there was a noticeable difference between the tyres they had used for previous practice runs, some drivers having already conducted a number of days testing earlier in the week.  Due to this Race Director Scotty Ernst adapted the time table allowing drivers to continue with open practice before closing the first official day with one round of controlled practice.
Continue reading this report here or view our complete coverage here.
Friday, February 28, 2014