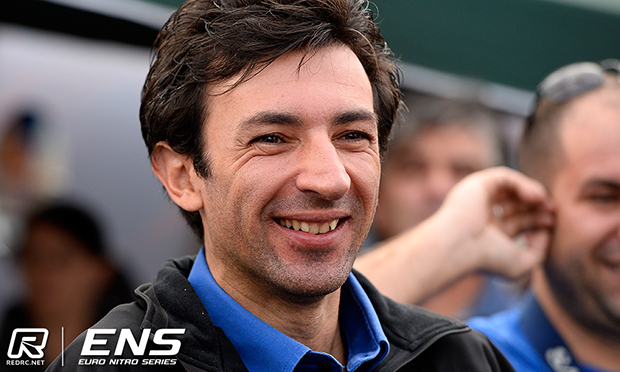 Lamberto Collari got Day 2 of the Euro Nitro Series in Fiorano underway by posting the fastest time in the second round of qualifying at the championship's season finale. Q2 saw a reversal of yesterday evening's opening qualifier order with Collari topping the round from Q1 pace setter Robert Pietsch.  Behind the two ENS race winners Alberto Picco made it an all Mugen Top 3.  Unfortunately for title contender Simon Kurzbuch and Shepherd team-mate Oliver Mack it was not a good morning with Kurzbuch struggling to the 16th fastest time and Mack retiring with a gearbox bearing failure.
Continue reading this report here or view our complete coverage here.
Saturday, October 18, 2014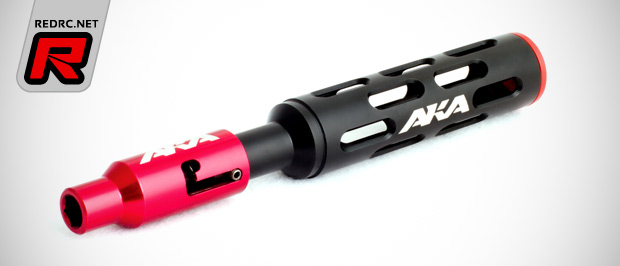 AKA's Double Play nut driver creatively lightens the toolbox by putting a 7mm and 5.5mm wrench in one. The 7mm driver fits metric wheel nuts found on most popular 1/10th scale buggies and short course trucks, while the 5mm driver is common for shock nuts and most nuts on metric 1/8th scale cars. The machined aluminium handle and sleeve provides weight reduction over standard steel tools with the added durability of a hard-anodised finish. The tool become available by end of October.
Click here to view another photo
Saturday, October 18, 2014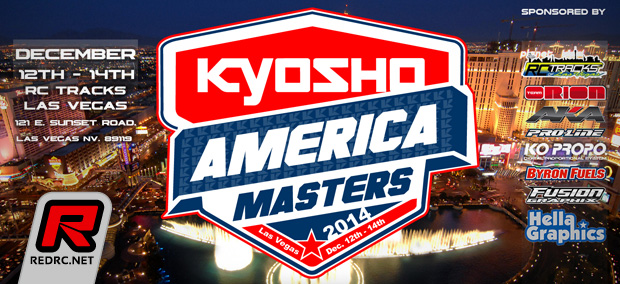 The 1st Annual Kyosho America Masters will be held from December 12th to 14th at RC Tracks Las Vegas. The first ever Kyosho Masters event on U.S. soil will be run in 1/8th scale Nitro and Electric Buggy classes and sees the attendance of international stars such as Australia's Kyle McBride, UK's Elliott Boots or Japan's Yuichi Kanai who will battle it out with American drivers such as World Champions Cody King and Jared Tebo. Saturday night will see a banquet that is open for all participants. The event is open for all Kyosho Inferno drivers and the recommended pre-registration can be done via Joe Pillars (joepillars@hotmail.com).
Saturday, October 18, 2014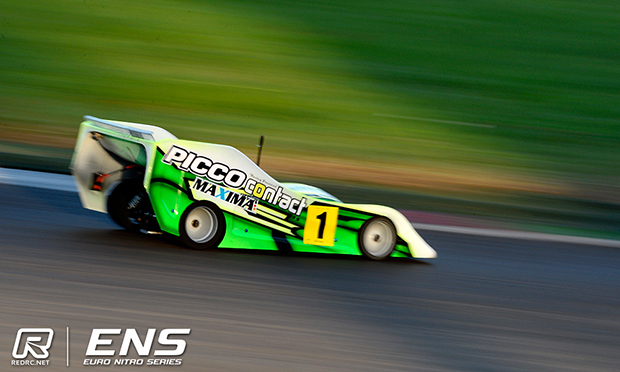 Euro Nitro Series 1:8 title contender Robert Pietsch took the first round of qualifying at the season finale in Italy, the Mugen driver topping the times from Lamberto Collari.  As was the form at the end of practice, Pietsch's only title rival Simon Kurzbuch completed the Top 3, the Shepherd driver 1.1-seconds off the TQ pace.
Continue reading this report here or view our complete coverage here.
Friday, October 17, 2014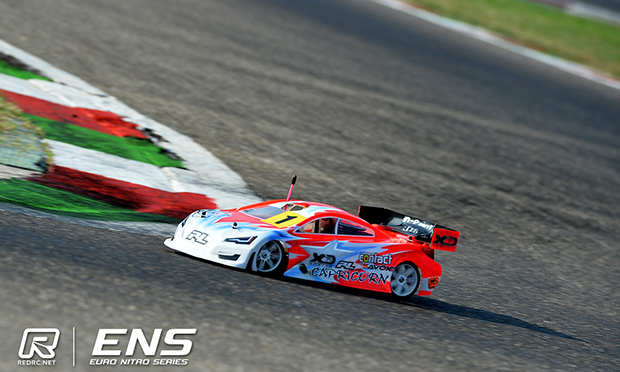 Dario Balestri backed up his blistering practice pace by TQ'ing the opening round of qualifying on Day 1 of the Euro Nitro Series season finale at Fiorano in Italy.  The Capricorn driver was the only one to complete 15-laps of the Mini Autodromo Jody Scheckter circuit with fellow countryman Francesco Tironi just missing out on the 15-laps to post the 2nd fastest time.  A round that would see Balestri team-mate & champion elect Eric Dankel retire after 3 laps due to broken exhaust springs, Serpent's Dominic Greiner would complete the Top 3.
Continue reading this report here or view our complete coverage here.
Friday, October 17, 2014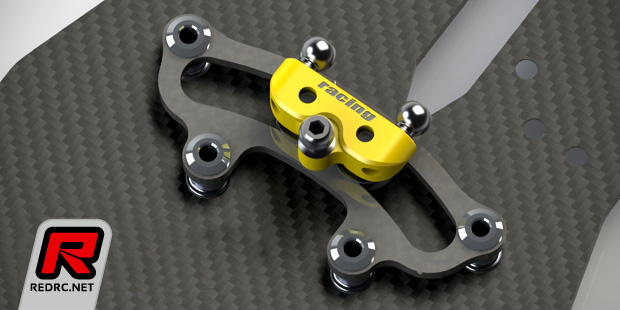 New from WRC and made for the STX electric touring car is the Dynamic Steering Rail DSR set. Letting the steering rail work on a curve the system is meant to improve handling at both low and high speeds while offering easy installation and maintenance. Additionally the Ackermann angle is adjustable by using differently shaped rails.
Source: WRC [wrc-racing.com]
Friday, October 17, 2014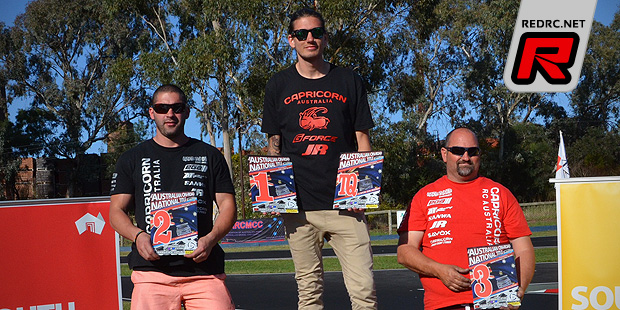 During the recent Australian Nitro On-road National Championships Capricorn's Jesse Davis was able to grab the 200mm Touring class title. In practice, Jesse was in a class of his own, somewhat faster than the rest of the field with his XRD-powered car. Come qualifying, Jesse looked doomed as a diff breakage seen him retire from the first qualifier, only to go out in the second and win by some 7 second margin. In the 3rd qualifier, it was another mechanical issue just like the first heat, but come the 4, 5 and 6th round, Jesse was on fire and his 4th national's TQ was secured. There was no looking back. The 45 Minute A-main did not come easy, Jesse losing a lap earlier on due to a flameout, only to drive a brilliant second half of the race and come past and lap the field and gain the lap back, Jesse was in cruise control come the last 10 minutes of the race and went on to win by over 3 laps at the Little Hampton track, which is by far the biggest track in Australia.
Source: Capricorn [capricornrc.com]
Friday, October 17, 2014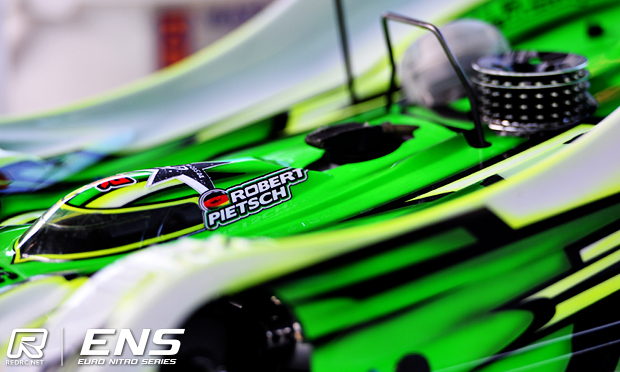 Robert Pietsch was fastest in practice at the title deciding season finale of the Euro Nitro Series, the Mugen driver topping the 1:8 times from team-mate Rick Vrielijnck and championship rival Simon Kurzbuch.  Over 3-consecutive laps of the Fiorano track, the German was 4/10th faster than Vrielijnck with Kurzbuch a further 1/10th off with his Shepherd.
Continue reading this report here or view our complete coverage here.
Friday, October 17, 2014