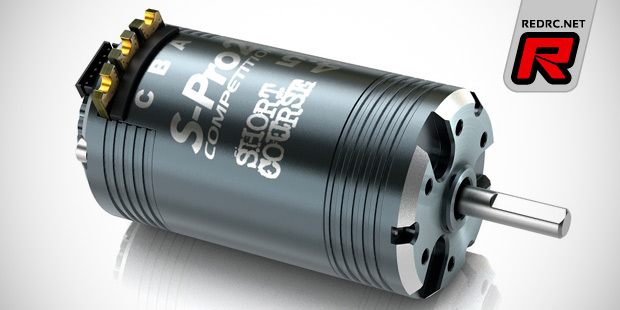 SkyRC introduce the Ares S-Pro2 competition brushless motor for 4WD short course trucks. The motor is designed around a CNC-machined T6 billet aluminium heatsink can and features a 2-pole/3-slots setup, 5mm pinion shaft, adjustable timing and heavy-duty solder tabs. It is available in four different specifications as 4.5T/4800kv, 5.5T/4000kv, 6.5T/3400kv and 7.5T/3000kv variant for high-speed down to technical tracks and usable with sensorless and sensored controllers alike.
Source: SkyRC [skyrc.com]
Tuesday, April 15, 2014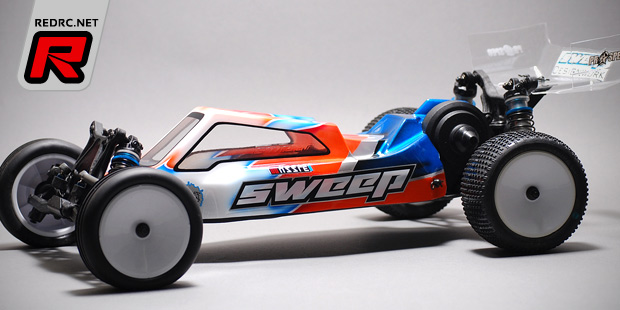 Sweep Racing introduce the Muzzle bodyshell for the Team Associated B5M buggy. Designed to maximise the downforce effects the body is of a cab forward design with a highly angled and channelled roof and a step-up section around the motor mount. Sidepods that raise towards the rear and a small shark fin help to channel the air toward the included 6.5″ rear wing. The direct replacement body comes made from clear polycarbonate and including two high-downforce rear wings.
Click here to view more photos
Tuesday, April 15, 2014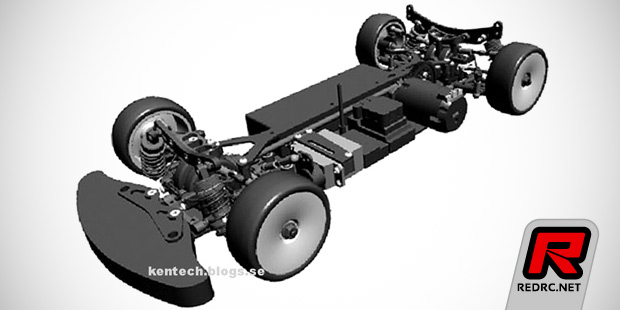 Kentech Blog got their hands on a first rendering of the forthcoming Tamiya TB Evo 6 touring car. The shaft driven TC will make use of the latest TRF418 suspension arms, TB04 front and rear gear boxes and it is designed around a traversal motor position such as found on most of today's belt-driven touring cars. Included with the kit come several option parts such as low-profile shock absorbers, dual joint front driveshafts, aluminium turnbuckles, aluminium nuts and ball joints as well as a hi-torque servo saver and floating servo mount.
Source: Kentech [kentech.blogs.se]
Tuesday, April 15, 2014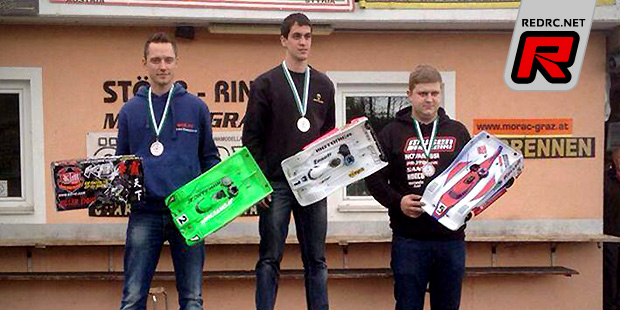 The first round of the Alpe Adria Cup took place last weekend at the Stöhr-Ring in Graz, Austria. The race saw the attendance of drivers from Slovenia, Hungary, Italy and Austria and was run in 1/8th and 1/10th nitro on-road classes. In the 1/8th class Jernej Vuga (Xray/Reds) took TQ but he was not able to conserve his performance in the final and finished in 8th position. Up front the race was on between Nejc Mihelic (Motonica/Picco) and Manuel Gremlica (KM/Woldt) and at the end it was Nejc who finished the race some two laps in front of Manuel after the 30 minute long final. Bernd Koller (Mugen/Novarossi) rounded out the podium in 3rd place.
Source: KM [km-rc.com]
Tuesday, April 15, 2014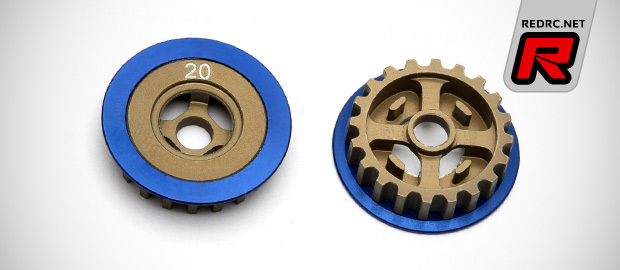 Team Associated introduce new option parts for the TC6 line of touring cars such as the TC6, TC6.1 and TC6.2. Starting with aluminium spur gear pulleys, the parts are machined from aluminium to offer a more true-running surface. The pulleys are hard-coated to reduce wear and use blue colour aluminium belt retaining flanges.
Click here to continue reading
Monday, April 14, 2014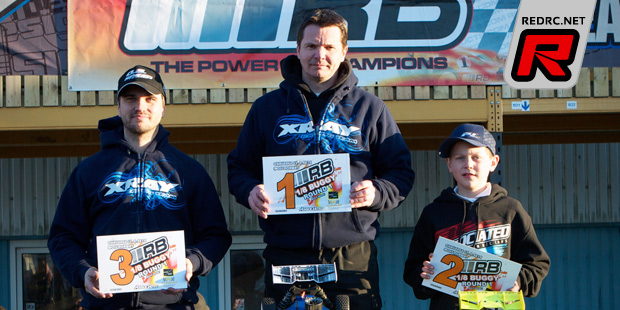 The first race of the six round RB Challenge in Norway was run with 62 drivers attending. The series is run on RB tyres and sees the nine fastest drivers from qualifying proceeding to the final with two drivers from the B-final as bump-ups. The TQ went to Bjorn Ivar Haug (Xray) and once the 40 minute final took off it was clear that the race was on between Bjorn Ivar and Team Associated driver Daniel Kobbevik with both drivers quickly pulling away from the field. 10 minutes into the race and Bjorn made a small mistake allowing Daniel to pass but Bjorn Ivar fought back eventually taking the lead again. Later on Daniel ran into trouble which resulted in three extra pit stops allowing Bjorn to cruise to the win. Daniel Kobbevik finally managed to grab the runner-up spot, Rune Karlsen (Xray) completed the podium.
Click here to view the final result
Monday, April 14, 2014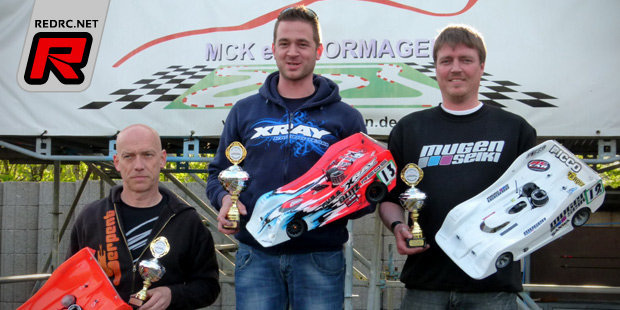 John Ermen, Philipp Roemer and René Puepke are the winners of the season opener of the Western German Championship, which has turned into a "West Open" with racers from six nations. A total of 59 racers attended the race weekend on the challenging track of MCK Dormagen in the North of Cologne with two racers which did not make it to the start line on Sunday. Close and fair racing in all three categories and perfect conditions at temperatures around 15°C made it an excellent start into the new season.
Click here to continue reading
Monday, April 14, 2014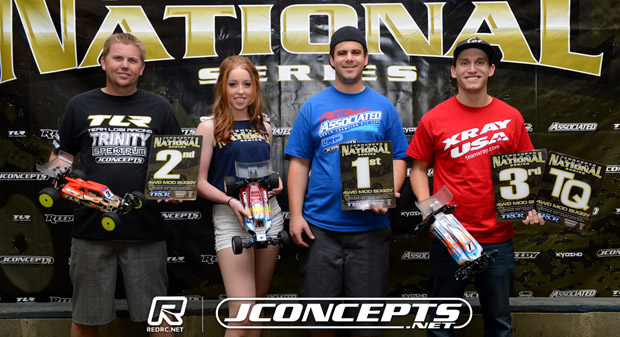 Steven Hartson has taken the top honours in 4WD Buggy at the JConcepts Spring Indoor Nationals which was making its first visit to Tacoma R/C Raceway in Washington State.  With local racers stamping their authority on Mod Buggy, in 4WD it was first time visitor Hartson who wrapped up his first buggy victory of the 2014 series thanks to a win in A3 over JR Mitch and Tyler Vik.  With all three drivers in contention for the overall win going into A3, the closing race at Scott Brown's track would see Top Qualifier Vik have contact with both his rivals, the Xray driver fairing the worst of both A3 incidents to finish third overall behind Mitch.
Continue reading this report here or view our full event coverage here.
Monday, April 14, 2014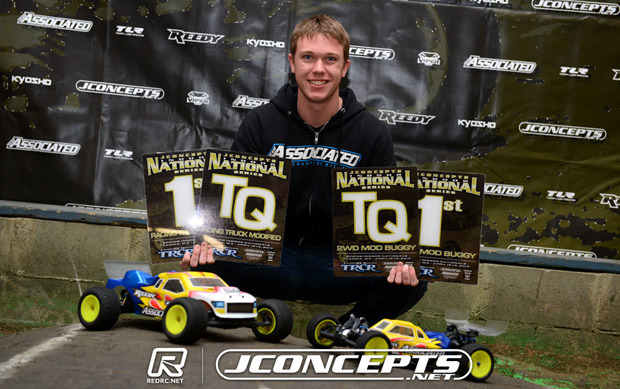 As if there was ever any doubt based on his blistering pace from the very start of the weekend, Michael Schoettler has taken the big win at the JConcepts Spring Indoor Nationals at Tacoma R/C Raceway.  Winning A1 with ease, A2 would prove a tougher affair for the Associated driver as fellow Tacoma racer Luke Smith mounted a challenge that would see him lead for four laps half way through the 5-minute encounter.  A coming together between the two, who are used to battling one another weekly at Scott Brown's track, Schoettler retook the lead holding on to head home Smith by just under a second to claim a very popular overall 2WD Mod win.  In A3 Smith would go on to take an easy over Tanner Denney with Ryan Matesa seeing off a major challenge from Brent Thielke to finish third.  The result would see Smith & Matesa complete an all local talent podium with Thielke ending up as the best visitor with fourth overall.
Continue reading this report here or view our full event coverage here.
Monday, April 14, 2014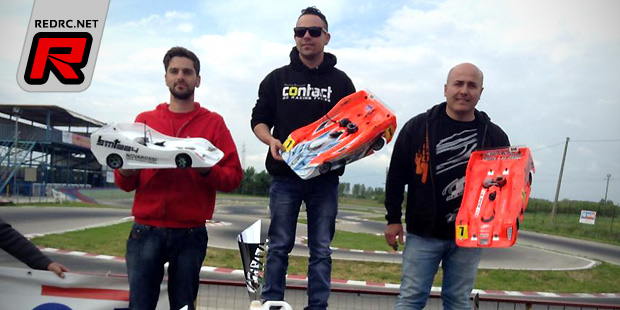 The first round of the Italian nitro on-road nationals was run this past weekend. In the premiere 1/8th scale class Capricorn's Dario Balestri took the win from Mimmo Calce (Serpent) who finished only one lap down with Nicola Marrone in 3rd with his BMT. In the 1/8th F1 category the TQ was grabbed by Antonio Calce (Serpent) but the win in the final eventually went to Francesco Guida (Serpent).
Click here to view the F1 class podium
Monday, April 14, 2014