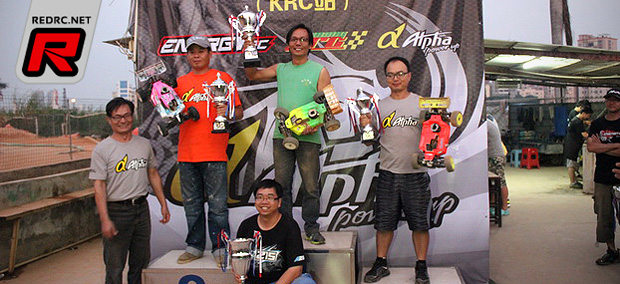 The first ever Alpha Plus Cup was held at the KRC track in ‪Shenzhen‬, China with local racers and also guests from Taiwan and Hong Kong in attendance. Entries were limited at 70 for the one day event that was run with mandatory Alpha Dragon III engines and Alpha's own 2130 exhaust. In the 8 minute qualifiers Taiwanese driver Chen took the TQ for the 45 minute main final but he had to retire early in the race due to a servo failure. Ultimately Keung from Hong Kong would take the day's win from Taiwanese driver Siu on the runner-up spot. Yeung, also from Taiwan, would grab the final podium spot to round out the top 3.
Thanks to John Ho for the report.
Tuesday, November 24, 2015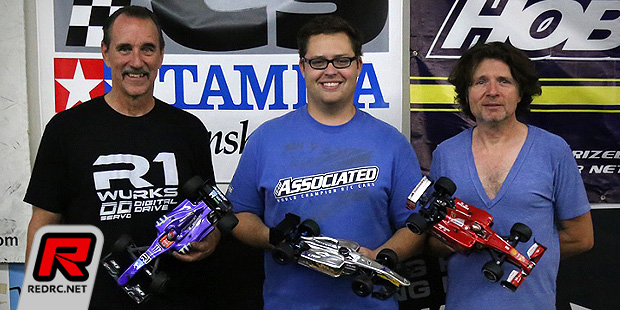 Round 1 of the SoCal RC Scale Series was held at TQ RC Racing in Chino. With Summer coming to an end, it was time to return to begin the second year of the popular Winter Series. Five race days comprise the series and a drivers' best four event results count toward the end of series awards for both Sportsman and Expert drivers. The Formula cars were first to set qualifying times for their race heats for the day. The series' unique system uses a three minute qualifying run to set the five best (non-consecutive) laps averaged together. Josh Tran would hold the initial TQ spot with his qualifying time of 11.320 in the first group but there were some heavy hitters eager to best Josh's time. When the dust settled, Craig "Cuda" Hammon, after a lot of hard work to get his carpet competitiveness close to his outdoor pace, took the top spot; narrowly besting Aaron Lane with a five lap average of 10.656 to Aaron's 10.667, just 0.011 second gap. Third qualifier would be Kevin "Panda" Cole with a 10.938 effort. The difference between 3rd to 9th qualifiers was only 0.2 seconds. The change this season from 21.5 to 25.5 motors has closed the overall gap and would make for some very exciting racing.
Continue reading the report here
Tuesday, November 24, 2015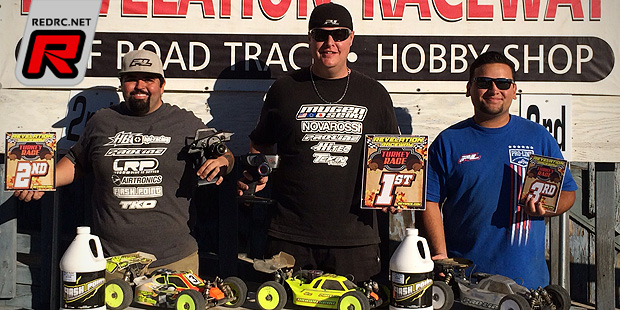 The recent Turkey Race at Revelation Raceway saw Mugen's Adam Drake walking away with the win in the 1/8th Nitro Buggy class. HB driver Victor Guerrero came in second while Ricky Rodriguez rounded out the podium in third place.
Source: Mugen [mugenracing.com]
Tuesday, November 24, 2015

Roche have released a first teaser image of their forthcoming Rapide F1 1/10th scale formula pan car kit. The vehicle is in its final development stages and set for a release in January 2016. Nothing is known yet in terms of specifications and features but the image available that shows a somewhat "industry standard" front end, utilising double carbon fibre arms, a single bellcrank steering system and a floating aluminium servo mount. We bring you more details and images as soon as they become available.
Source: Roche [rocherc.com]
Monday, November 23, 2015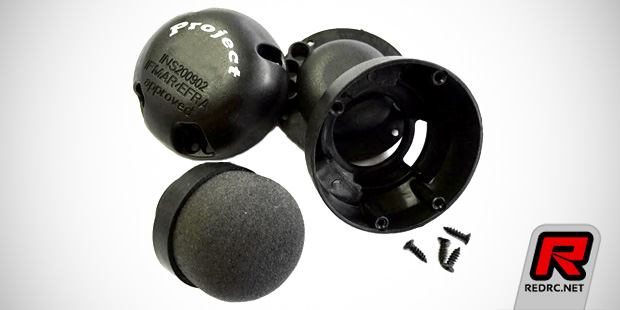 ProjectRC have introduced their new INS-Box for 1/10th and 1/8th on-road cars. The EFRA approved box features a special airfilter element designed to ProjectRC's specifications that offers improved airflow, boosting the engine's performance without affecting engine life. The box, including airfilter, is available in a black or clear variant and the filters are additionally available as convenient 3-piece packs.
Source: Project [projectrc.net]
Monday, November 23, 2015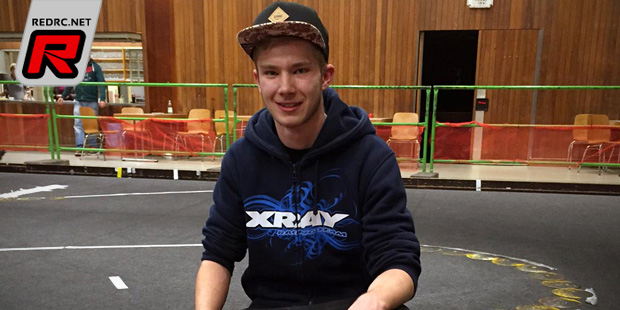 Round 2 of the South German regionals was held in Gottmadingen on a technical yet low-grip track. In the Touring Modified class Dionys Stadler would take the TQ for the triple A-mains that he went on to win with a good margin on the second place driver. Carl Groessel would end the day on the second place while Christian Gerlach completed the top 3 result. In the 1/12th class it was again Dionys, in only his second 1/12th race, who took the TQ and the win in the main finals. As in the Touring class Carl and Christian would come in second and third respectively.
Source: Xray [teamxray.com]
Monday, November 23, 2015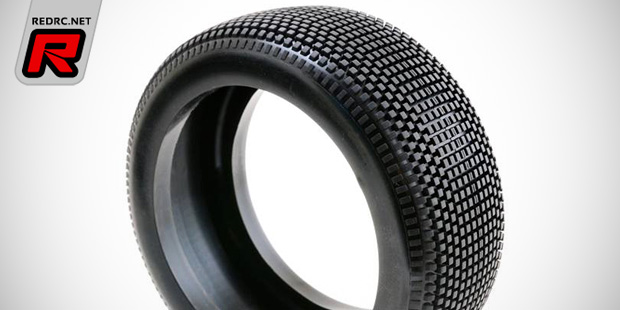 Sweep have released a first image of their forthcoming yet unnamed 1/8th buggy tyre. Offering a fine to medium-sized and closely spaced square pin tread the tyre is meant to be larger in diameter and also wider compared to Sweep's other 1/8th tyres. More details will become available soon.
Source: Sweep [sweepracing.com]
Monday, November 23, 2015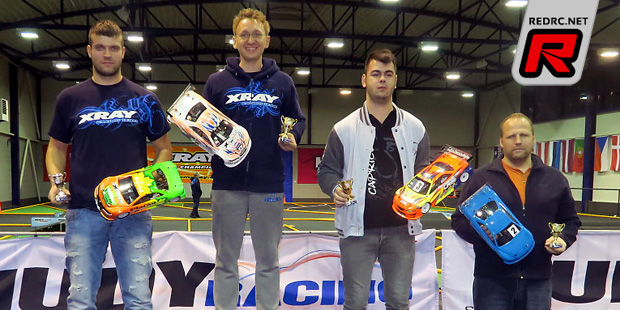 Round two of the Slovakia Cup was held at the Hudy Racing Arena with 85 drivers in attendance including the likes of Martin and Ales Bayer as well as Austria's Martin Wollanka all of which looked for some last minute practice before last weekend's second round of the 2015/16 EOS. Beside the 1/10th Buggy classes the event also offered a variety of electric on-road categories with the fastest of them, Touring Modified, attracted a total of 13 drivers. Xray's Martin Hudy would bring home the win in front of David Nemcek (Xray) and Zdenko Kunak (Capricorn) with the letter two showing some entertaining fights during the finals.
Monday, November 23, 2015