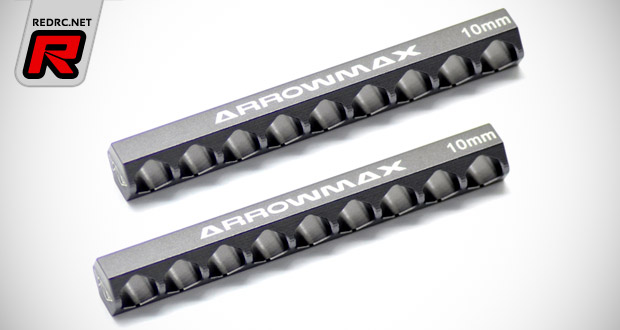 Arrowmax have released honeycomb versions of their 10mm chassis droop gauge blocks. Made from 7075-T6 aluminium they feature nine hexagonal holes milled into the body of the block which is lighter but mostly just looks cool.
Source: Arrowmax [arrowmax-rc.com]
Saturday, August 23, 2014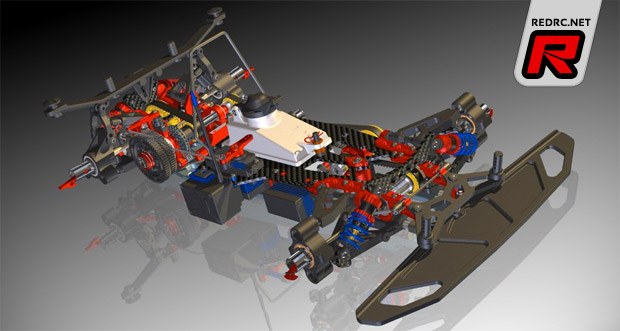 Capricorn have released the follow up to their successful C801 chassis, the LAB C802 is a natural evolution and was in use at the recent 1/8th Euros where it got both cars in the top 4 with Dario Balestri taking the title. Access to the car's transmission has been made easier with the a new front assembly meaning that is now possible to change both the front and rear belts in less than 15 minutes. The famous 0,8 transmission which inspired the other constructors as it was able to give more traction and handling remains unchanged as does the reverse clutch with ultralight bell. The radio plate is completely new and uses a traditional position for the throttle servo while the floating front mount works on ball bearings, and by simply fastening or removing 2 screws it is now possible to activate the FF2 system (Full Flex System).
View more details and images here
Saturday, August 23, 2014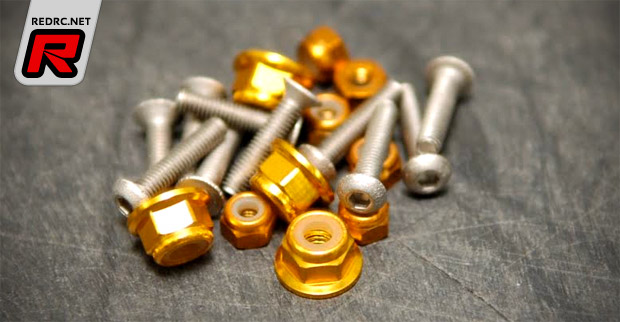 ST Racing Concepts Titanium screws and Anodized light weight aluminium lock-nut weight reduction kits are now available for the Xray XB4 series 2WD and 4WD buggies and T4 touring car. The titanium screws are about half the weight of their steel counterparts while the aluminium lock-nuts are less than half the weight of the steel one, combined for approximately 50g of weight reduction for these Xray machines. The aluminium lock-nuts are also available in orange to match the color of original Xray factory option parts.
Source: STRC [teamstrc.com]
Friday, August 22, 2014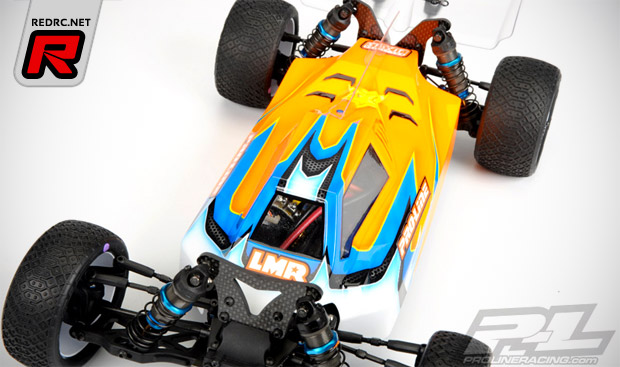 Also new from Pro-Line is this Phantom body for the Yokomo B-Max4 III designed by team driver driver Lee Martin. It features a stealthy cab forward look and sweeping body lines that flow back to a single point while an optional centre fin adds additional high speed stability and finishes off the design. Also new for the Associated B5 are carbon fibre front shock tower with aluminium ball stud mounts! The carbon fibre shock tower adds stiffness for improved shock action as well as durability to an area that takes a lot of abuse while the gun metal anodized aluminium ball stud mounts give added style and precision. Available in a wide version for the B5 and a narrow version for the B5M
View the B5 front shock tower here
Friday, August 22, 2014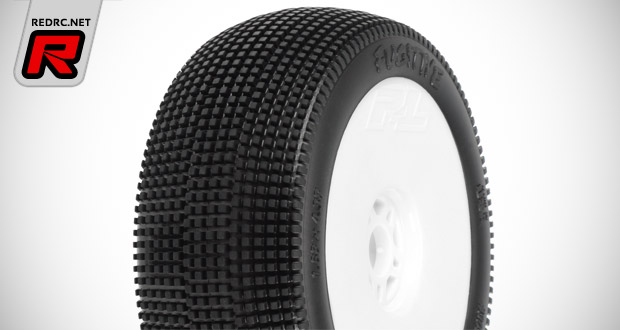 Seen at the recent 1/8th Euros, Pro-Line's all-new Fugitive is a super long wear high performance tire made up of small, tightly packed pins that can handle the abuse of being run on concrete. When combined with Pro-Line's X-Compound, the Fugitive has a great performance to cost ratio making it perfect for many European style tracks. The new Stunner SC tire combines the best features of the Tazer, Sniper and Blockade SC tires into one incredible tire. The center tread design of the Stunner is perfect for dusty and loamy outdoor tracks and the outer tread creates more aggressive side bite for consistent handling in loose conditions. Pro-Line have also released their Electron 1/10th tire for 2.2" wheels having previously only been available for mounting on VTR wheels. For truggy, PL's popular Hole Shot VTR and Blockage VTR tires are now also available in X-Compound. Finally there are new Velocity VTR 4wd Hex front wheels for the Kyosho ZX5/6 and the TLR 22-4 buggies.
Friday, August 22, 2014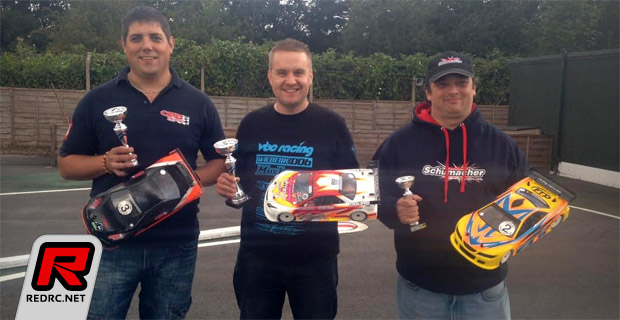 Round 6 brought the final round of the BRCA Clubman Series 2014. Finishing in the midlands up at Stafford, this well known track for its challenging conditions and grip was mixed with the weather which seen drivers looking at the track all day deciding which car to use because the weather could of changed at any second. Round 1 of qualifying started on the Sunday wet with light rain at the start of the round. Due to the weather conditions, the race director decided to make qualifying round by round. In 17.5, Darren Tickner took the honours of TQ followed by Jason Butterfield then David Hough. In 13.5, weather conditions are still mixed with rain dropping and then drying up again. Local driver Andrew Robson managed to find some pace taking first place, followed by Liam Brooks then Ben Putt.
Continue reading the report here
Thursday, August 21, 2014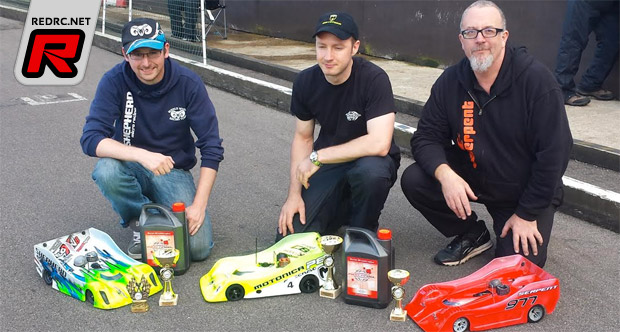 With the forecast for round 6 of the 1/8th Championship looking like rain, the entries for this meeting were provisionally low but as normal most people waited until the last minute to book in so come race day 37 drivers where booked in. Saturday as normal for the section was free practice. Early on, the track was busy but as the day wore on the track became silent which seemed very strange, this could of been due to the pending forecast, drivers lapping at speed were Andy North, Tim Wood, Neil King, Andy Hastings, John Carr and later on Danny Bancroft, these drivers seemed to be mostly testing engines and setups.
Continue reading the report here
Thursday, August 21, 2014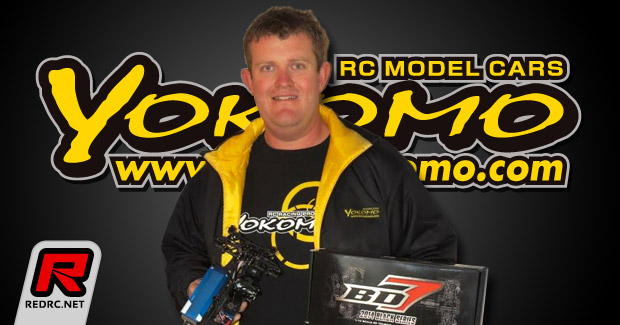 Yokomo have announced the signing of multiple National and State championship winning Australian racer Simon Nicholson. The former Kyosho driver will compete together with Yokomo at this year's State championships, Australian National championships and World championships in the USA as well as the TITC in Thailand early next year. He had this to say:
I would like to thank Mitsuo, Chikuba and the rest of the team from Kyosho Japan for all their help and support the last few years. I am very excited to be joining Team Yokomo and many thanks to Robert Itoh, Aso Minoru, Yukijiro Umino and Tom Yokobori for accepting me into the team.
Source: Yokomo [teamyokomo.com]
Thursday, August 21, 2014